Room Before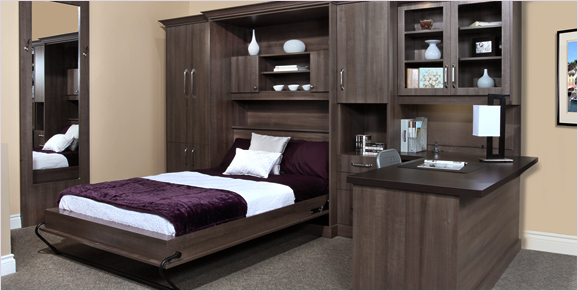 If you're anything like me, you have a family or you work from home you are no stranger to multi tasking most of the time. There is always more than one thing going on especially if you work from home. It's so great to evolve from a tiny desk in the kitchen to a room dedicated to my work and passion. I also recall at one time using the dining room table to do my work…can you picture it…papers everywhere and each time a task was completed or a family dinner took place I had to pack it all up. Things went missing, notes etc. It was difficult and challenging to work this way on a regular basis.
Having a little nook with a desk is lovely but only if you're going to keep a phone, a computer, a vase and a picture, but it's unrealistic for someone like me who works from home. I need a printer, shelves for books, papers; I love to have pictures close by as well, but my goodness, where to put all those wires.
As much as I love my books, my mementoes, picture frames and nick knacks…my space became very cluttered which took away from my concentration. Regardless of what profession you are in, if you work at home or need to have a space to keep your life in order, what I just described doesn't cut it. We often neglect the things that need our attention most. As long as we get by its ok but this way of thinking often leads to lost time and productivity which is critical to anyone working from home. The space, the organization of that space and the routine is important so one can focus on the task at hand.
Room After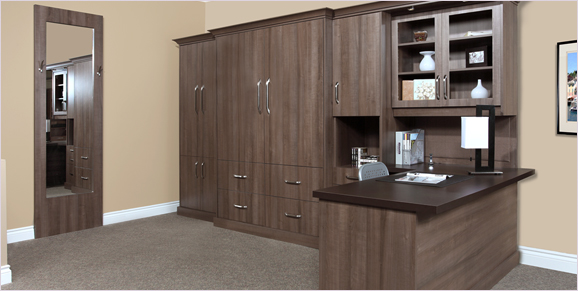 My frustration only grew with each passing day until I read how important it was to have an organized office where all of my things could have their own place organized and functional and at my finger tips. Before you know it I decided to have a custom built free standing office made. It has made all the difference in the world to me. Deep shelving now houses all my books and magazines, my supplies and the wires are neatly tucked away and out of sight. Drawers for pens and papers are well hidden and within reach it's so easy to tidy up. It is rewarding to work in a clutter-free space; it cleared my mind. In a way it made my life simpler…I didn't waste so much time looking for misplaced notes and papers, I now know where everything is and my desk area makes it easy to write in the evening with a built-in light valance. Hanging files are organized and well labeled and always at my finger tips. It really is perfect.
Many Solutions: Simple Yet Functional
There are countless ways your personal office can be designed for you and Organized Interiors has the solutions. The objective is to make life easy, simple and productive so you have more time to enjoy your life and your family. Whether you're looking to add an office feature with a wall bed system and wardrobe units as part of a spare room or have a dedicated study in your house…Organized Interiors has the solution that is right for you. Choose from a completely designed custom office where they will include all the elements to make your office efficient: computer station, ample desk space, file storage and room for a photocopier and a fax machine with all the wiring kept out of sight.
If a free standing office is more suitable for any space in your home. It could be in your kitchen, a spare room or a little corner of your family room or basement. Not fitted, a free standing office can be moved to another spot in your home, or taken with you should you move. Or if space permits, a fitted study can be designed into your bedroom. We will create a functional office space accommodating all of your specific needs, where you will be both comfortable and productive. We will take your bedroom décor into consideration so the office space blends beautifully.
The possibilities are truly endless and well worth the time and expense. It will make a noticeable difference to your work day. Choose from many styles and colours, from simple and modern to traditional contemporary, from light colours to darker tones, all to suit and match your existing décor and taste. In organizing your office, you organize and simplify your life. It's as simple as that.
From our factory showroom to your home, we create designs and solutions that you'll enjoy every single day! HELPING you get your home organized.
We invite you to visit out beautiful 10,000 sq. ft. showroom in Woodbridge. It is, probably the world's largest showroom devoted to closets, custom cabinetry and home office/wall beds. Our showroomand product displays the passion, commitment, and the exceptional quality and the outstanding service we provide in our industry.
Or, if you prefer, please call us to book a Free In-Home Design Consultation. One of our qualified design consultants will be delighted to visit you at your convenience and will advise you of the current special offerings on specific products that you are interested in.