A fireplace instantly changes the
look and feel of a room.
Modern electrical fireplaces are clean, energy efficient, and take up very little space. Organized Interiors carries several fireplace models from Dimplex that can be used in a variety of ways.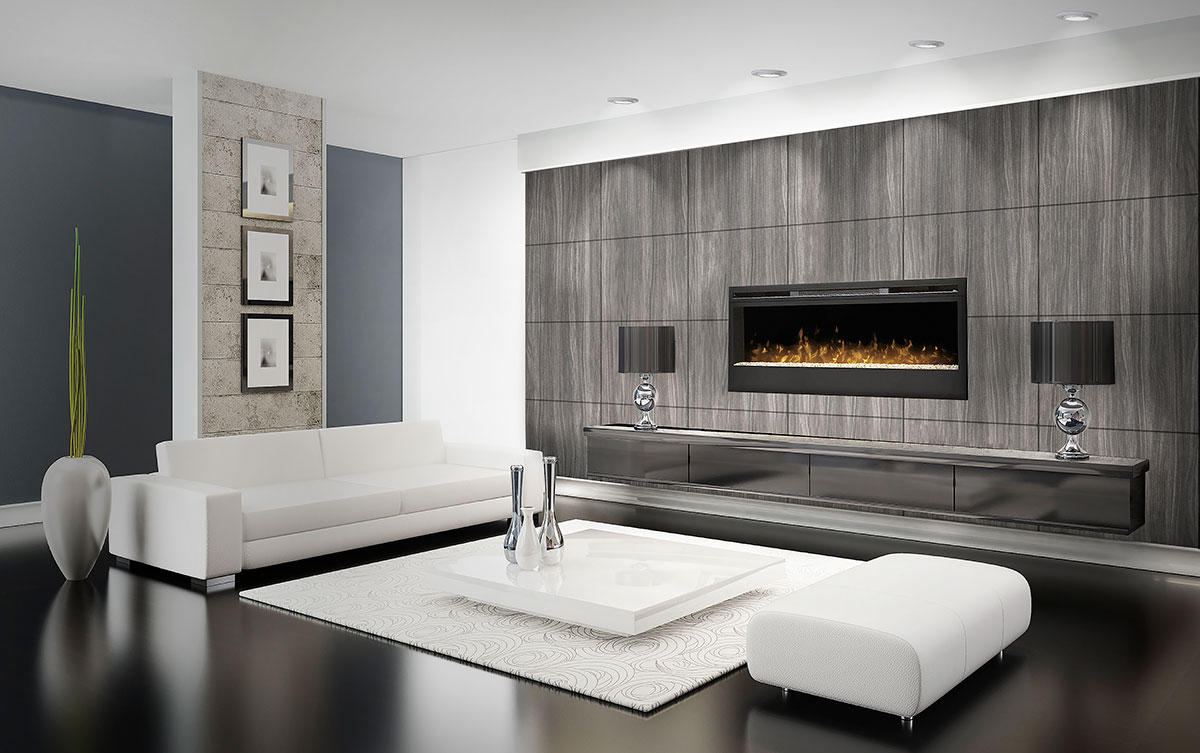 Linear Wall-mount Electric Fireplace
The sleek, linear design of a wall-mount fireplace completely transforms the look of any room. Create a feature wall where the fireplace is recessed and mounted flush with the wall. Our design consultants can help you create a cozy family room or home office that will look stunning.
Enjoy the ambiance of real fire through clean edge-to-edge glass which provides a panoramic view. You can customize the media bed of a linear fireplace with glass, sand, river rock, pebbles, and driftwood. If you're tired of the natural fire look, change the colour to match your mood or complement your décor.
Fireplace features include:
patented Dimplex flame technology that accurately reproduces a natural flame
energy efficient Comfort$aver™ ceramic heating system warms up to 1,000 sq. ft.
multi-function remote control and built-in touch controls
brilliant colour themes
front glass stays cool, making it safe to touch
year-round enjoyment with or without heat
up to 100" wide and only 6" deep
Fireplace Feature Wall
A feature wall is a great way to showcase a linear wall-mount fireplace. The warm glow of a fire is a focal point in any room setting, so why not enhance it with a stylish canvas?
Organized Interiors has hundreds of melamine panels of varying styles, patterns, and textures. Depending on the look you are after, our design consultants can help you decide on a panel that suits your space.
Visit the design studio in our showroom to see what is possible. We have the largest selection in Toronto.
Electric Firebox
A plug-in firebox provides the beauty of a traditional looking fireplace with unmatched flexibility. It can be installed anywhere. No venting or gas lines are required.
Not only does this look like a real fireplace, it provides a practical zone heating solution for rooms up to 1,000 square feet.
Our design consultants can help you customize the cabinet surround your fireplace sits in. A custom entertainment unit that includes a fireplace mantel is a popular choice with many of our clients.
Features include:
patented Dimplex flame technology that creates the illusion of a true fire
efficient, powerful, fan-forced heater that is economical to operate
convenient remote control
optional heat so you can enjoy the ambiance of the fire in warmer weather
front glass stays cool, making it safe to touch
Choose from dozens of styles, colours, and finishes from our design studio. We have the largest selection in Toronto.
"Love what they did! From the first phone call to the install, this company was amazing. Brian the installer was knowledgeable and polite. Totally recommend this company!"

Julie Thurgood
"I highly recommend Organized Interiors for the quality of their product and their prompt scheduling for delivery and installation."

Andre Jubinville
"We went to Organized Interiors to have custom cabinets/closet desk combo designed and installed for us. Met our expectations 100%. The cabinets are gorgeous. Would use them again."
A. Daniels
"I can't say enough about the company. Outstanding customer service and a wonderful final product in less than two weeks. I will recommend to anyone who needs this type of work done."

Steve Kee
"Professional and exceptional right from the design phase to the finished product! I now have tons of space and storage in my condo and I love it!"
Linda Smith