How is it possible that finding something to wear from a packed closet is such a difficult task so much of the time?
With so many wardrobe options to choose from, it should be a breeze to find an outfit relatively quickly, shouldn't it?
Not exactly. Just like clutter in your workspace or anywhere else in your home, having too much closet clutter impedes your ability to focus and be productive within your closet space.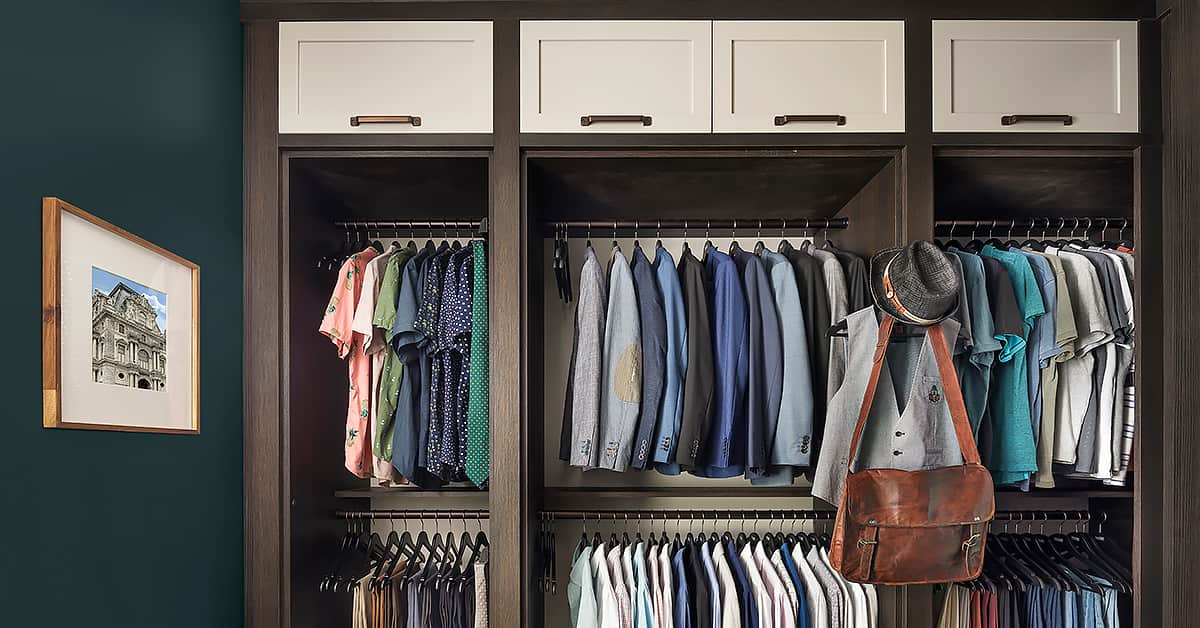 Closet clutter wastes your time (and money)
If "closet productivity" sounds like a silly concept, perhaps look at it more as "time efficiency in the closet". There's a direct correlation between how much time you end up wasting in your closet and the amount of clutter it contains.
47% of women surveyed by OnePoll said they struggle when it comes to picking out a work outfit. 61% of those who had a hard time find anything to wear in their closet ended up buying new clothes, according to the survey.
And that same survey of 1,000 American women also found that a third of them believed an organized closet would make their mornings less stressful.
Eliminate these 10 items to reduce closet clutter
Take action to make your closet more functional by minimizing your closet clutter, or preferably eliminating that space-hogging clutter altogether.
Empty out everything from your closet in order to be thorough. Make it a weekend project and enlist a friend to help and provide some honest, impartial feedback on what's worth keeping.
These 10 items are a great place to start with your closet purge.
1. Old bags
Odds are that some some of your closet clutter is made up of old bags.
This includes free tote bags, gift bags, and higher quality boutique shopping bags that have a tendency to accumulate in our closets over the years.
How many of those bags do you really need, though? When is the last time you used them or when can you realistically see yourself using them next?
If the answer to those questions is "ages ago" and "probably never", respectively, toss them out or recycle them.
Gift bags will probably have the most usefulness, such as during the holiday season or for birthdays. Get them out of your bedroom closet and store them wherever your gift wrapping and wrapping accessories are kept.
2. Sale items you've never worn
The irresistible lure of a great sale price for a clothing item has led to more than a few ill-advised purchases that are likely responsible for some of your closet clutter.
Our judgement can get clouded by a "too good to pass up" price for something we really don't need. And even though you had every intention of wearing the item, it just never happened.
Maybe you're being stubborn or embarrassed to admit you made a mistake, which is causing you to hold on to something you'll never wear. Do your closet a favour by lightening its load and donating those never-worn pieces of clothing.
Just chalk it up as a learning experience that will hopefully make you think twice the next time you're tempted to make an impulse buy on a sale item.
3. Clothing that doesn't fit
When curating your wardrobe, it's essential to part with items of clothing that no longer fit or aren't comfortable. We all have several things in our closets or drawers that fall into these two categories, so why do we hang onto them?
Maybe it's wishful thinking that we'll eventually slim down to fit into something again. Perhaps it's just too hard to part with that favourite pair of old jeans.
Make some tough decisions and clear out that closet clutter comprised of things that are no longer practical for your wardrobe needs.
If you haven't worn something in the last year, or worn something very sparingly in, say, the last five years, add it to your "donate" pile.
4. Damaged and old clothing
Just as ill-fitting or uncomfortable clothing that's never worn has little practicality, clothing that's damaged or just old is also creating closet clutter. Here are some examples:
shoes in need of repair
stained clothing and yellowed white t-shirts
clothing that's stretched-out or has worn-out elastic
faded clothing
clothing that's thinned from too many wash and dry cycles
torn clothing
Take stock of what damaged and old clothing is worth a salvage effort, establish a timeline for doing so, and hold yourself accountable for taking some action.
Anything that doesn't qualify as repairable can probably be thrown out, as most charities won't accept donations of damaged or heavily worn clothing.
5. "Special occasion" clothing
Three "special occasion" types of clothing that will likely never be worn again are your wedding dress, a bridesmaid dress (or dresses, if you've been enlisted in the role more than once), and your prom dress.
Sentimentality and nostalgia are powerful things that can make us reluctant to get rid of mementos that serve as important milestone markers in our lives.
But if those mementos are clogging up your closets and only being appreciated once in a blue moon, you probably won't miss them.
Unless you have a daughter that might use your wedding dress or prom dress someday, there are plenty of worthwhile organizations you can donate them to.
The Brides' Project, for example, accepts wedding dress donations and distributes all of their profits to various cancer charities.
6. A sock or glove without a partner
A few lone socks or gloves that don't have a partner admittedly don't occupy much real estate in a closet or drawer.
But if you're never going to wear these things specifically because their orphaned state makes them less useful, why keep them?
They're still contributing to your drawer and closet clutter and only give your brain more things to process when looking through your wardrobe.
If it's been more than a year since those lonely gloves or socks have been paired with their mate, get rid of them.
When you're making your next clothing donation, check with your local charities to see if they take single gloves or socks.
7. Out-of-season clothing
Winter clothing taking up valuable closet space during the late spring, summer, and early fall seasons isn't exactly useless clutter, but it's clutter nonetheless.
Unless you have the luxury of owning a spacious large walk-in closet/dressing room, your closet's contents shouldn't include out-of-season clothing.
Have a designated storage space somewhere else in the bedroom or perhaps in the basement for clothing that's not currently in season.
8. Unfashionable clothing
Another culprit when it comes to closet clutter are fashion relics. A top-to-bottom closet purge is sure to turn up a a few outdated pieces of clothing whose "best before" date has long since passed.
Stop holding out hope that those acid-washed jeans bunched up on your closet floor will be among the very few fashion trends that make a comeback.
Clothing that may not necessarily be hopelessly out-of-fashion, but simply no longer fall in line with your current sense of style can also be eliminated.
9. Odds and ends
Just like the garage, our closets tend to become catch-all spaces that attract clutter we either don't know what to do with or can't be bothered to deal with.
Old newspapers, books, and magazines you'll never read again, old electronics, and any number of other odds and ends can needlessly sit in a bedroom closet for years, while you struggle to manage your wardrobe. It makes no sense.
Paring down the contents of your closets by eliminating these useless items will free up valuable closet space that can be put to much better use.
10. Gift clothing you'll never wear
Keeping unwanted clothing gifts given to you by a relative, friend, or co-worker that you'll never wear also makes little sense.
If the item they've given you doesn't fit or align whatsoever with your fashion taste, there's no reason you should feel any guilt about getting rid of it.
You can still appreciate their generous gesture. Donate it, help a charity, and let someone else get some use out of the item.
While you're at it, reconsider what type of holiday-themed clothing you should actually let occupy your closet space. Do you ever actually wear that ugly Christmas sweater?
Are ironic fashion choices just not really your thing? If not, clear out that tacky apparel to reduce your closet clutter.
Get rid of your closet clutter
If you're constantly dealing with closet clutter, unburdening yourself of these 10 things is a good first step towards having a more manageable closet space.
Adding some closet organization solutions to your home will also be a great help when it comes to keeping your closets neat and tidy.
Schedule a free in-home design consultation with Organized Interiors to plan your custom closet project.
See also: