After the more laid back approach to life most of us take during the summer, readjusting to the hustle and bustle of the autumn and early winter seasons can be tricky.
With fall just around the corner, hopefully you've managed to keep up with the busier pace of everyday life.
Your family will be spending a lot more time indoors now that the cool weather has arrived and the more frigid weather looms just a few weeks away.
17 fall home organizing tips for a tidier house and condo
Considering how much more time we'll be staying inside, it makes good sense to focus on getting your home clean and organized in the next few weeks.
A major deep cleaning and decluttering of your home doesn't have to wait until the new year or next spring. By then, there'll be more work for you to do.
And who wants to spend the first few days of January worrying about a big cleaning project when many of us are feeling drained after the hectic holiday season?
Before the year gets much older, get your house or condo autumn and winter-ready with these 17 fall home organizing tips.
1. Create an organization checklist and use a schedule
Having goals and a well-thought-out game plan for getting your home organized will increase the odds of success with your organization project.
Set up an organization checklist with key tasks you want to complete around the home. Don't hesitate to throw in a couple of easy and quick organization jobs, either! Seeing things checked off a to-do list provides great motivation to keep moving forward.
To stay better organized, ensure you're using a schedule to keep track of all events everyone in the house has coming up.
Medical appointments, sports practices and games, school events, and social gatherings should all be shown on a schedule so no one is caught off guard at the last moment.
Use a calendar in the kitchen that allows for lots of writing space for each day of the month. There's no shortage of mobile calendar and scheduling apps available that will sync between everyone's phones to keep all of your family's upcoming events documented and organized.
2. Focus on one task at a time
Don't take on too much and try to get your whole home in tip-top shape in just one weekend. No one needs that pressure or frustration.
A lot of home cleanup efforts fail because we attempt to do too much, can't meet our goals, get frustrated, and walk away from the work.
Pace yourself and set realistic goals with a flexible timeline.
If necessary, just concentrate on one or two rooms to work on and get in peak form. After all, even one is better than none!
3. Make closet space for seasonally-appropriate clothes
Any change in seasons (especially in the spring and winter) should involve a thorough swap out of your wardrobe.
Ensuring that only seasonally-appropriate clothing is taking up your main wardrobe storage spaces will make getting dressed easier. You'll have fewer things to navigate through and choose from, which will save you time.
Your spring and summer attire from your bedroom and front entryway closets could be hung in a spare bedroom closet, kept in labelled storage bins, or in the storage spaces of your built-in bedroom cabinetry.
Don't forget about the linen closet, either. Switch out those lighter linens with your heavier bedding, linens, and blankets.

4. Edit your wardrobe
A seasonal clothing changeover also gives you a good opportunity to edit your wardrobe and get rid of the pieces you never wear.
As Marie Kondo preaches, only keep clothing items that truly spark joy. If you haven't worn something in a couple of years, it's probably time to add it to your pile of clothes to donate.
A seasonal wardrobe curation will minimize the chance of wasting money on a duplicate purchase of something you already own and just couldn't find (which only makes a closet more congested).
If you're struggling to keep your home's closet spaces tidy, contact Organized Interiors. Our custom closets are designed to make managing your storage spaces easy and more efficient.
5. Organize your digital world
Because we use our smartphones, tablets, laptops, and desktop computers so much nowadays, digital clutter is something that needs occasional tending to.
Americans check their smartphones an average of 52 times per day, according to one study. The most recent data we could find on cell phone usage for Canadians was from a 2014 CIBC poll. It reported that we check our phones a lot more – an average of six times per hour.
Most of us have more apps than we use, so get rid of the ones on all of your electronics that do nothing but add to your digital clutter. Group your mobile apps by category into folders so you don't have four or five pages to swipe through just to find one.
Clean up that neglected email in-box and get those computers tidied up by reducing the number of files and icons on your desktop.
6. Rein in the holiday shopping
All of these fall home organizing tips involve taking action on different things except for this one. No, this tip involves doing, well, nothing.
A good deal of the clutter that sits in homes comes from impulse and sale purchases of things you didn't need, but believe you might need someday.
There will be no shortage of tempting sales over the next few months with Black Friday, Cyber Monday, and Boxing Day vying for our attention and spending money.
Resist the lure of those rock bottom sale prices to prevent the accumulation of more home clutter unless they're things you really need and will use.
7. Declutter your food storage spaces
The kitchen is one of your home's hardest working rooms, meaning your food storage spaces should be getting decluttered regularly.
It tends to get used even more during the last few months of the year for baking and cooking dishes to bring to social functions or for home entertaining.
Empty the contents of your pantry, freezer, and fridge to see what's fresh and what isn't. Give these storage areas a good cleaning before refilling them.
Set aside food purchases that are still good to eat, but will likely never get used. Food banks will appreciate your donation during this time of the year.
8. Help your kids get more organized
You can help your kids get more organized to make both their life (and yours) a little easier.
Work with them in their closets and drawers to reduce the number of outgrown or damaged clothing items that could be removed. This can create more storage space for those recent back-to-school wardrobe purchases.
Because kids grow so quickly, their closets should actually be getting the curation treatment even more regularly than your bedroom closet does.
To help with their academic tasks, consider setting up a home study space that's tidy, designed to cater to their studying needs, and distraction-free.
A study space can be incorporated into a home office design to create a multi-functional room for the whole family.
9. Deal with those junk drawers
One of our previous fall home organizing tips involved adding smaller decluttering jobs to your cleanup to-do list. Tidying up your home's junk drawers falls into that category.
Dump your junk drawers separately out onto a large surface like the dining room table and start going through everything.
Have a garbage bin and paper recycling bin beside you and you'll probably find there's not much left to go back in the drawers once the job is done.
If the drawers don't have dividers, add some to keep things more organized.
10. Make your bed every morning
Many of us were taught to make our beds every morning. We lead busy lives, however, and making the bed is rarely the first thing on our minds when we wake up.
Sometimes finding even that one or two minutes for this task during a hectic morning isn't easy, but here's why you should try it.
Gretchen Rubin is an author and former Navy SEAL commander. She writes in a LinkedIn article that the simple act of making your bed every morning is a positive way to start the day.
It ties into that strategy of sprinkling in a bunch of fast, easy-to-accomplish chores on your organization to-do list to fuel your motivation.
With your bed in mind, remember to flip and rotate your mattress anywhere from once every three months to once a year, depending on what the mattress maker recommends. That will ensure one side doesn't wear out too fast.
11. Delegate home chores
A lot of these fall home organizing tasks will require a bit of time, which is even more reason to delegate duties among family members.
Everybody contributes to creating household clutter, so everyone who's old enough to help clean and declutter should be pitching in, too.
Splitting up your household chores will ensure mom or dad don't get burnt out or frustrated taking on too much work.
Another good reason to delegate when it comes to cleaning work is that it tends to make kids feel more accountable and responsible for how they function within the home.
They'll be less likely to leave a mess if it's them that has to eventually tidy it up!
12. Be prepared for the unexpected
There's nothing worse than being unprepared when an emergency occurs or anything else unexpected happens.
Maybe it's a December ice storm that knocks out your home's power for hours or perhaps it's having to deal with a cooking fire.
As part of your fall home organizing checklist, spend the time to take proactive measures to guarantee you're as ready as possible for any unexpected and challenging household occurrences.
October is fire safety awareness month, which means it's time to check the batteries in your smoke and carbon monoxide alarms and test the units.
Every home should have a fire extinguisher located in or near the kitchen. Check that its expiry date is still good. If the extinguisher has a pressure gauge, make sure it's maintaining pressure.
Test your flashlights to see if they need fresh batteries and know where to find your candles and matches.
13. Make sure your guest room is ready to go
Having a guest room always at the ready for overnight visitors is a wonderful thing, whether it's during the holiday season or any other time of the year.
It's great having a dedicated hosting space that doesn't require you to scramble around searching for bedding and sleeping accommodations for guests.
A Murphy wall bed is perfect for guest rooms. Here's why:
they're super-comfortable to sleep on
less floor space is taken up with their pulldown design
extra storage space can be incorporated into the bed's design
they can be customized to complement your décor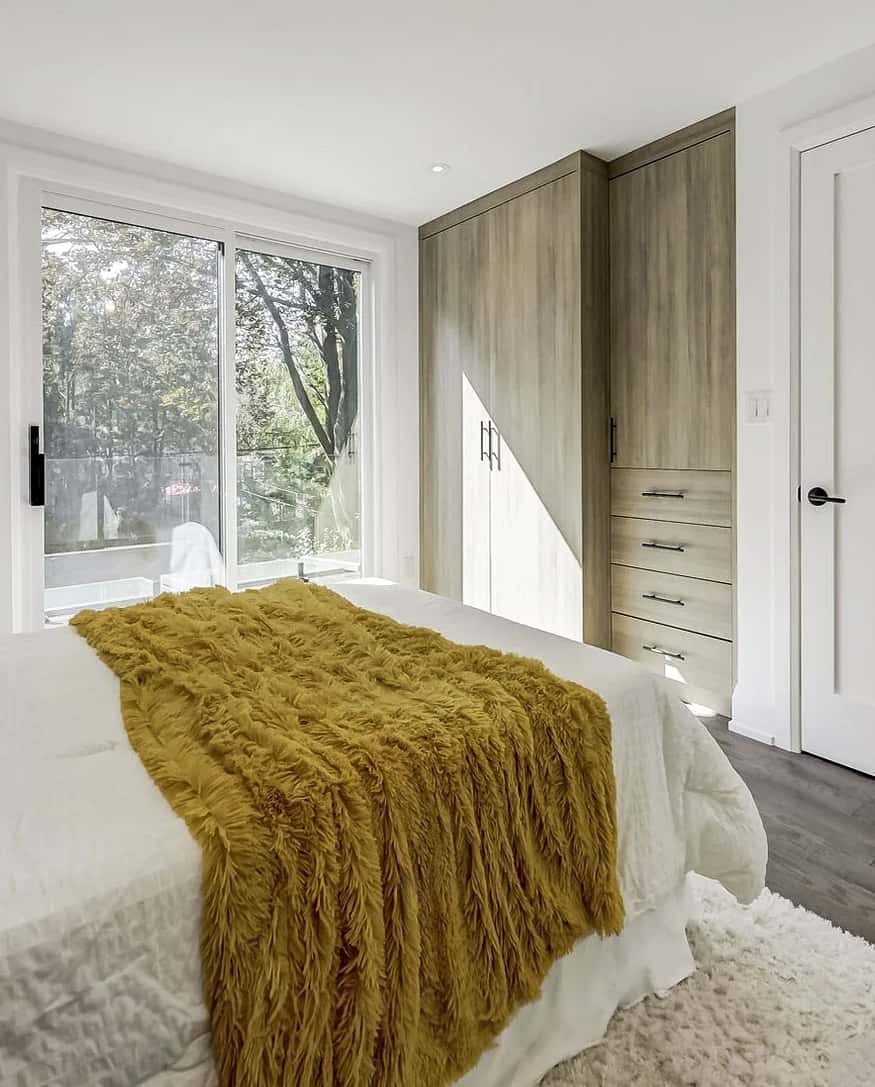 14. Create storage homes for as many things as possible
Creating homes for 100% of everything in your home is a lot to ask, but with a little time and focus, it's possible to establish homes for most of the things you own.
Dedicated homes reduces the amount of time wasted looking for misplaced items (as long as you take that all-important step to actually put it back in its home, mind you).
15. Fall home organizing tips for outside
We aren't just focussing on the inside with these fall home organizing tips – your home's exterior needs a little attention in the autumn as well.
In addition to the standard outdoor home maintenance tasks you'll be doing this fall like cleaning the eavestroughs and raking leaves, spend some time organizing now so you'll make life easier for yourself come springtime.
Pick up any toys, sports gear, yard tools, and gardening tools sitting outside.
Drain your garden hoses, faucets, and sprinkler system to prevent damage from ice and hang the hoses neatly in the garage or a shed. Consider adding insulating covers to your outside faucets.
Wash off your patio furniture before putting it away until the spring. Store it in a shed or an out-of-the-way spot in the garage. If it's staying outside, cover everything with properly fitting covers to prevent rust.
16. Get your garage organized and winter-ready
Because the garage gets so much use during the spring and summer, it tends to be one of the more demanding fall home organizing projects to deal with.
Just as you edited your closet's belongings, do the same with the contents of your garage. Throw out old or broken tools that aren't useful.
Look for floor clutter that can be discarded to make more space for garage parking when the weather gets worse.
If floor clutter is a problem, the solution is to make better use of your wall and overhead space.
Slatwall storage panels and overhead racking will create an ample amount of storage room for things like:
yard tools
sports equipment (including bikes)
ladders
holiday decorations
bulky seasonal items such as patio furniture
Contact Garage Living to get more information about how they can make your garage more visually appealing and organized.
17. Upgrade or add a mudroom
Having a transitional home space between the indoors and outside like a mudroom is particularly helpful at this time of year.
A mudroom can help to contain the messes that occur with tracked-in mud or snow from boots, as well as jackets and apparel that are soaked from the rain or snow.
In addition to your family's fall and winter outdoor gear, all of those other items that regularly go in and out of the house like dog leashes, car keys, and backpacks can be kept organized in a mudroom and won't get lost or misplaced as often.
Start your fall home organizing now
If you've been thinking about devoting time to some of these fall home organizing projects, let us know how we can help.
Organized Interiors has storage and organization solutions that every room in your home can benefit from.
Get a free quote by requesting a free in-home design consultation with us today.
Please share this post if you found it useful.
See also: