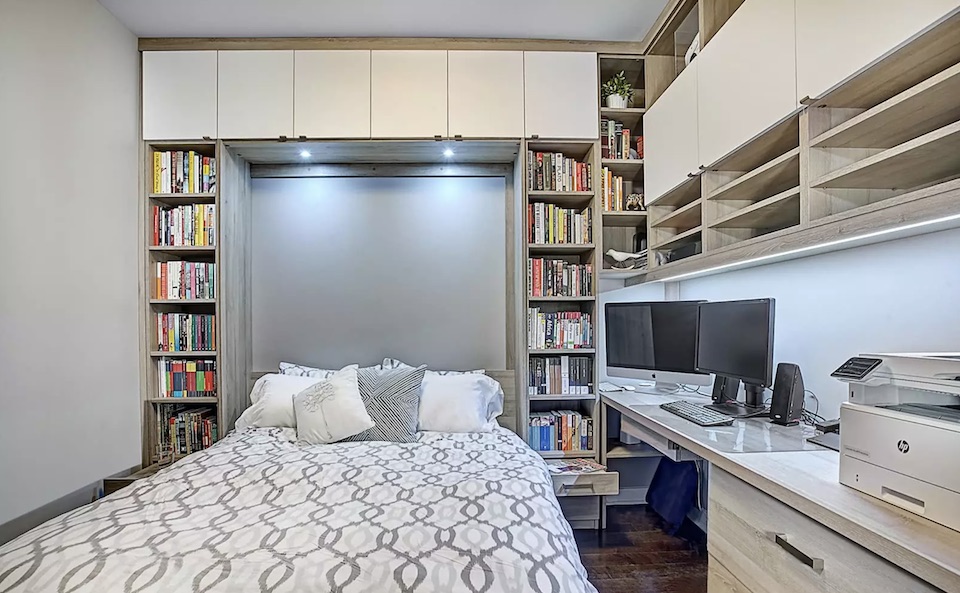 We've had to get more creative with how our condos and houses were used over the past couple of years.
Our homes have been not just a living space, but a fully-encompassing life space during the majority of that time. Most of us have done virtually everything in them including working, sleeping, relaxing, eating, exercising, entertaining ourselves, and socializing virtually.
Optimizing our homes for maximum functionality has taken on new importance. Furniture designs that saved space and offered more than one function – especially as everyone pivoted to studying and working from home – have been in higher demand.
A wall bed with desk setup turned out to be the perfect way for some families to study and work from home, without sacrificing too much functionality in one of their rooms.
What exactly is a wall bed with desk?
A wall bed with a desk comes in a couple of design styles. In this article, we're mostly looking at the type that includes a wall bed with a side desk (and surrounding storage if desired) that is built-in to look like one large, integrated furniture piece.
The other type of wall bed with desk design is the kind that has the desk built right into the bed. The desk is attached to the bottom of the bed. When the bed is raised, the work surface is available to use. When the bed is lowered, the desk remains in a horizontal position and drops underneath the bed.
Depending on the manufacturer, the beds in both of these types of designs can be positioned horizontally or vertically. The biggest benefit of these beds is the significant amount of space they save in a room because they can be folded up into the wall during the daytime.
Some wall bed with desk models use genuine Murphy wall beds and hardware. The Murphy bed has stood the test of time since being introduced a little over a century ago. The highly respected "Murphy" name is as synonymous with wall beds as "Kleenex" is with facial tissues and as "Q-tip" is with cotton swabs.
Inventive furniture designers have improved on the classic, already-great Murphy wall bed concept by incorporating features in addition to built-in desks. You can even buy a wall bed that converts into a comfortable sofa!
A wall bed with desk saves space
Space-saving furniture designs have always been practical. When you've been confined to our homes for as much time as we have been during 2020 and 2021, our living spaces started to feel more and more cramped as each month passed. That's made space-saving furniture even more practical and essential.
Built-in custom cabinetry like a Murphy wall bed and desk saves more space than freestanding store-bought furniture. It's specifically built to the room's dimensions, providing the highest level of space optimization.
Furniture like a wall bed with a desk is ideal for guest rooms, small bedrooms, condos, and any type of small living space.
Improve a room's functionality
By making the most of a room's space, you can upgrade its functionality and let one of your rooms work a little harder.
Wall beds are commonly used in guest rooms. Most of us only have guests stay overnight once or twice a year, however. Unless you live in a 30-room mansion and can afford to have one room in your home that will get used relatively infrequently, a single-purpose guest room may not be the most practical usage of your square footage.
A wall bed turns any room into a hospitable space in your home for guests in mere seconds. There's no fussing around making up a rollaway bed, futon, or sofa bed that don't provide a comfortable sleeping experience. Simply lower the bed from the wall and the fresh sheets put on the bed from the last time it was used make everything good to go.
For the vast majority of the time when the room isn't hosting guests, it can be used as a home office and study space by having a desk included in the custom cabinetry design.
It's a smart solution if you don't have the square footage to dedicate an entire room for use as a home office and want to get everyday functionality from a spare room. Organized Interiors can design a highly functional home workstation that accommodates your family's work and study needs.
A dedicated workspace helps with productivity
Not having a stable work from home setup can hurt your productivity. It's harder to focus and produce a good workflow when your work area is the dining room table one day and at the kitchen table the following day.
A permanent work setup with a proper desk, enough space, ample storage, and some privacy just may be your ticket back to better work productivity at home.
A wall bed with desk setup also creates a better study from home environment. Even if your kids resume in-class learning, a well-designed home study space provides them with an area that can be used for doing homework.
Triple-up on a room's functionality
A spare room can do even more than function as a guest room with a home office, especially if it's larger. Don't just double-up on the room's functionality by using it as a guest room and home office – triple-up!
Because a wall bed with desk takes up so little space, the room could be utilized in any number of additional useful ways. Here are a few ideas:
yoga room
exercise space
reading room
home library
music room
home entertainment room
The integrated furniture design featuring a wall bed and desk can be customized to include lots of surrounding open and closed storage for things like office supplies, bedding, books, and personal items.
Instead of a traditional wall bed, you could add a dual-purpose wall bed with a sofa and include a small entertainment centre in the room. Now you have the perfect home space to work, relax, and rest!
4 drawbacks of a wall bed with a built-in desk
Wall beds with a built-in desk undeniably save space. They do have a few notable limitations, however. Here are some of them:
1. A small work area
The concept of a built-in desk and wall bed combo sounds great in theory, but take a look at any photos of them and you'll immediately see one of their most glaring limitations – they have a very small work surface.
The tiny work area of a built-in desk consists of a single flat surface. There's little surface space for a computer, printer, scanner, papers, office supplies, a desk lamp, and snacks and drinks. Forget about personalizing the desk with things like photos or plants.
2. A lack of storage and overall functionality
You're not getting anything close to the "fully functional desk" that you're being promised with virtually any desk that's part of a wall bed. The furniture's design simply can't accommodate it.
The only functionality provided with a built-in desk is whatever you can do on the bare-bones work surface. We'd call that pretty one-dimensional.
There are no desk drawers and you can't store things above the desk in overhead cabinets or on shelving. Extra storage would have to be added to the side of the bed/desk.
The wall bed's bottom provides the backing of the desk and has a faux front that looks like cabinetry. The handles, which look like they're meant to open cabinet doors, actually work as pulls to lower the bed.
3. Impracticality
One of the selling points of some bed/desk models is that you don't even have to remove anything from the desk surface when you lower the bed. That's because the desk stays in a horizontal position just off the floor below the lowered bed.
When you read the fine print on some product descriptions, however, they can say things like the lowered desk can't have items taller than four inches left on it. With a clearance that low, you'd be forced to use a laptop instead of a desktop computer and have to be regularly clearing things off the desk when your workday is done (like you're right back at the kitchen or dining room table).
Some furniture retailers even boast that you can leave a cup of coffee or glass of water on the desk when the bed is lowered. We'll take a pass on drinking from either of them the next day, thanks.
4. Low weight capacities
The basic nature of built-in desks means they usually have fairly low weight capacities. Some models we looked at online had a weight limit of just 20 lbs. This is another example of the lack of practicality of using a built-in desk for a home workspace.
Be especially leery of buying add-on desk kits that can be attached to standard wall beds. They'll likely underperform in the weight limit category for your workspace as well.
Get your home workspace design started
Talk to Organized Interiors about upgrading your home's functionality with a custom-designed Murphy wall bed with desk and surrounding storage.
Our wall bed designs use genuine Murphy bed hardware for its superior quality and ease of use. The hardware is backed by a 25-year manufacturer's warranty.
Schedule a free consultation with us to start planning the design for your space for studying or working from home.
Please share this post if you found it useful.
See also: