Some things just never go out of style.
Jeans, white tees, Converse sneakers, hardwood floors, and white interior walls are all examples of classics that have survived many decades of trends and are considered staples of modern living.
The Murphy wall bed might not be quite on the same level of these things as far as its ubiquity in our daily lives, but it can very much stand alongside them in terms of the timeless appeal it has.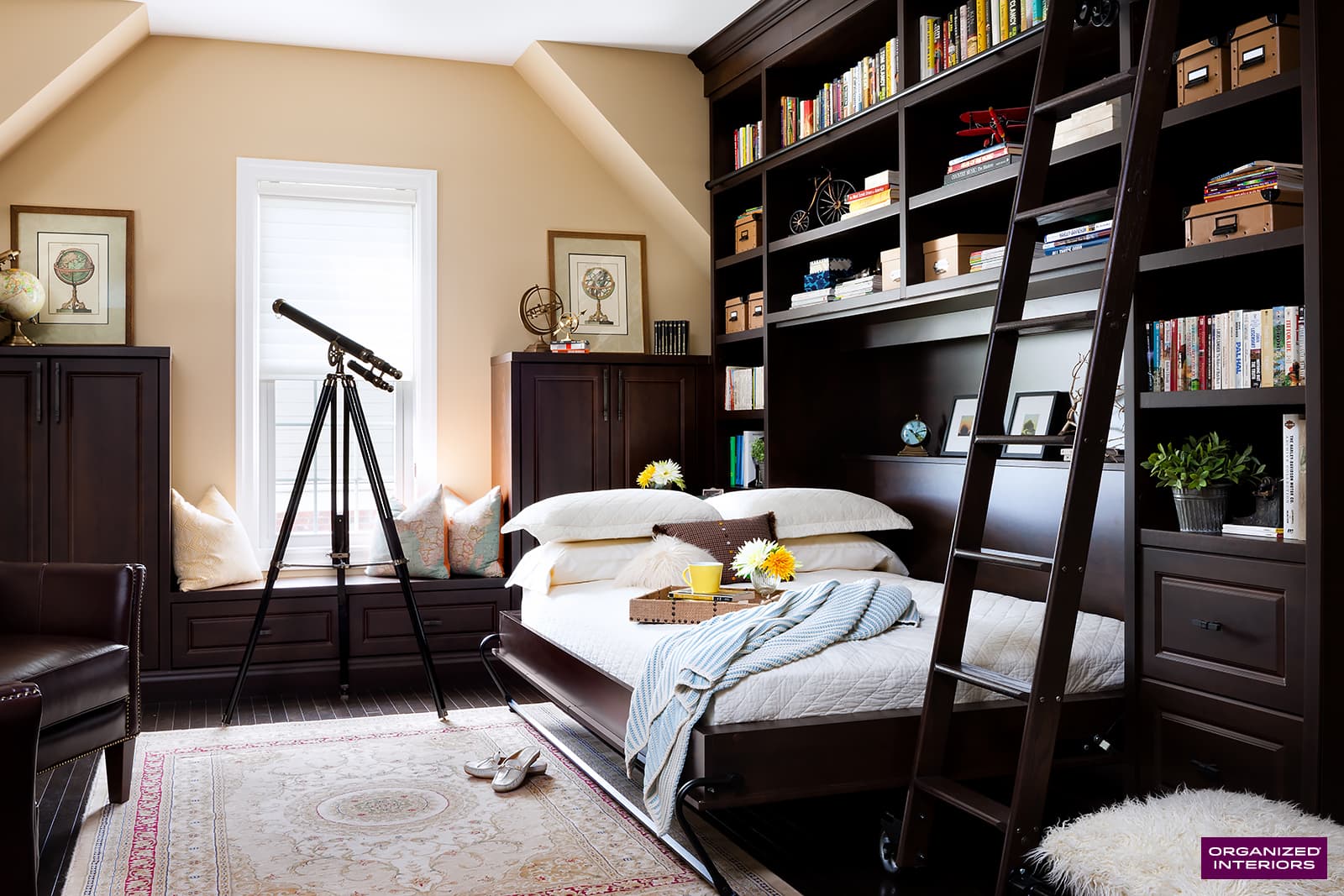 7 Murphy wall bed ideas you should know about
William Murphy's wall bed design has been around for well over a century.
It's come a long way from it's rather crude beginnings as an uncomfortable-to-sleep-on piece of furniture that was difficult to open and close and commonly found in cheap apartment units.
Nowadays, Murphy wall beds can be found in upscale condos and houses and beautifully add a stylish, modern touch to a home's décor.
Let's look at seven Murphy wall bed ideas that show why this classic piece of furniture remains so appealing.
1. Murphy beds are a classic brand for a reason
There's a reason most wall beds are commonly referred to as just "Murphy beds", even if they're not the Murphy brand. The Murphy name is associated as much with wall beds as Kleenex is with tissues, Band-Aid is for bandages, and Google is for online searches.
All of these brand names are used as shorthand to describe even their competitor's products because in some cases they invented the product, they perfected the product, and they became market leaders.
All wall beds are not created equal, however. DIY wall beds, such as a Lori wall bed, have only one thing going for them compared to a Murphy wall bed – their lower cost.
Aside from this, DIY wall beds fall well short of a customized authentic Murphy bed in five important areas:
appearance
ability to customize
quality of construction materials
functionality and ability to add storage space
ease of use when opening and closing the bed
2. Wall beds are big space savers
Even if your living space isn't small, wall beds are great when it comes to saving space in a room. Their pulldown design means wall beds take up very little room and won't be in the way when they're not in use.
The bed stays folded up and out the way during the day. That frees up floor space, which allows for more space to move within the room and also makes vacuuming the room easier.
When it's needed, simply pull the bed down and it's all ready for a good night's sleep.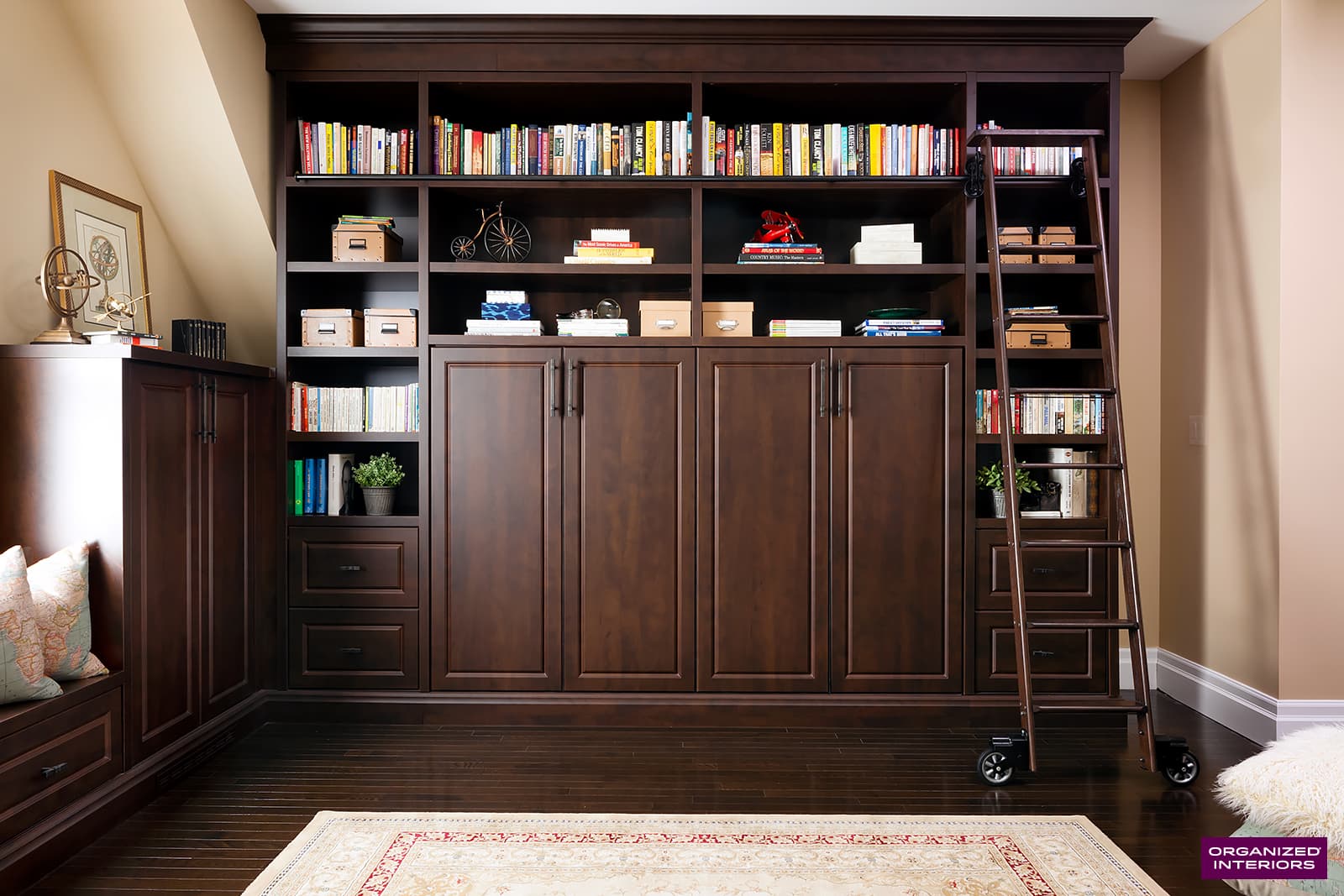 3. They're ideal for small living spaces
Between consumers being more mindful of reducing their carbon footprint, embracing a more minimalistic lifestyle, and being less able to afford property due to sky-high real estate prices, small space living is more popular than ever.
So whether you're a middle-aged professional who's downsized to a much smaller home or a millennial living in a studio apartment, a Murphy bed was made just for you.
When space is really at a premium in a small home, a wall bed is virtually a must-have piece of furniture to own.
4. Wall beds are perfect for overnight guests
The small footprint a wall bed occupies within a room also makes them absolutely perfect for guest rooms. A proper guest room with a comfortable bed makes for a better overnight visiting experience for your guests.
And if you only have one spare room available, it can double as a guest room and a small office space with bespoke cabinetry.
Any other use for a spare room such as a craft room, fitness room, or kids playroom can incorporate a wall bed design that lets you also use it for a guest room. It's all about maximizing the functionality of your home!
5. It's more than just a pulldown bed
Another outdated stereotype that some people have about wall beds is that they're unattractive and lack style.
Organized Interiors' customized wall beds are anything but visually unappealing, however. In fact, we're confident you'll find that they nicely enhance any room's appearance with custom finishes and design features that beautifully complement your décor.
One of our clients had a spare room that was right by her home's front door and she didn't want this guest room to actually look like a guest room. We were able to add a wall bed unit that keeps the bed hidden and the room open with lots of floor space.
Even though a Murphy bed takes up less floor space, it can actually add useful storage space to a room. This integrated piece of furniture can have storage add above, behind, and to the sides of the bed unit.
Choosing a wall bed that you can have customized gives you many more options for sizes, finishes, decorative hardware, and other features.
6. A Murphy bed is the easiest-to-open wall bed
Some people have the perception that wall beds are a pain to open and close and that you need to have the strength of a bodybuilder to operate one.
Ease of use when using a wall bed can definitely vary, depending on what type of wall bed you buy.
Murphy beds are hands-down the easiest wall bed to open and close. The high quality hardware and mechanisms Murphy beds use makes opening and closing them simple and quick.
Interior designer Jane Lockhart demonstrates in the video below how easy peasy it is to open and close an Organized Interiors Murphy bed:
7. Wall beds are super comfortable to sleep on
To conclude our list of wall bed ideas, let's dig a little deeper into the incorrect perception that wall beds have lumpy mattresses and aren't comfortable to sleep on.
That may have been true back in the 50s and 60s time period where 70s TV hit Laverne & Shirley took place. Their Murphy bed was the source of numerous hijinks and was virtually a recurring character on the show. It also led to somewhat of a Murphy bed boom with American consumers.
Not to worry, though – a high quality Murphy bed coil mattress is every bit as comfortable to sleep on as a conventional bed mattress.
Visit our showroom for inspirational wall bed ideas
If you're intrigued by the Murphy wall bed ideas listed here, visit our showroom to experience the stylish looks and practicality of our custom wall beds for yourself.
Organized Interiors' Murphy beds are built to last and come with a lifetime warranty on the bed's parts.
You can also schedule a complimentary in-home design consultation with us to plan your wall bed project or guest room makeover.
Please share this post if you found it useful.
See also: