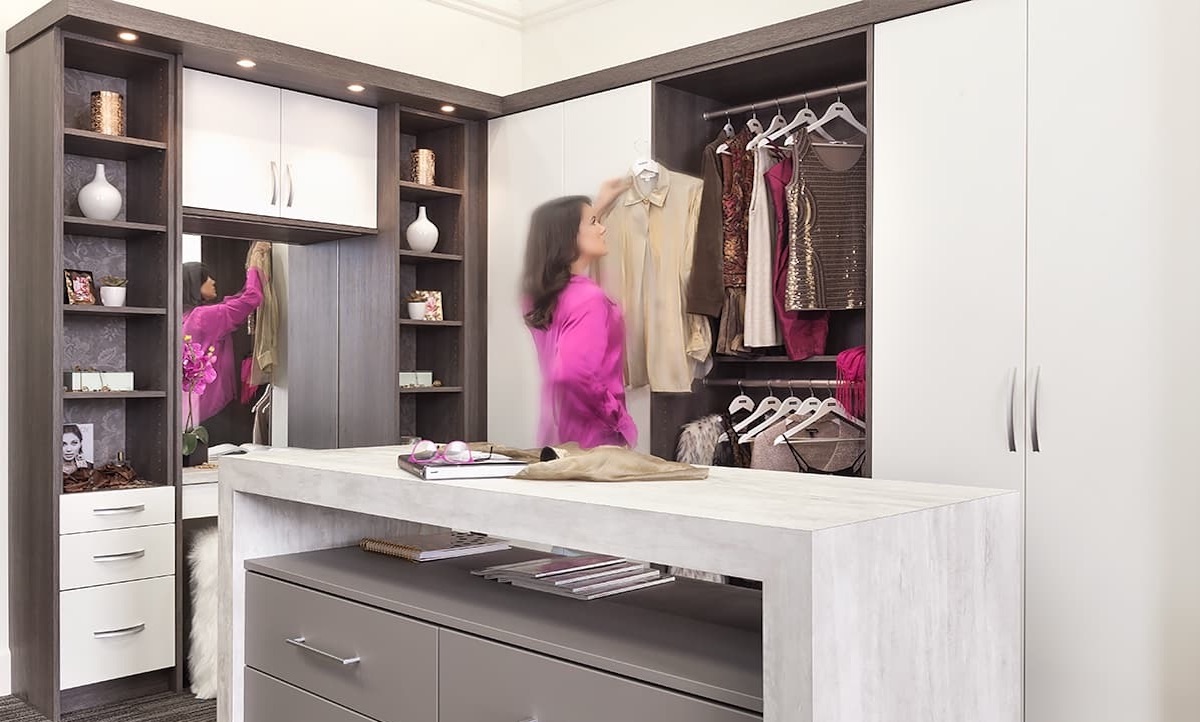 Spring is well underway, so there's a good chance you've been working away on your home spring cleaning projects.
As time-consuming as it can be to give your home some extra cleaning and organizing attention, it always feels rewarding to refresh and renew your living space.
Obvious tasks like dusting blinds, washing windows, vacuuming baseboards, and cleaning out the pantry are likely on your spring cleaning checklist.
One project you might be overlooking, however, is a spring closet cleaning.
Don't overlook your closets while spring cleaning
Although most of the closets in our homes get used every day, they often get overlooked come spring cleaning time. We tend to focus our work efforts on the more visible home areas. It's all too easy to hide messy closets by just keeping their doors closed as much as possible.
The "out of sight, out of mind" philosophy simply doesn't work very long with an untidy closet…as we're always reminded the next time we use it.
A change of season presents the perfect opportunity to declutter and organize your closets. They're one of the home's major clutter hotspots and there are lots of benefits of having tidier closets.
Here are some spring closet cleaning tips to help you create more functional and efficient closet spaces.
Benefits of spring closet cleaning
Let's start with the benefits of doing a spring closet cleaning. Here's why it's worth the time and effort to do a spring closet refresh:
Organized closets are a time-saver: overstuffed closets make it harder to find things to wear every day. Curating your wardrobe to accommodate the current season and making better use of your storage space eliminates hours of wasted time every year.
Using tidy closets reduces stress: an easy-to-manage closet space makes it less stressful to get dressed. With all of your clothes and accessories visible at a glance, you'll experience less "mess stress" and decision fatigue and enjoy a smoother morning routine.
Maximize your wardrobe usage: A National Association of Professional Organizers study found that 80% of our clothes are only worn 20% of the time. Organized closets reduce the likelihood of losing and misplacing clothes and allow you to get the most use from what you own.
Get a better idea of what clothing you need to buy: an occasional wardrobe curation and closet reorganization helps you make smarter clothing purchases. You'll be more informed about the gaps and surplusses in your clothing collection.
Extend the life of your clothing: messy, overstuffed closets lead to poor storage habits. That usually leaves clothes looking a little worse for wear, which can damage them and shorten their lives.
5 essential spring closet cleaning tips
In addition to these specific closet-cleaning benefits, spring cleaning is an age-old ritual because it helps lighten our mood, increase our productivity, and improve the air quality in our homes.
Every part of a home needs an occasional refresh. Even the most beautiful room will lose its visual appeal after years of seeing it day after day. All areas of a living space (including the closets) can benefit from a refresh and revamp every once in a while.
If all of these benefits sound like worthwhile reasons to get your closets in order, here are some tips to make your spring closet cleaning project a little easier.
1. Curate your wardrobe
Recent data from Statistics Canada shows that the average Canadian household spends $3,344 on clothing and accessories annually.
Whether it's the garage, kitchen pantry, or your closets, any space is naturally easier to keep tidy if it contains fewer things to store. Our bedroom closets work the hardest and are most in need of a spring closet clean-out and some wardrobe curation.
The curation process will typically take up the most amount of time while spring closet cleaning, especially if it's something you don't do at least once a year. Try on anything you haven't worn in ages to see what fits and which items still align with your style. Set up "keep", "donate", "sell", and "throw-away" sections.
An effective closet purge requires making some difficult choices about what to keep and what to let go of. Be mindful of finding a sensible balance between practicality and sentimentality during the process.
Once you've eliminated the unnecessary items from your wardrobe, now you're more able to "shop your closet". If you're unfamiliar with the term, it means to create new outfits using the lesser-worn and overlooked items in your existing wardrobe. And if you do need to fill in a few wardrobe gaps, now you have more closet space for any new additions.
2. Refresh your closet interiors
We've detailed one type of closet cleaning that involves decluttering and curating. It's impossible to give a full closet a proper cleaning in the traditional sense, however. Since your closets will be mostly emptied during this process, take advantage of this opportunity to give them a deep cleaning.
Even in a home that is regularly vacuumed, a surprising amount of dust can get into enclosed spaces like closets. Give the ceilings, walls, and shelves in your closets a thorough dusting and remove any cobwebs. Don't forget to wipe down any baseboards, light fixtures, and small personal items that have accumulated dust, too.
Vacuum the closet floors and consider refreshing any carpets or rugs with a steam cleaning or shampoo if it's been a while since they've last had one.
Look for signs of mould and mildew, which can occur in dark closets with high humidity levels and overly restricted airflow. Avoid storing wet shoes and sweaty clothes in closets to keep out the moisture that mould and mildew thrive on.
Keep an eye out for signs of clothing moths as well. They're attracted to natural fibres and also enjoy warm and dark spaces. To make your closets less hospitable for moths, mothballs aren't your only option (in fact, they're quite toxic). Here are some alternative ways to avoid any moth issues in your closets:
don't put dirty clothes in closets
use pheromone strips
keep cedar blocks or hangers in your closets
use sachets containing spices like lavender, cinnamon, mint, and cloves
3. Use good closet organizing systems
After carefully considering which of your belongings deserve space in your closets, now it's time to put everything back. But before doing so, ask yourself one question: could my closets be improved with better storage and organization systems?
A high-quality custom closet system maximizes your closet storage space, reduces clutter, and makes it much easier to stay organized. Professionally-designed custom closet systems are superior to store-bought closet organizers for a few reasons:
they're tailored specifically for the dimensions of your home's closets, resulting in maximum functionality
there's more flexibility to accommodate your storage and organization habits
they look nicer and complement your existing décor better
higher-quality materials provide greater durability and a better user experience
Organized Interiors offers storage solutions for reach-in and walk-in closets that can be a game-changer if you're dealing with closet organization issues. Another option is to add a built-in or standalone custom wardrobe closet if you need a little more clothes storage space.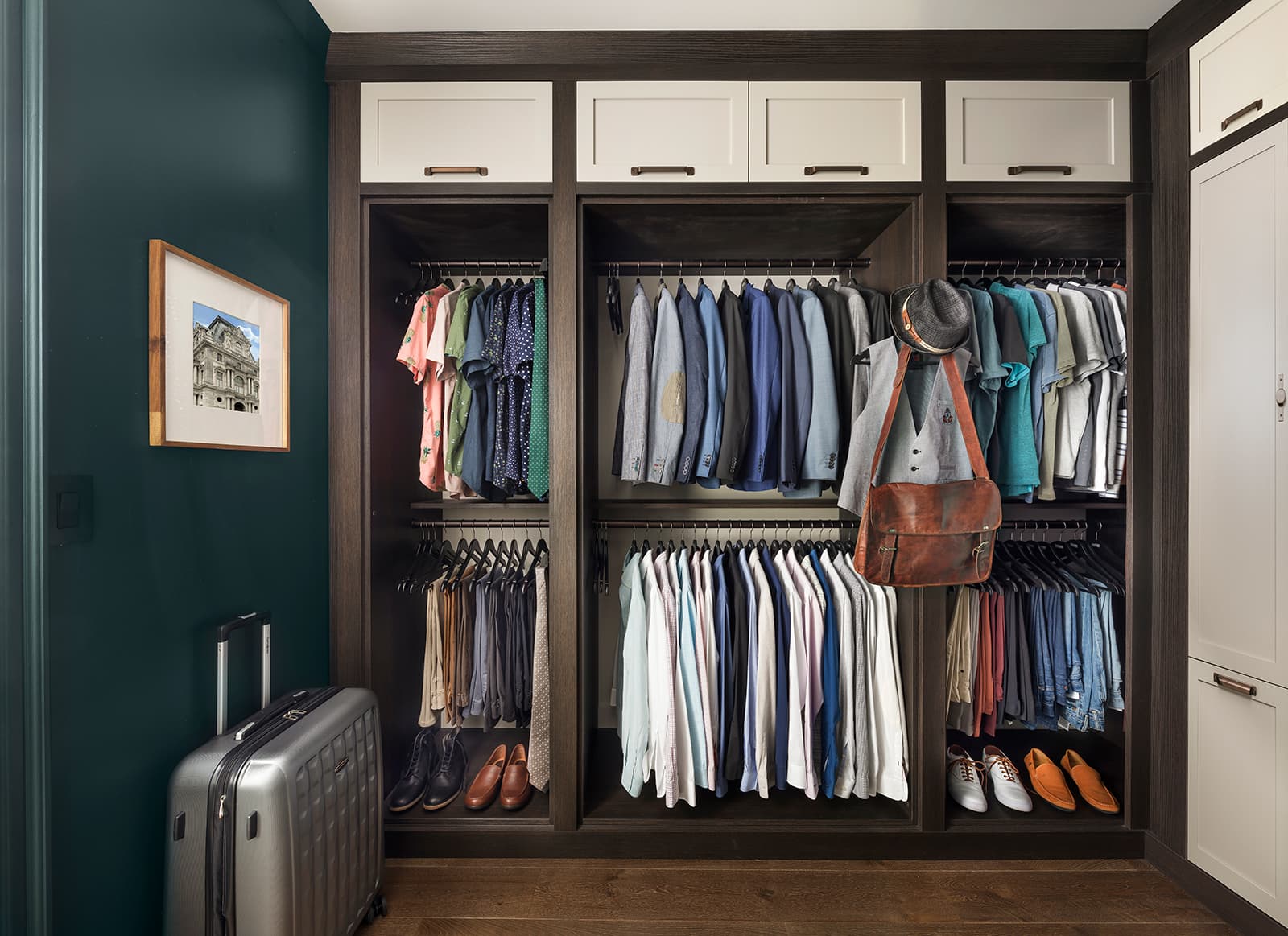 4. Prioritize your storage needs
Once you've decided on how your closets will be set up and what's going back in them, establish how you want to organize them.
Out-of-season clothes that won't be touched for a few months ideally shouldn't be taking up any space in your bedroom closets. An exception would be if you have a walk-in or extra-large reach-in closet.
Since this is a spring closet cleaning project, give your spring wardrobe basics the prime closet real estate. It's a good idea to leave one or two warmer clothing items available for those cooler spring and early summer days.
There are many different methods to organize your closets in a way that works the easiest and best for you. Some people like to group items by colour or fabric type. Others prefer to group things according to clothing type or length.
5. Donate, recycle, and repurpose your old clothing
A 2022 report from the National Institute of Standards and Technology found that only about 15% of used clothes and other textiles get reused or recycled in the U.S.
There are a few eco-friendly options available to get rid of your old clothing. Donating anything that is still in good condition is the best solution. As with any type of donation, you should always check the reputation of any local organization you choose to support. Here are a few suggestions:
clothing banks
women's shelters
refugee centres
homeless shelters
thrift stores
churches
organizations that provide employment assistance via business attire donations
Selling your old clothes online isn't for everybody, but it is another option. Local animal shelters may be able to use some of your old clothing as bedding. Some types of worn-out clothes that aren't suitable for donating can be repurposed as cleaning rags.
Virtually all types of clothing and textiles are recyclable. Reputable charities like Goodwill and The Salvation Army recycle any donated clothing that can't be used. Textile recycling companies and most municipalities can also accept your old clothing for recycling.
Reset your closets with a spring closet cleaning
Don't let untidy closets waste your valuable time every day because they're too unmanageable. Take the time to give them a spring closet cleaning and you'll appreciate having tidy and refreshed spaces to store your clothing.
Organized Interiors can upgrade any closet in your home with our stylish closet systems. Get started on your custom closet remodel project by scheduling a free design consultation with us.
Please share this post if you found it useful.
See also: