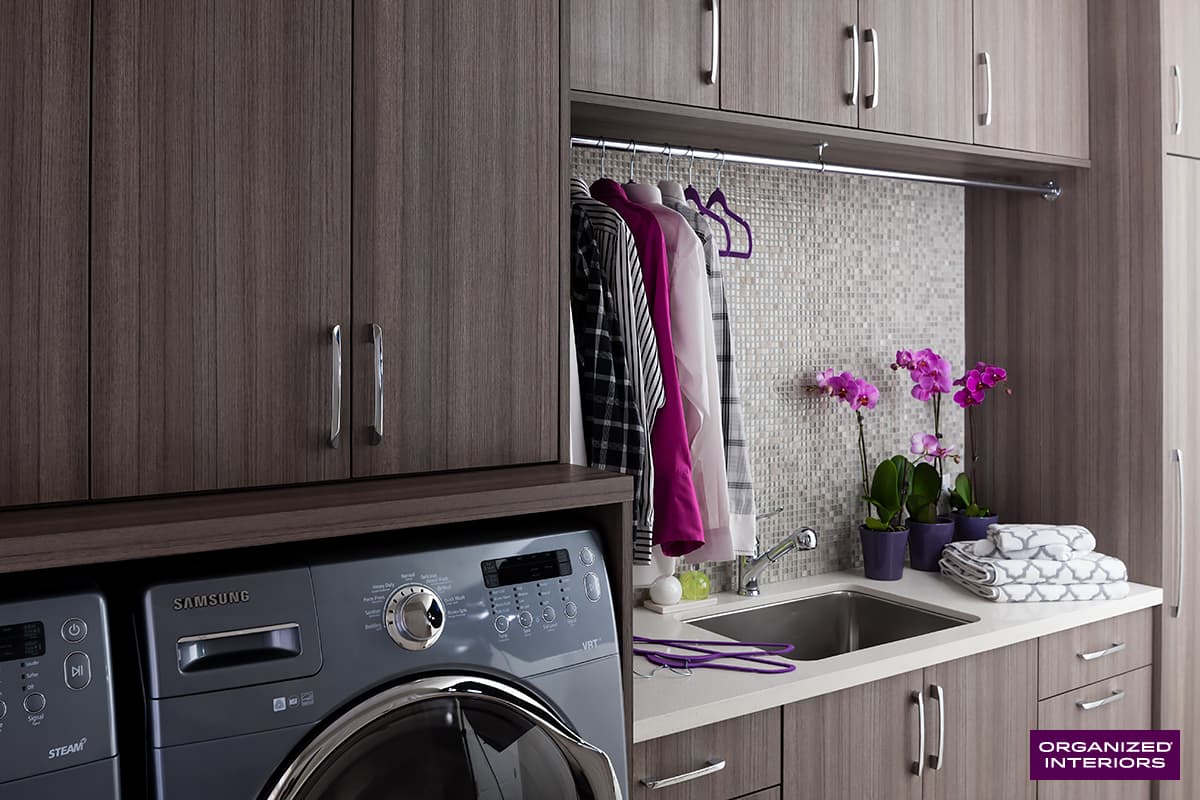 Rooms like the kitchen, bathroom, and garage never take a day off. The laundry room may not similarly be used every day, but it's still one of the hardest working home spaces.
The average Canadian family does 6-8 laundry loads per week. That means most of us spend dozens of hours in the laundry room every year.
One of the biggest problems with the most frequently used areas in our homes is that they're hard to keep tidy. An inadequate amount of laundry room storage space tends to leave the room cluttered and disorganized. That makes it less functional, which adds to our time spent doing the laundry.
Laundry rooms are commonly the least cozy room in a house, too. It's no wonder it's so hard to get motivated to do an admittedly mundane, yet essential task in an untidy, dungeon-like atmosphere week after week.
Upgrading your laundry room has many benefits and there are plenty of ways to do it with these laundry room storage ideas.
Having more laundry room storage saves you time
Doing the laundry is one of the most time-consuming household tasks. According to a recent Arm & Hammer survey, the average American parent spends almost five hours per month doing the laundry. For large families, that number is undoubtedly higher.
Redesigning your laundry room to better accommodate your storage needs and laundry habits creates a space that is more enjoyable, convenient, and efficient to use.
If you could save yourself just 20 minutes a week doing the laundry with a smarter room setup, that's more than 17 hours over the course of a year you can spend on other things!
The laundry process involves using a lot of different products, tools, and accessories. All of those items need proper homes so things are always easy to find and put back in their place. Grouping like items together also keeps everything more organized. Following these two simple organizing fundamentals will go a long way toward preventing clutter from accumulating in any space.
Other smart laundry room storage solutions such as having hampers to sort dirty clothes and space-saving systems for an ironing board and drying racks will help, too.
Get some inspiration to improve how your laundry room functions with these laundry room storage ideas.
1. Cabinets are essential for laundry room storage
Anyone who is thorough when they do the laundry potentially requires storage space for a couple of dozen types of items or more that they use regularly. This includes things like detergent bottles and pods, fabric softener, stain remover, bleach, mesh washing bags, dryer sheets, an iron, and clothes pins, just to name a few.
Instead of the cheap laundry storage systems that a lot of homes use, invest in custom laundry room cabinets to store your supplies. Cabinets are essential for a laundry room and custom cabinetry is a better option compared to mass-produced cabinets that you have to assemble. Here's why:
custom cabinets are tailored for a laundry room's dimensions so storage space is used more efficiently

you get a wider variety of

styles, finishes, and hardware
cheap cabinetry is less durable and more likely to fall apart faster (something worth considering in a room with fluctuating temperature and moisture levels)
Using cabinets for most of your laundry room storage needs keeps things hidden so the room looks tidier. Enclosed storage also keeps the space cleaner compared to keeping everything on shelves because you'll have less dust accumulating on all your laundry supplies.
2. Install a few shelves
Laundry room shelves are useful for keeping your most frequently used items stored above the washer, dryer, sink, and the room's primary work area. Shelves provide quick grab-and-go functionality, which is always convenient.
Use floating shelves and/or open shelf sections in your custom cabinet design. Set up distinct zones on the shelves to help maintain an organized space and eliminate any guesswork as to where something is located.
Adding shelves in a laundry room also lets you decoratively use them to make the space feel cozier. Pour your detergents, pods, and other supplies into stylish containers to bring some much-needed charm to the utilitarian space.
3. Add a multi-purpose laundry room island
Another great laundry room storage idea is to add an island if your room is large enough. A multi-purpose laundry room island adds more storage space and an extra work surface.
The base of the island can be designed for a variety of functions. Add several drawers for storing additional laundry and sewing supplies. Pullouts with hanging racks and an ironing board add space-saving functionality.
The island countertop also functions as a handy space to sort and mend your clothes and can be used as a folding station.  Undercabinet lighting helps brighten up your main countertop area to make working easier. This type of task lighting can be replicated above the island with a pendant or chandelier, which adds decorative appeal.
4. Upgrade or add a laundry room closet
If your laundry room has a closet, take advantage of that valuable hidden storage space. Ask your laundry room designer how to maximize the closet's storage space.
They might suggest adding more shelving or reconfiguring the shelf spacing so the closet interior is used more efficiently. Perhaps pullout racks can be added. To refresh the closet's appearance, give it a new coat of paint and add or upgrade the lighting.
For laundry rooms without a closet, consider adding a tall wardrobe-style cabinet that functions just as well as a traditional closet.
5. Boost and store more with pedestals
You can never have enough laundry room storage space and a very easy way to add some more is with washer and dryer pedestals.
Pedestals, which raise front-loading washers and dryers 12-16″ to make them more accessible to load and unload, come in a few different styles. The most popular type has a built-in drawer below the platform the appliance sits on. This small space is ideal for storing your laundry day essentials and extra supplies.
Some pedestals lack a drawer and just have an open cutout that also serves as a useful storage area. The other kind of pedestal costs a good deal more and doesn't offer storage. It incorporates a bottom compartment that lets you do a small laundry load or a second load along with the washer's main load.
6. Add plenty of laundry hampers
Having a smart sorting system set up so that dirty clothes get sorted quicker will save your home's main laundry-doers from having to do it.
Accomplishing this is fairly easy. As part of your remodel, have several pullout hampers incorporated into the laundry room cabinetry so dirty clothes can be separated by colours and delicate fabrics. Organized Interiors' pullout hampers can also be built into our closet organizer systems and have an easily removable cloth bag with handles.
Label the hampers so there's no confusion and have the wearers sort their own dirty clothes when they bring them to the laundry room. That's easier said than done, of course, but it's really not too much to ask.
You could also use laundry baskets, but hampers are a better choice. They look nicer and keep smelly and unsightly dirty clothes hidden.
7. Use a space-saving ironing board
The ironing boards we use aren't given much thought. They're usually stored in a closet or leaned against a wall in the laundry room's corner. More organized folks may hang them on a wall hook or rack.
Why not use a smarter ironing board storage method that also makes it easier to use? Pullout ironing boards that are incorporated into a cabinet drawer space are one option. Fold-down ironing boards that are mounted on the wall or built into the wall are another option. Just flip the ironing board down and it's set at the perfect height and good to go.
Pullout and fold-down ironing boards improve a laundry space in the following ways:
they save space
they're more stable than foldable freestanding ironing boards
there's no hassle setting them up and less danger of pinching your fingers
pullout and built-in ironing boards stay hidden when they're not in use
8. Hang 'em out to dry
Hanging washed clothes to air-dry qualifies as laundry room storage, even if they're only using the space for a short time.
Modern dryers may be better than ever, but there are a few reasons someone might want to air-dry their washed clothes. For example, most delicate fabrics don't do well in the dryer. Eco-conscious people also prefer to use their dryer less often. Perhaps someone wants to save their favourite clothing items from the extra wear and tear that comes from heavy dryer use. Hanging space is also needed for freshly ironed clothes.
The most popular laundry room hanging solutions include:
hanging rods
freestanding or fold-down drying racks
a pullout drying rack
a retractable clothesline
a valet rod
9. Use the laundry room for extra home storage
A large laundry room is practical for storing a lot more than laundry supplies. Have it designed to create extra home storage space for things like luggage, off-season clothing, and holiday decorations.
Most homes have a utility closet. Why not locate it in the laundry room to store your vacuum, brooms, mops, cleaning supplies, and tools? Emptying out a hallway utility closet can free it up so you can remodel it into a handy linen closet.
Add value to your home with a laundry room remodel
Making some décor upgrades and increasing your laundry room's storage space will transform your experience doing the laundry.
There's a reason modern laundry rooms are consistently named by homebuyers as one of the features they want the most.
The National Association of Realtors' annual Remodeling Impact Report also found that laundry room remodels were one of the most satisfying types of home improvement projects for homeowners.
Maximize your laundry room storage space
Are you ready to address your laundry room's lack of storage space and drab appearance?
Organized Interiors has solutions to transform your laundry room into a brand-new space with ample storage, stylish décor, and added value for your home.
Schedule a free design consultation with us to begin planning your laundry room makeover.
Please share this post if you found it useful.
See also: