If you ask people why they choose a big box store closet system over a custom designed one, most would tell you it was because it's the cheaper solution.
Price shouldn't be the only deciding factor. The purpose of installing closet organization systems in your home is to help bring some peace and order to your life.
Putting together a closet system with "some assembly required" may bring more chaos and disorder in the short term and lose value over time.
Here are the top five advantages of custom closets over do-it-yourself (DIY) solutions.
1. Time and skill level
Time is a commodity, so any time spent assembling, measuring, cutting and building comes at a price, especially if you're not a fan of deadlines.
Ask yourself these 5 questions:
Do you have building skills?
Do you have tools on hand?
Do you measure everything multiple times before cutting?
Do you know how to use an Allen key?
Do you enjoy following instructions?
Answer no to any one of these questions and you should really consider a custom closet solution. When you do-it-yourself you need to measure, design, purchase, load, transport, unload and assemble all the components.
You'll also need space to cut, glue, nail and screw together pieces. That can be noisy and messy work. Then there's the clean up after.
At  Organized Interiors, the designers specialize in custom closets and know what to suggest for your needs. They'll come to your home, measure, create a computer designed rendering and cost out the work for you.
Most of the work is done at their temperature-controlled factory in Woodbridge where everything is pre-measured, cut on the premises, delivered to your home and installed. There's no waste. Not an Allen key in sight.
There is value in the time you save by letting a professional do the work for you.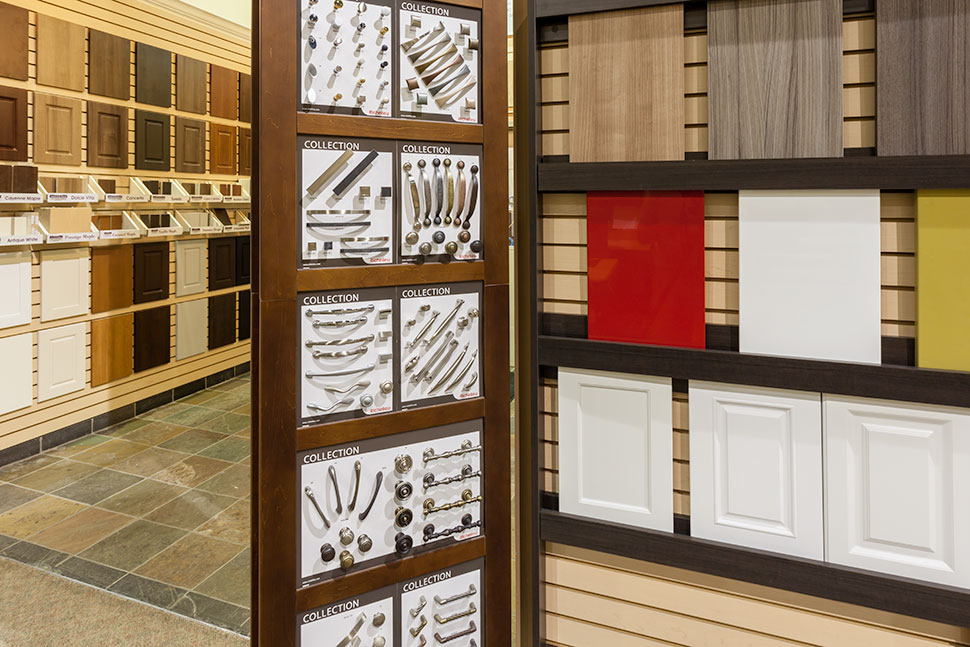 2. Selection and style
Some big box stores carry several brands with multiple components for wall systems, drawers, shelving and accessories. They're made from various materials like wood, veneered particleboard and metal.
What you won't find is a wide choice of finishes and decorative hardware. The choices in finishes and systems guarantee it will match your home and your taste.
Most components are pre-cut to standard lengths and widths. If you have an odd shaped closet, pre-cut lengths and widths may not work.
Custom made means custom measured, designed, cut and built to your space. It also means you will maximize the storage space in your closet.
There's more flexibility and choices when you deal directly with the specialists. They know their product line and what will work best for you.
From gloss finish in vibrant colours, to solid wood in traditional styling and all finishes in between, one walk through the Organized Interiors showroom and you'll see the difference right away.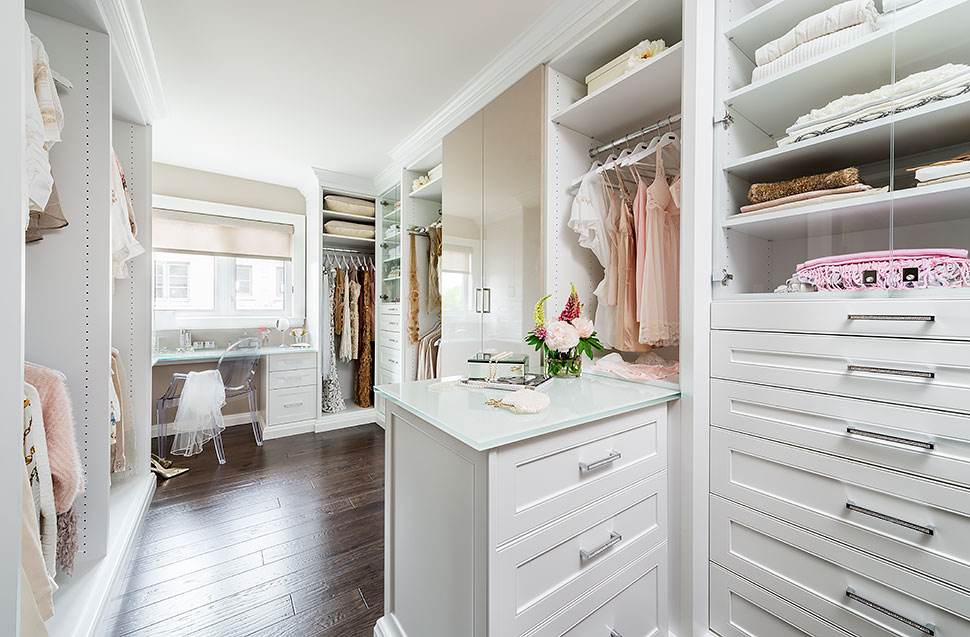 3. Quality
Most of the finished particleboard you can purchase at the big box stores is not furniture grade. For sturdy gable walls and shelving, Organized Interiors uses ¾" pieces. It's heavier but works best, carries the weight and lasts longer.
Veneer finishes have come a long way since they were first used on the market. Now they are much longer lasting and resilient. They are also washable, scratch-resistant and can mimic any wood grain in a multitude of colours.
Coated wire shelving or baskets may be good for keeping airflow around your clothing, but you may find a wire pattern imbedded in the fabric. The more weight you stack on top, the deeper the pattern may be.
Snag-free and pattern-free alternatives are much kinder to your clothing. Solid shelves with smooth surfaces are a better choice in the long run.
High quality organizing systems will endure years of use and will hold up over time in your home's resale value.
4. Process
From measuring to installing, if you do-it-yourself the process can feel endless. If something doesn't work you can spend hours trying to get it right.
The alternative? Get a free in-home consultation where a professional designer will do it for you. You can choose your finishes, accessories and approve the layout in one visit.
You'll then receive a professional, 3D rendering of your new closet from every angle, fully measured and ready to order. No fuss. No mess.
When your installation day arrives, everything is managed by the Organized Interiors installers. They will protect your floors and rooms while they work and clean up after themselves.
Depending on the size and configuration of your closet, installation can be completed within one day.
5. Budget
If you have the time and the skill, the do-it-yourself approach may work best for you – especially if you can build from scratch. But time is money and you have to add it in to your overall budget.
Trips to the big box store to order all the parts, components, fittings, accessories and finishes add up. When you add up the cost of those components, travel and install time the savings may seem worth it.
Don't forget to factor in guarantees and warranties on the moving parts of your system. Is it built to last or will you have to replace parts or fittings in a few years?
And is the design going to work long term? Did you factor in storage for all your clothing, shoes and accessories, or is it a low-budget, temporary fix?
When you work with a design consultant you will know the answers to all of these questions before your closet system is installed.
For the assurance that the professionals offer, the price is right. Find out for yourself. Contact Organized Interiors today to learn more about our custom closet solutions.
Related: