The mudroom is a hard-working transition space in our homes that takes us from the outdoors to indoors and vice versa.
It's time to tune up the space that weathers all the storms.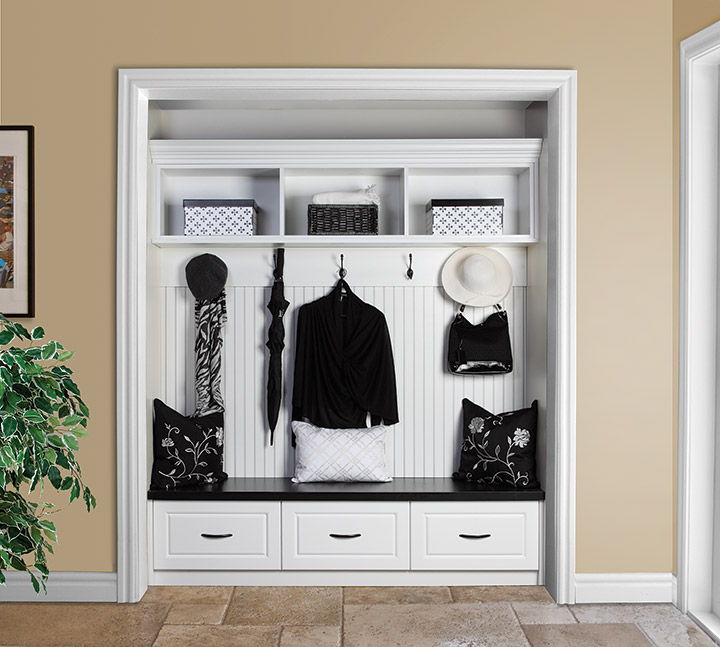 Is there room for all your coats, outerwear, or jackets?
If you're running out of hanging hooks in your mudroom it may be time to cull the herd of off-season coats. Before you do, check the pockets and look for signs of damage or wear.
Take the coats to the cleaners for cleaning and repairs before storing (elsewhere) until needed when the seasons change.
Give the boot to older, out of season footwear
In every family for every pair of feet there is at least one pair of shoes. Clean and store out of season footwear until the cold weather returns. Empty paper towel rolls inserted into boots help them retain their shape.
A bin with a lid may be helpful if they are stored in a dusty environment, otherwise keep the bin open and store in cool dry place.
What about what's under the footwear?
From salt to mud to water and sand, whatever your footwear goes through so does your floor. That hard-working floor mat you've used all winter needs a shake out and placed into storage or discarded.
Think about replacing it with a colourful floor mat designed for indoor and outdoor use. There are great styles and sizes to choose from. It's a great way to inexpensively dress the space.
Hats, gloves and scarves take up space
If you don't need it, clean it and store it somewhere else. Keep your open storage available for this season's use. In fact, think about what you really need close at hand.
Umbrellas should be stored standing in a waterproof container, handles up; hats can be stored on open shelves or on hooks, but try to edit the selection to only what you wear daily.
Use bins and baskets to keep everything neatly contained.
Are your walls taking a beating?
With all the activities and abuse a mudroom sustains you may want to bring in some reinforcements. Consider having your mudroom outfitted with a professional touch.
Organized Interiors specializes in finishes that are low maintenance, custom-sized to your space and for your families' needs.
Contact one of the design consultants at Organized Interiors to find out how you can transform the entryway to your home.