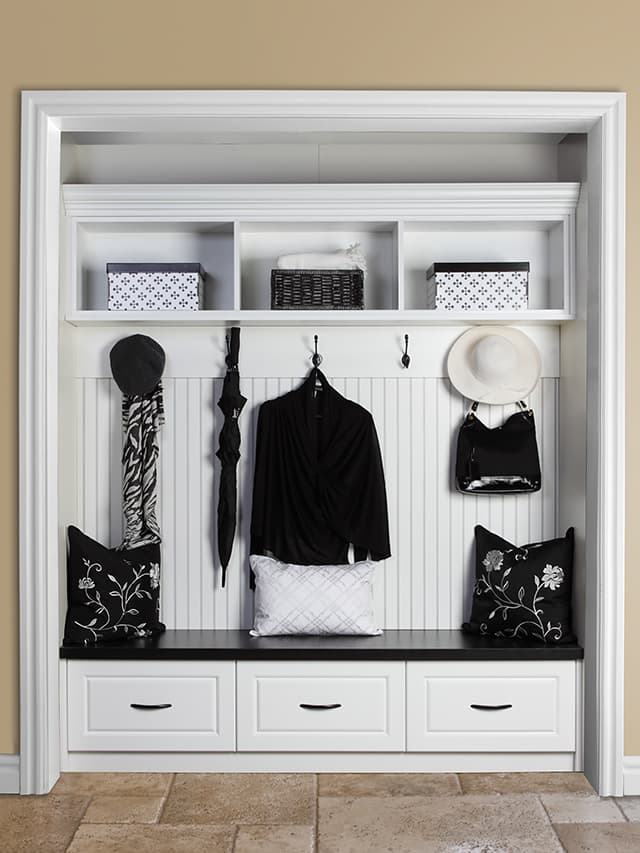 You might call it the "mudroom", but that doesn't mean the entryway has to be dirty and unkempt.
When guests walk into your home, the mudroom is often the area they'll see first. Keep it organized and ready to impress with these great mudroom ideas.
1. Determine how you'll put the mudroom to use
Some mudrooms are used just to store coats and shoes. Others are more elaborate and could include laundry, pet bowls, outdoor equipment, and more.
Before you determine the best way to store your stuff, determine what stuff actually will be put away. This will help you design a mudroom that makes sense for your needs.
2. Consider custom storage
Custom storage allows you to maximize your space and design the best possible solution to keep your home organized, spacious, and stylish.
The closet in your entryway could be redesigned with a built-in bench, cabinets, and hooks.
If you need to organize the mudroom without taking up floor space, custom cabinets or shelves will work well.
3. Keep it seasonal
Canada is a four-season country and, more than likely, you won't be wearing the same jacket all year long.
If you have a smaller mudroom, only use it to store outerwear that is seasonally appropriate.
In the summer, pack up your winter coats and accessories and keep your rain jacket and umbrella in the mudroom, where they'll be easy to access.
4. Take advantage of your wall space
If you have a bare wall, why take up precious floor space to store your stuff? With custom storage, you can use wall space to your advantage.
Consider hooks, shelves, cabinets, or a combination of all three, depending on your needs.
5. Add a rug
Okay, this might not be an organizational tip. It is, however, a good idea if you want to keep your mudroom stylish and tidy. Search for a stain-resistant rug that can handle high-traffic areas.
Don't let a cluttered mudroom greet your guests. Use these organization tips and ideas to design a mudroom that is both functional and stylish.
Request a free in-home design consultation with us to get your mudroom in tip-top shape.