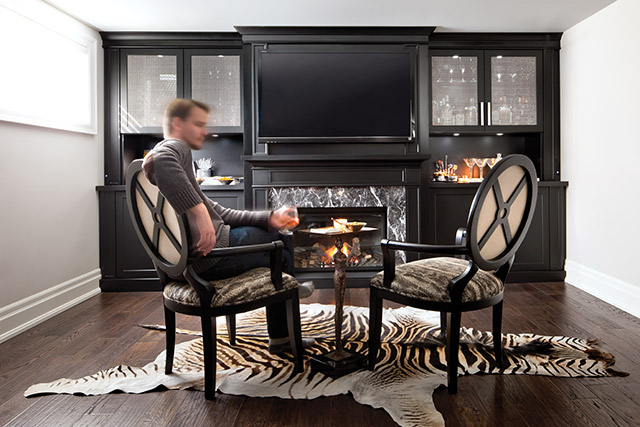 When was the last time you saw a prefabricated entertainment unit from IKEA, fit perfectly from wall to wall with a gas fireplace? Here are 7 reasons why custom entertainment units are superior to the entertainment units you typically find at big box retails chains.
1. Professional Installation
You won't spend hours assembling the furniture and wondering if it was done correctly. Custom entertainment units are generally delivered to your home and installed by a professional.
Professionals can also provide expert advice on:
installing a gas fireplace
home theatre cable management
placement of power outlets
changes to existing drywall.
2. Quality Cabinetry
Many retail stores will offer you the lowest price which is another way of saying cheap and poorly constructed furniture. Where is the entertainment unit actually made?
Custom entertainment units from Organized Interiors are made and manufactured in Canada to high quality standards. When they are properly assembled and installed by professionals they last longer and work perfectly in your home.
3. Maximize Storage Space
Custom entertainment units can maximize storage space by going wall to wall and floor to ceiling. Shelving can be arranged so that it easily accommodates your home theatre equipment.
In the photo above, the upper part of the entertainment unit has been customized to hide an electrical panel while providing full access when necessary. Prefabricated entertainment units don't offer this kind of flexibility. Inches matter. Don't waste space in your home theatre or living room.
4. Customization
Custom options allow you to create a seamless blend with the decor of your room. Your entertainment unit should be able to match the style of your room. Some of the options in the photo above include:
black thermo foil finish
shaker thermo faces
custom handles (#202 handle)
cornice molding
1.5 inch laminate counter tops with a flat edge finish
tight mesh door inserts
marble fireplace surround
undermount lighting
5. Value
A custom entertainment unit will last longer, provide better storage space and stand out more than a prefab entertainment unit. When it comes time to selling your home, an entertainment unit like the one above becomes a selling feature that can give you an advantage over other listings.
6. Better Warranties
Custom entertainment units often come with much better warranties than the entertainment units you purchase and assemble from retail chains. Organized Interiors products come with a 10 year warranty. You get high quality furniture that is built to last.
7. Home Delivery
Home delivery is included with the purchase of a custom entertainment unit. You won't have to load boxes into your vehicle, rent a van or schedule a delivery.
When Organized Interiors delivers their entertainment units they install them at the same time. You'll never have to wait around the house for a delivery. Our professional installers schedule a time that works best for you.
Custom entertainment units may not have the lowest price but they provide better value and quality over the long term. And don't be fooled into thinking that a prefab entertainment unit will last longer or meet all of your storage needs.
To learn more about the benefits of a custom entertainment unit, book a free in-home design consultation. Our design experts would be happy to answer your questions and explain the various options available to you.