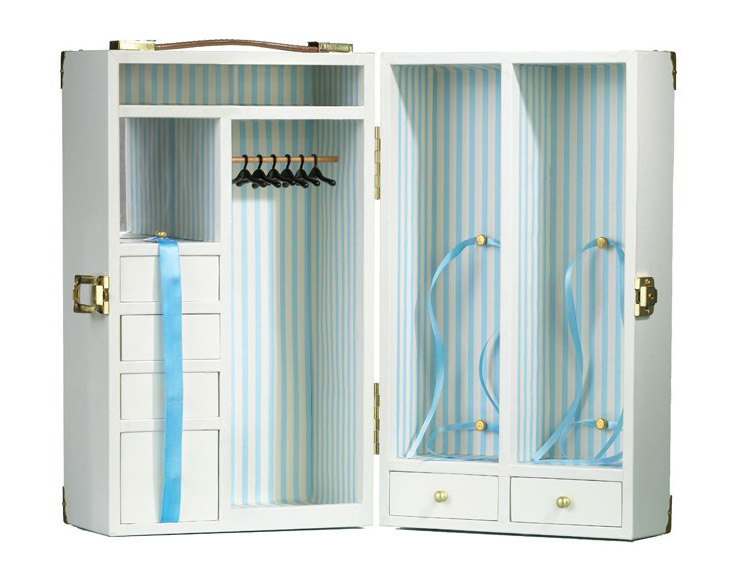 Photo credit: Barbie Collector
When I was a little girl I wasn't a big fan of playing with Barbie dolls but I loved the doll-sized wardrobe that held miniature fashion ensembles and accessories. It was pink, stately, with two doors that opened to reveal a tiny rod with hangers, little drawers for pairs of plastic shoes, shelves for microscopic jewellery and a full length 'mirror' inside one door made from an almost-reflective material. It was glorious. But not because I had fun dressing up the dolls it was the organization I loved. Every tiny piece had it's own perfect place.
I also colour-coded the doll's outfits with their shoes too, but that's another story.
Order and convenience
What stuck with me over the years was how much I appreciated order. It's convenient to have everything in it's place, within reach. The busier I am the more I crave the efficiency of having what I need everyday close by, not just at home but also at work.
Ergonomics
It's actually a science. The study of people's efficiency in their work environment is called ergonomics. It's also something designers employ when it comes to home design. It's important to address how we function in a space with special emphasis on ease, comfort and safety.
Where we place objects, furniture and appliances, how high we have to reach for something, how well it's lit for the task at hand are only a few of the considerations designers have on their checklist.
The appliance industry sets standards for the height and width of everyday appliances for the kitchen and laundry room. As we learn more about how we work in a space and how o make life easier and safer those standards become more refined. Chair, table and desk heights, sofa seat depth, etc are all a result of the applied science of ergonomics.
But lets go back to my dream wardrobe, er closet.

A closet for grownups
If you look at a standard clothes closet there's usually a door, maybe two, that slide, open out or fold open to reveal a rod across the span of the space usually just above eye level, with a shelf across the top.
You have three distinct spaces to work with; you can hang clothes on hangers spanning the entire space; you can stack articles on top piled as high as you can; and you can stack or line up items on the floor under the hanging clothes. The door may have hooks on it for additional hanging space.
In my dream closet there are several more options. I would hang shorter rods at two or more different heights to accommodate short and long items. Shelving, preferably at varying heights would allow stackables like sweaters and t-shirts to be easily seen, accessed and replaced after cleaning. The more orderly, the more functional it is. Drawers are wonderful in a closet too, especially for those who prefer not to have everything on display.
Ergonomic design in closets
Contemporary ergonomic design is all over closets these days from built-in laundry hampers to racks for belts and scarves that tuck back in to the cabinetry. Imagine how much simpler mornings will be when you select your outfit the night before set it out on a pull out valet rod, choose your shoes from your own colour coordinated shoes collection and accessorize with your jewellery laid out in a velvet-lined casing in a drawer topped with glass.
Sweet, simple, functional and organized. Just like Barbie… and me.
Is your closet ergonomically designed or thrown together haphazardly? Organized Interiors design consultants can help you design a dream closet that meets your specific needs. Contact us to find our more.