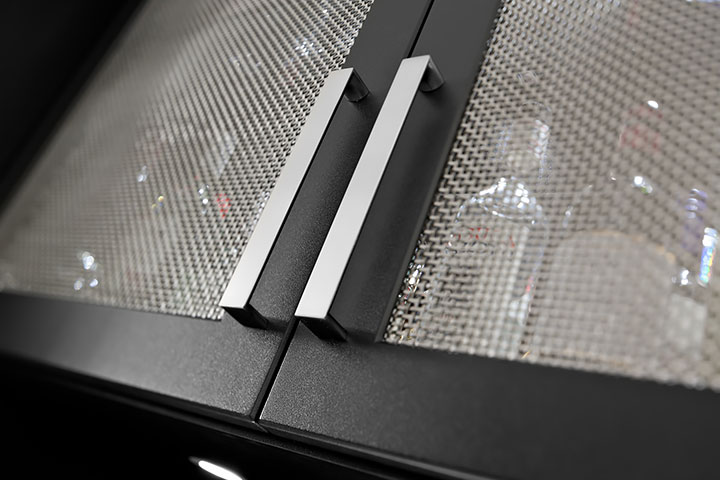 When buying custom-made cabinetry, you're given a choice among various cabinet finishes. But which finish is best?
That depends on various factors, such as your budget or the style of the room. Read on to get a quick overview of the cabinet finish options available to you.
Vinyl wrap
If you're seeking high quality and an aesthetically pleasing finish, a vinyl wrap could be a great option. Vinyl wrap finishes offer many benefits including durability, beauty and value.
They are rich-looking, have a 10-year guarantee for long-lasting quality and are very stable with medium-density fibreboard (MDF).
You can choose from both high-gloss and matte options to suit your personal preference.
Melamine
Melamine is a low-pressure laminate and therefore less expensive than high-pressure alternatives, as well as wood and paint.
It's offered in dozens of finishes and can be used to create the same appearance as real wood, lacquer, metallic and other various materials.
Melamine is also very durable. It's resistant to scratching, splitting, cracking and warping; even summer humidity won't cause a melamine finish to expand.
Overall, this finish is great for high-traffic areas and for those who have kids or on a budget. Melamine offers a 10-year guarantee.
Wood
Enhance the look of your cabinetry with beautiful wooden finishes. Our selection includes a wide range of options, from premium oak, cherry and walnut to mid-range finishes like maple and birch.
You can even choose exotic wood finishes, if you prefer. A wood finish has a one-year guarantee, but can it easily be refreshed with spot repair or refinishing.
Paint
If a colourful room is what you want, then a paint finish is worth considering. With paint, you have unlimited colour options and can easily mix and match them.
Keep in mind that while paint gives off a high-quality appearance, it can be easily chipped or scratched. Therefore, it is best used in low-wear areas. Paint has a one-year guarantee.
High-end finishes
To learn more about your cabinet finish options, just visit our showroom or schedule a free in-home design consultation with one of our design consultants.