Why is it called a finish when it's one of the first things you have to choose?
It actually makes sense. Think of it like a jigsaw puzzle. You look at the box and see the whole finished picture, but when you open it there are only pieces inside.
It's a process to make everything fit properly to complete the picture. Creating a well-designed, functional space follows a similar process.
Where do you begin?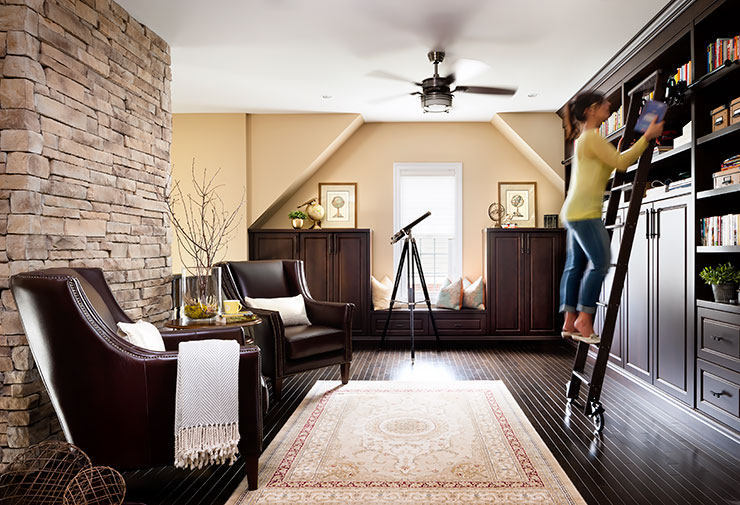 It starts with a vision. Whether it comes from a picture, a design consultation, or an idea of your own, that vision is the 'picture on the box' and to complete the picture you have to assemble the pieces.
A finish is what you see on the outside of cabinetry. It covers shelving, desks, closet fixtures, cupboards drawers and more. It's the colour, tone, texture and style of your cabinetry that give your room a finished look.
If it's a home office, laundry room or closet, the cabinetry, desks and shelving – open or closed – take up a lot of real estate, visually speaking. So you want to choose the right finishes.
No matter what your decorating style, there is a finish for you
Whether you like a modern flat panel in a solid, contemporary colour or you prefer an exotic species of wood, you may be surprised to know that virtually any finish is achievable now thanks to modern technology.
Through today's manufacturing methods, wood grain patterns and textures can be duplicated with strong, man-made products like melamine that are built to last.
Solid wood looks beautiful and is versatile, but it can expand and contract depending on the moisture levels in the air. This can lead to warping and cracking.
With today's veneers, you get the beauty of real wood but with the added benefit of custom-cut, warp and crack-resistant construction at a lower cost than wood.
So, back to your vision.
Imagine luxurious floor-to-ceiling shelf-lined walls surrounding an expansive desk in your home office. You see a subtle light wood grain in a tight, linear pattern that creates a room showpiece.
Big box retail options
You have a choice. You can make a small investment at a big box store where you will have some choice of styles, finishes and sizes. Not quite the style or finish you imagined, but close enough.
Then, after getting all the pieces home, you still must assemble and install them into place. Visually, it may look great but quality and endurance will be the test, especially if you have to move and reassemble the furniture in a new place.
Quality custom cabinetry
What's the alternative? Make the investment into beautiful, strong, long-lasting custom cabinetry.
Now imagine your finished room with built-ins that are custom-fit to your space in your chosen finish. You now have a well-designed, sophisticated, and one-of-a-kind finished space that adds value to your home.
Invisible finishes
Maybe you have a multi-purpose room that requires lots of storage but instead of the cabinetry being the focal point, you want it to disappear or blend into the room.
Pick a solid finish in a colour you will repeat elsewhere. If you're looking for dramatic and sophisticated, consider a deep, inky Gunmetal Grey, or if you're looking for a great neutral that adds a crisp finish try an earthy colour like Avalanche Stone.
Gunmetal


Avalanche Stone


The key is to wrap that colour throughout the space to blend in. This lays a solid foundation of timeless, practical cabinetry and allows interchangeable accessories and other furnishings to add a pop of colour and texture.
There's a reason they're called finishes. It means completion, done, the icing on the cake. And who doesn't want to enjoy the icing first?
Learn more about our premium finishes
To find out more about our premium bespoke cabinetry finishes, visit our showroom or schedule a free in-home consultation with one of our designers.