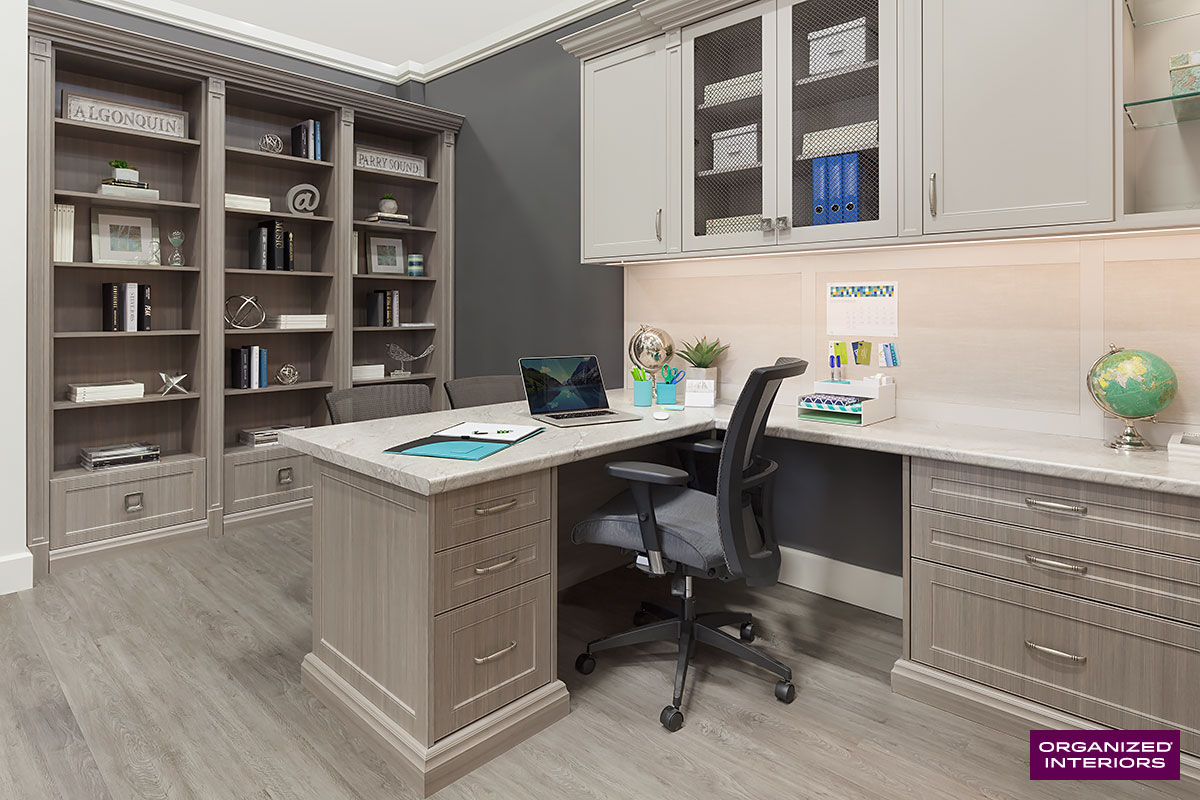 If you're anything like me, you have a family or you work from home and are no stranger to multi-tasking throughout most of your day.
I was initially doing my work on a tiny desk in the kitchen. Then the dining room table eventually became my "home office space". My work area became very cluttered, which took away from my concentration.
Each time a task was completed or a family dinner took place, I had to pack up all my paperwork, laptop, and work supplies.
Notes and documents would go missing and my productivity suffered. It was difficult and challenging working this way on a regular basis and my frustration only grew with each passing day.
My need for a home office space became obvious
All of this improvising and the lack of stability when working made me long for my own proper home office space where all of my things could have their own place.
I was tired of "just getting by" having a working environment that wasn't ideal and experiencing what happens when such a setup is used  – too much lost time and a level of work efficiency that could be much better.
Things needed to be more organized and functional. Ideally, I'd have enough space for a printer, shelves for books, and a comfortable amount of desktop space for papers, supplies, and my computer. I love to have pictures, mementoes, and knickknacks close by as well.
I knew that I finally had to seriously address my need for a home office space that made more sense for my work routine.
How a proper home office made a huge difference for me
Working with a professional company like Organized Interiors to design a home office space has made all the difference in the world to me. They were able to accommodate all my needs and offered a great selection of styles and colours for the room.
Using a spare room, we added a desk with a computer station and an ample work surface. Drawers keep supplies hidden, within close reach, and off the desktop. Additional built-in custom cabinetry creates storage room for files and additional supplies.
Deep shelving provides valuable storage space for my books and magazines, which are convenient to have at my finger tips. There's also room for my personal effects and a printer. All of the wiring for the work setup is neatly tucked out of sight.
It's wonderful upgrading to a room dedicated to getting the most out my work. Having a clutter-free space has cleared my mind and given me back the time I would waste looking for misplaced items.
I now know where everything is and my desk area makes it easy to write in the evening with a built-in light valance. Creating my personalized home office space has been well worth the time and expense.
Boost your productivity with a proper home work space
11% of Canadians work exclusively from home and 47% of Canadians work remotely in some capacity. Having a dedicated home work space will make a noticeable difference to your day and how productive you can be.
Routine is important so one can focus on the task at hand. If your work day has no structure and is dictated by too many other factors (like "is the dining room table available for me to try and get some work done?"), it's difficult settling into a workflow that ends up being productive enough.
Whether you're working remotely or desire a proper home work space for doing your taxes, managing your finances, or giving your kids a private study area, here are some tips for setting up the perfect home office space, just like I did.
Use a spare room for a bespoke home office
The most ideal situation is to use a spare room to create a home office. A spare room is wasted real estate that typically becomes a dumping ground for a home's clutter.
Giving it a higher purpose as a private work space gives a home office design professional ample freedom to shape the room into the dream home office you have always wanted.
While you won't have much say in where your spare room is located, keep in mind that the location of a home office is important.
The more privacy, the better. Having a home office located right beside a noisy laundry room or home entertainment room, for example, would not be ideal.
Your family responsibilities will also have to be taken into consideration. Although having as much privacy as possible is desired, you may have to balance parental supervision duties with your work duties. In this case, having an office space that is too separated from the rest of your home likely won't work for your needs.
Create a multi-purpose room
What if you don't have a spare room available? In this case, consider doubling up on a room's duties and creating a multi-purpose room that includes a home office space.
The home office/guest room is one smart way to get more out of your living space. Having a dedicated guest room may not be practical if you don't have the luxury of a lot of square footage or only have overnight guests a few times a year.
Have a room redesigned to incorporate a comfortable work space you can use year-round that can easily be called upon to house overnight guests when needed.
A Murphy wall bed is the "MVP" of this type of room setup. The bed stays hidden and folds up into the wall until guests need it, which means your room provides plenty of open space during the majority of time when you'll use it for working.
The wall bed can be designed with built-in storage that beautifully complements the custom cabinetry designed for the home office area of the room, creating a seamless, stylish aesthetic.
Here are five other room uses that can be paired with a home work space:
library
reading room
fitness room
meditation room
No spare room? Create a smaller work space.
If your house or condo doesn't have a spare room available, a useful home office space (or a study space for the kids) can still be customized to fit a smaller area of your living space.
Even a nook-sized office set up in the corner of a room, in an underutilized large closet, at the end of a hallway, or in one of those other awkward "dead space" parts of your home (like underneath the stairs) can work.
Add a built-in small desk with a computer station, a pullout keyboard drawer to save space on your work surface, a couple of desk drawers, and some small shelves for books, knickknacks, supplies, or a printer.
Once again, be mindful of choosing a location that provides some degree of privacy so you won't encounter too many interruptions while working. Admittedly, this can be especially challenging when creating a work space in a more open area of your home.
Start planning your bespoke home office project
Schedule a free in-home design consultation with us to learn more about how a home office space can be customized to fit your house or condo.
One of our qualified design consultants will visit you at your convenience to begin planning your personalized home office project.
Please share this post if you found it useful.
See also: