Are you tired of coming home to a cluttered and disorganized home? Stop feeling stressed about the mess by taking action today.
The best way to tackle an untidy space is to start with the spots that are commonly in disarray. Once you've organized these six areas, organizing the rest of your home will feel like a breeze.
Linen closet
Organize your linens by categories: bedrooms, bathroom, dining room, living room, etc. If you have the shelf space separate the bed linens by bedrooms.
Fold and tuck the matching flat and fitted sheets into the pillow case to keep each set separate and ready to go.
Keep towel sets and washcloths handy on the most accessible shelf, as these are the most used. Try to rotate towels so the same ones aren't in constant use.
If this closet also holds tables cloths, napkins and throws for the living room, place on a separate shelf from the bedding and towels.
Don't keep old pillows. Toss out or repurpose worn linens to make more room in your closet.
Medicine cabinet
Remove all medication from the bathroom medicine cabinet. The moisture level is too high in an average bathroom for most prescription drugs.
Find a safe, dry place for medications. Check for any old prescriptions or expired medication. Do not flush down the toilet. Bring them to your pharmacist for safe disposal.
If you have numerous almost-empty boxes of over-the-counter pills, put medication in smaller containers or plastic re-sealable bags (and don't forget to label them!).
Bathroom vanity
Go through all of your products and toss out anything that is old or unused. Then organize items into separate drawers.
One drawer can be dedicated to hair products, such as brushes, combs, and hair product. Another can be used to store body lotions and creams.
Smaller, everyday products like cotton swabs, cotton balls and makeup pads can be placed in decorative, covered jars on your counter.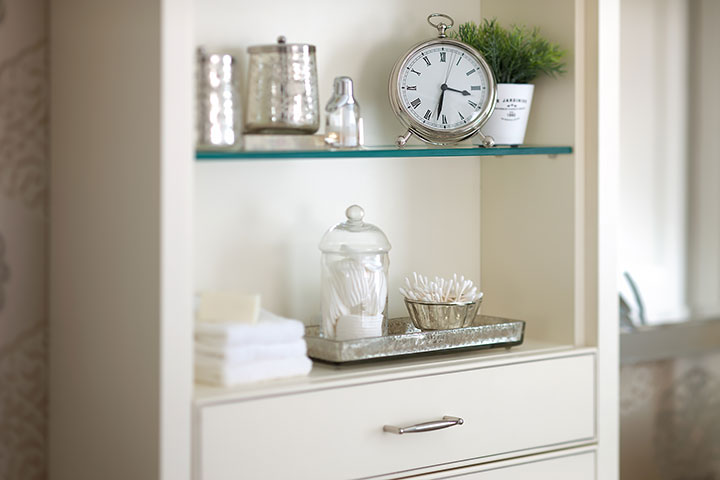 Jewellery drawer
Untangle your necklaces and sort through your rings, bangles, earrings and bracelets. Don't hold on to those single earrings, it's time to find a way to repurpose or throw them away.
There are multiple solutions to keeping jewelry organized, including investing in a drawer system specifically designed for that purpose.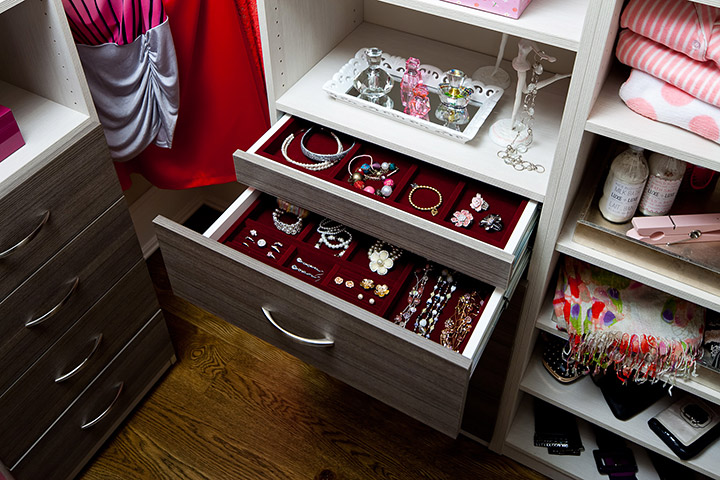 Front hall closet
Rather than stuffing outdoor gear into your front hall closet, designate spots for your shoes, gloves, umbrellas and purse.
Closet accessories like hooks, shoe racks and bins can help you separate items and prevent your closet from turning into a chaotic mess.
If you have the luxury of multiple closet systems in your home, only keep what's in season in your front hall closet during the year while storing out-of-season garb and gear elsewhere.
Kitchen refrigerator, pantry and drawers
If you're in the habit of buying cans or boxes of food and then forgetting about them, more than likely your pantry is a little crowded. Go through your dry goods and donate food that you no longer want to make room for the items you need.
Keep your fridge tidy by throwing away expired food and condiments. Keep the foods that need to be eaten soon up front where you can see them.
Go through your doors and drawers and throw out old, worn non-stick coated fry pans. Donate unused or old cutlery and kitchen utensils, keep only what you regularly use. This goes for appliances, too.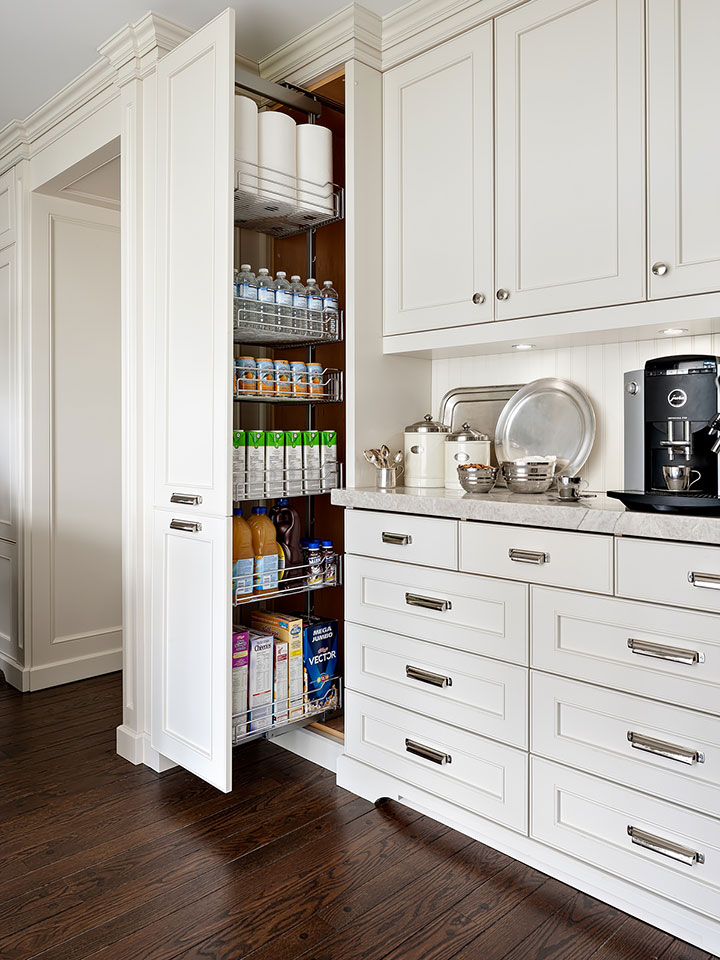 Closets, drawers and cabinets tend to cause most of our organization problems.
Once you've tackled these areas, prevent your home from becoming disorganized by setting a small amount of time aside each day to declutter and maintain your space's tidy appearance.
For more home space solutions that can keep your life clutter-free, schedule your complimentary design consultation with one of our experts.