How often does your guest room sit empty?
Accommodating overnight visitors isn't always easy if you don't have a dedicated room for guests.
But it seems wasteful and unrealistic to have a space available 52 weeks of the year when that room may only get used for a few weeks.
That's pretty good real estate to sit empty most of the time, real estate that should be working harder to give you more living space.
While foldaway sofas and futon couches are a good solution, they still take up quite a bit of floor space. This doesn't leave much room for other activities.
A smart alternative is a wall bed, but not just a box on the wall that a bed folds out from. Wall beds are much more sophisticated and stylish than ever. They can provide you with attractive storage and organizational solutions.
Here are six ways to get extra use out of a room after guests leave by installing a wall bed.
Home office & guest room
With professionally designed, custom-made cabinetry a wall bed disappears into clever storage and desk solutions for your room.
Don't just think about a home office with all the storage and filing space you need, add that guest wall bed.
It disappears into the wall while you're working and you can get great use out of the room most of the year.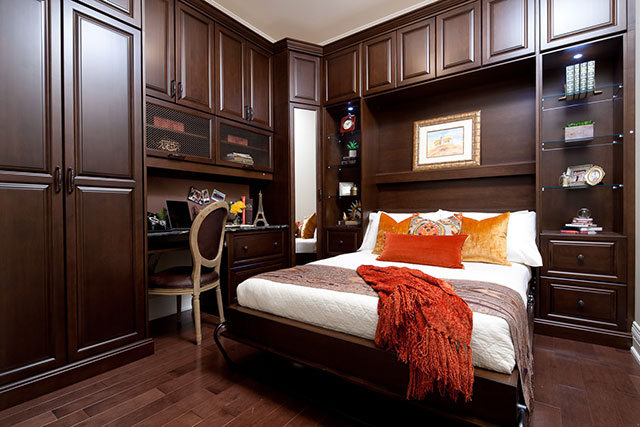 Library & guest room
With a custom wall bed, you can add vertical storage like open bookshelves above the closed bed to the ceiling and on the sides to create your own library.
You may even want to add a rolling library ladder or a custom bar behind closed doors for a sophisticated touch.

Yoga/meditation & guest room
A wall bed fits discreetly into cabinetry customized to the wall space leaving the rest of the floor space available for exercise, meditation and yoga.
Any activity that requires only a little floor space can work. When not occupied by guests it may be that quiet space you need for a work out or mental getaway.
Family room & guest room
The family room can perform double duty when you have overnight guests. The cabinet your TV is resting in also houses the guest bed.
The sofa gets to be just a sofa when a convenient bed is there when you need it and tucked away when you don't.
Play room & guest room
Many people just don't have an extra bedroom for guests and the main family space is your only alternative. That's a space that is already working hard if that's where children play.
With custom drawers, doors and open shelving designed for the room you can combine all your playroom storage with that hidden guest bed.
The best part is the technology behind today's wall bed means easy and safe access and operation, in case you're worried about child safety around a wall bed system.
Dining room & guest room
If you live in a condo where space is at a premium, you sometimes have to get creative. Why not make your dining room an instant guest room?
Just slide your dining room table a few feet and pull down a hidden wall bed to accommodate overnight guests!
Clean pillows and sheets can be stored within the wall bed cabinetry making everything super easy to host your friends at a moments notice.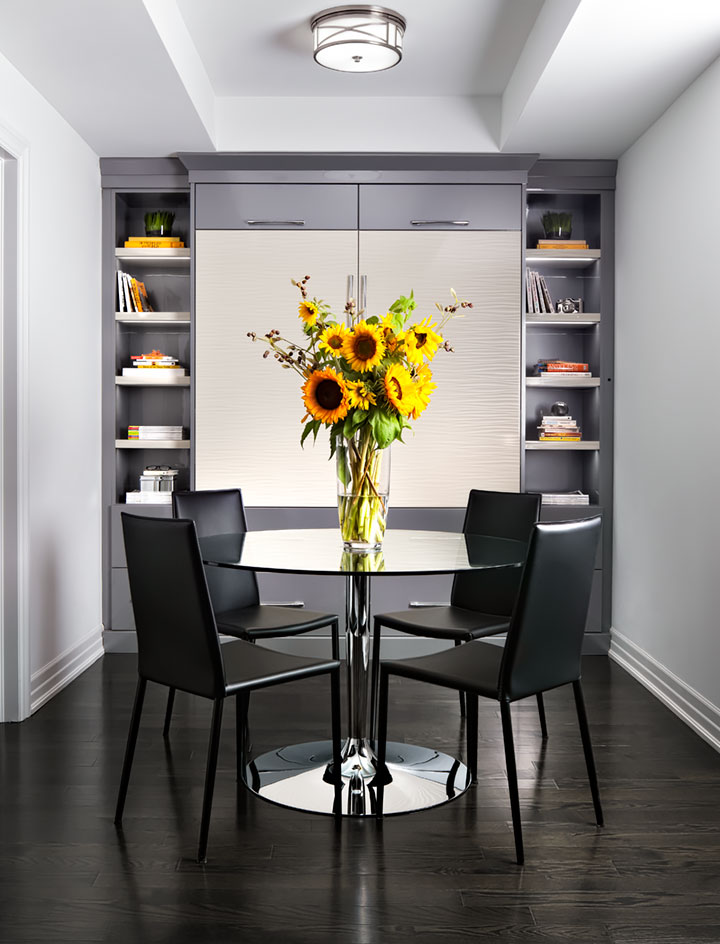 Which room is right for you?
Almost any room in your home can have a dual purpose with the custom options available for wall beds.
Contact one of the professional design consultants at Organized Interiors to find out how you can get more out of your guest room.