The newest trend, the Tiny House Movement, is becoming more and more popular.
Whether it's a custom trailer, mobile home, small cottage or micro-condo, tiny homes are typically smaller than 500 square feet. Think you can live in such a small space?
Well, many young professionals, students and first-time buyers are jumping at the chance to live in these smaller spaces.
Advantage of micro-living
While an efficient, small structure in the great outdoors is one aspect of the Tiny House Movement, micro-condos are an excellent option in cities like Toronto.
These units can usually be found in larger condo developments, mostly downtown. One advantage for owners and renters is the access to the best of city living, usually within walking distance.
Micro-condos offer a great option to live efficiently in a great location for less. They also force people to get organized.

Get organized
So, as an owner of a micro-condo, how do you maximize your space and make it livable? Get organized! Along with downsizing and getting rid of stuff you no longer need, you should consider installing custom cabinetry.
Custom cabinets are designed to fit in perfectly with your unique home, helping you to eliminate clutter and use your space wisely. Putting your stuff behind closed doors eliminates visual chaos and allows you to relax in your tiny environment.
Big sleep comfort in a small space
Customized options also allow you to choose smart solutions like wall beds so you can make the most of your space.
Wall beds are great solutions for smaller condos because when they're not in use, they fold up into a surrounding cabinet on the wall.
It can become your whole bedroom or you can use a wall bed to create a guest room.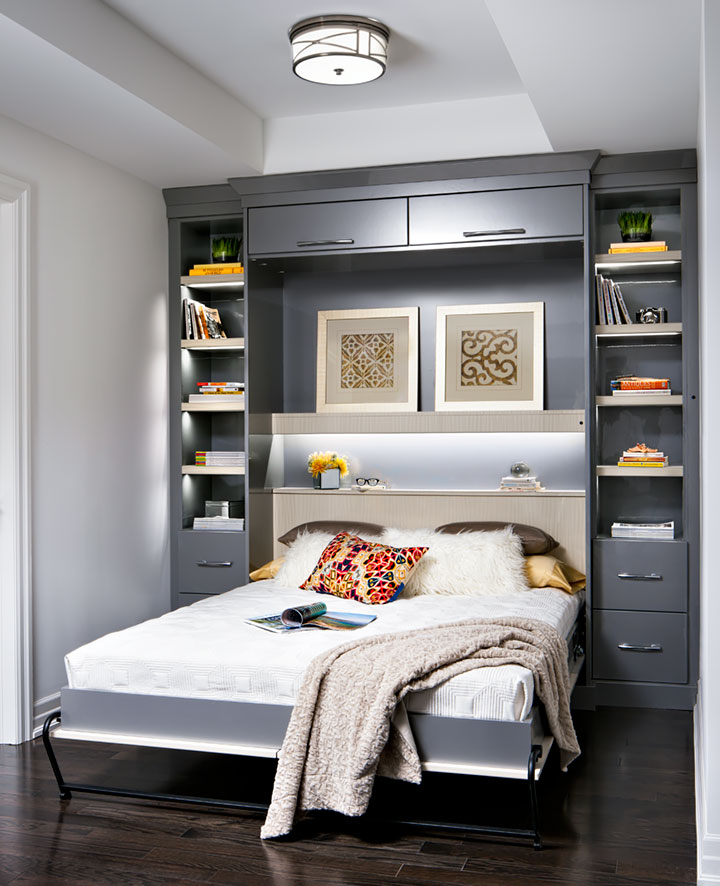 Don't sacrifice style for function
Micro-condos might be small, but they can still provide the same functionality as a larger home and be just as organized with the right customized designs.
If you're in the market for one of these tinier units, don't forget to book a free in-home design consultation with Organized Interiors to make the most of your small space.