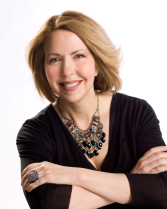 As part of an effort to grow and strengthen our brand, we are very excited to announce that Jane Lockhart Interior Design has added Organized Interiors and Garage Living as its preferred companies in endorsing and recommending home organization products and services.
Jane Lockhart, is an acclaimed Canadian designer with over 21 years of experience in the field of design and colour for both home interiors and custom furniture. Jane is a well-known writer, speaker and television host and creative consultant of nationally broadcast television programs rooted in her passion for interior design.
Our collaboration will expand with Jane's presence on a new customer centric website with a growing assortment of testimonials and 'how to' videos focused on engaging customers with the possibility of what organization can do to enhance their life and their space. Jane and her team recently helped capture some amazing images that have created an inviting, warm and lively feeling that speaks to the final work we accomplish for our clients.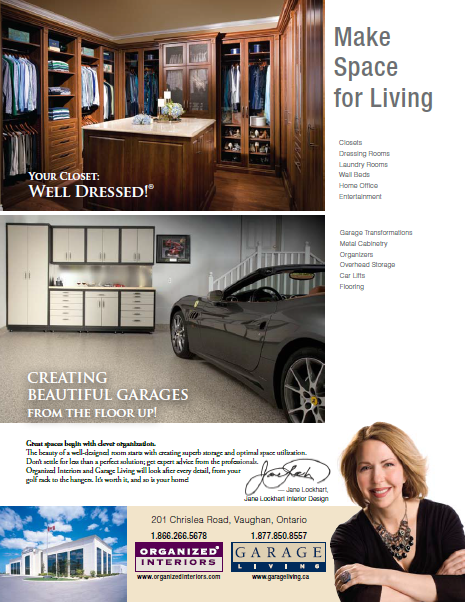 Make Space for Living®
Your Closet: Well Dressed®
Your Office: Well Managed®
Your Laundry: Well Sorted®
Your Life: Well Lived®
The development of the photography along with the new taglines will be appearing in full page ads in design, architecture and lifestyle magazines, such as Azure, Toronto Home, Dolce Vita and The Address (a new glossy luxury living magazine that will be inserted into 300,000 home-delivered copies of the Toronto Star on Saturday April 20). Then this will be expanded with new brochures, website and many other new programs:
Recently while appearing on a nationally televised morning show, Jane was able to illustrate the benefits of Organized Interiors Wardrobe products.
We value Jane Lockhart's testimonial as it supports the integrity, passion and credibility of the high-quality products and customer service levels that make us the leading innovators and professionals in our industry.