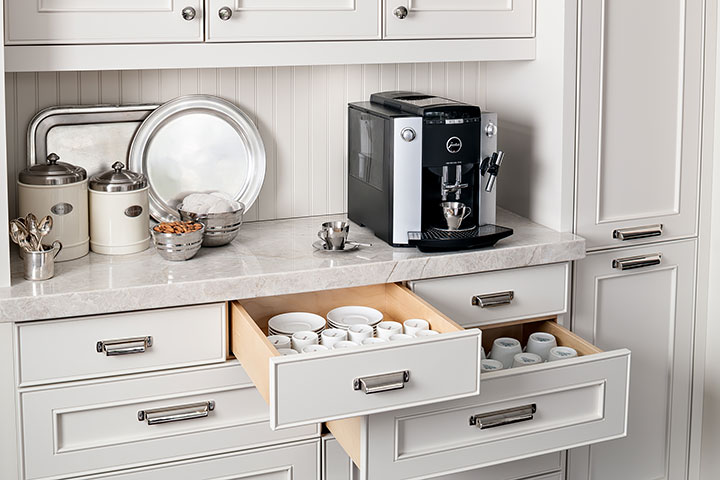 The holiday season is approaching and if you're hosting dinner for family and friends in the near future, you've probably spent some time considering the best way to set up your living room.
But what about the kitchen? While hosts almost always intend for guests to socialize on couches and chairs in the living area, the kitchen is where the food and drinks are prepared.
This all means that your friends and family will be spending some quality time in the kitchen as well.
In that case, how do you prevent your kitchen from becoming overcrowded? How do you keep guests entertained and still be able to prepare the food?
By setting up various kitchen stations.
Custom kitchen stations from Organized Interiors allow you to serve guests coffee, wine or appetizers in the kitchen and still keep the busier, cooking area clear.
With ample counter space, drawers and upper cabinetry, guests can easily find mugs, sweeteners, glasses and plates to serve themselves without getting in the way.
Not only do kitchen stations keep your guests satisfied, but they also allow you to spend more time with family.
With guests in and out of the kitchen, you, the host can still take part in conversations and take part in the fun.
This year, enjoy stress-free holiday entertaining with custom kitchen stations. With dedicated areas set up in your kitchen, you can spend the day preparing for a delicious dinner and still have space for family and friends.
Contact us for my details about how to make your kitchen more functional.