The fact that this spectacular contemporary home is situated in a very traditional Olde Oakville neighborhood isn't the only thing that makes it a showstopper.
It comes with a $7,000,000 price tag.
The home defies convention with its sharp, geometric lines in a mix of stone, stucco, cedar and abundance of windows. It's a one-of-a-kind, custom-built home with equally high-end interior finishes, right down to the closets.
Organized Interiors designer Mike Seguin took the opportunity to showcase his talents in contemporary design. He created organizing solutions for all the closets, laundry room and vanities.
Mike had the chance to create unique spaces including his and hers master closets. "When I do design work, I try to give the client something they wouldn't get anywhere else," he says.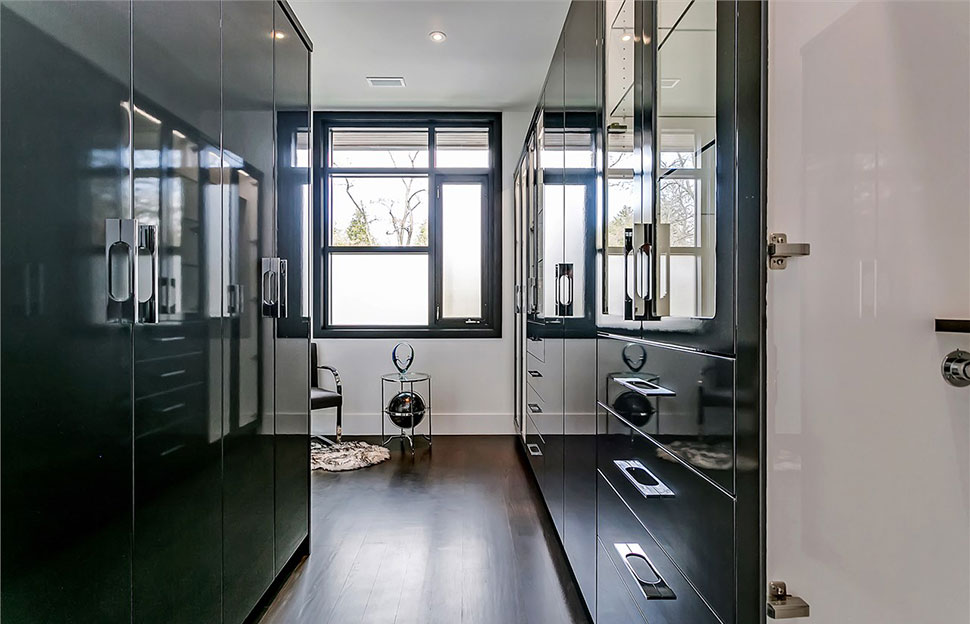 For his walk-in closet and dressing room, Mike chose a charcoal grey glossy finish. It adds high reflectance and picks up on the dark grey window frames and contrasts sharply with light walls.
Along with the solid doors, Mike chose to add some glass doors to feature contrasting white interior walls and glass shelves. The closet's LED lighting adds more sophisticated shine to the space.
The contemporary door handles create a repeated linear pattern that draws you into the space.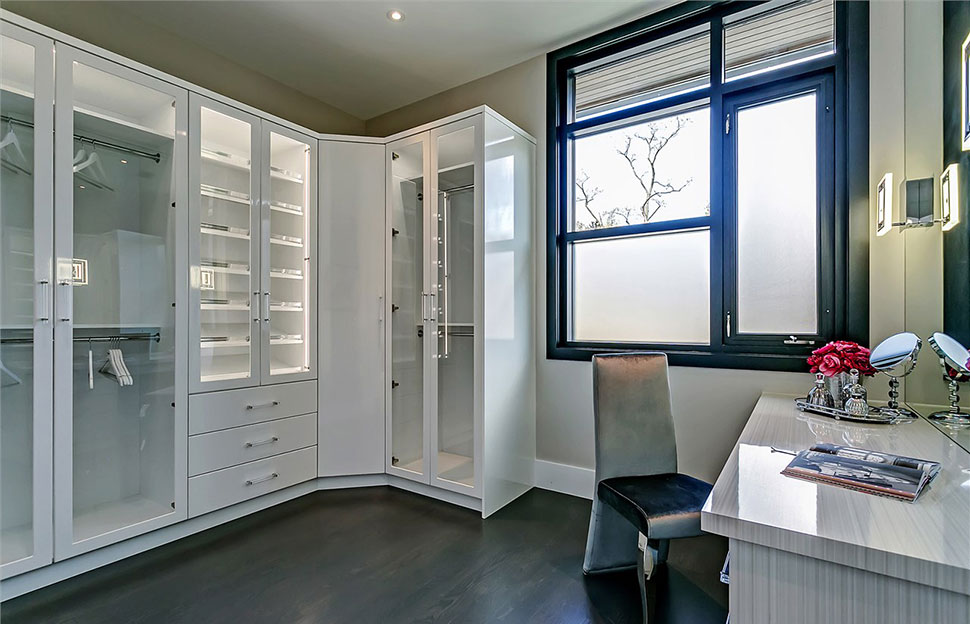 Her closet is a lesson in pure elegance.
Mike chose white gloss cabinets to enhance the room sized closet and dressing room. The mix of solid and glass doors, chrome shelving, beautiful handles and LED lighting reflect the neutral palette found throughout the home.
The makeup table repeats the gloss of the cabinetry but features a subtle ribbon pattern on white. The whole space says pure luxury.
The grandeur of this modern home is surely impressive, but Organized Interiors works on projects of all sizes. Our talented designers dedicate themselves to each project regardless of budget and style to ensure the clients love their home.
To benefit from the expertise and talent of our design consultants, set up a free in-home consultation. Organized Interiors is able to enhance any room in your home with organization and incredible style.