We've all done it. Balled up our dirty clothes into a tight ball and flung it under the bed. Nine year olds call it 'tidying up'. But it's not a practical long-term solution for dirty laundry. As adults, life is too complicated to avoid organizing and finding solutions to deal with your dirty laundry.
Laundry hampers save marriages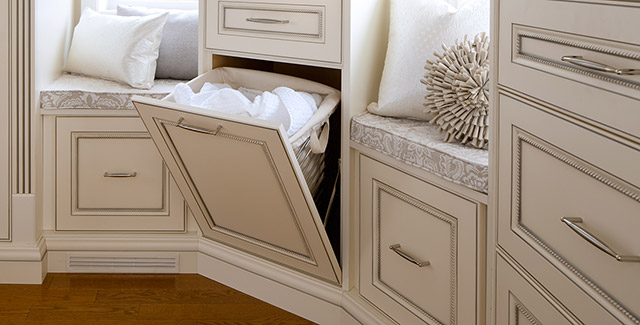 Laundry accumulates every time you change your clothes so put a laundry hamper in your bedroom closet. It's so much better than using the floor. If your laundry machines are on the same floor get a hamper with wheels to save your back. If you have to lift laundry to get it to another floor, invest in a strong, but lightweight bin with handles.
Accessories that make laundry easier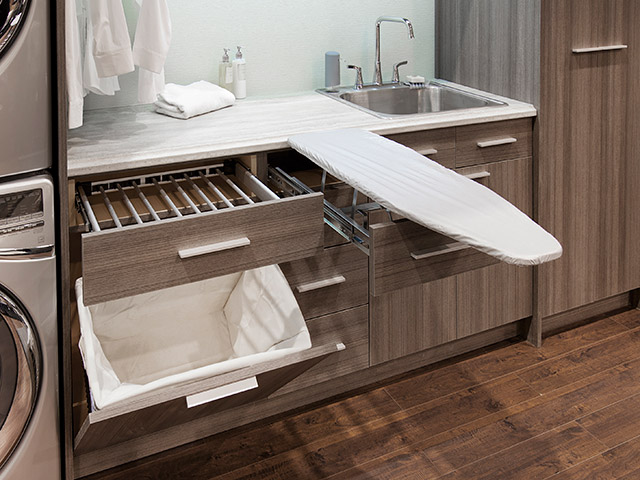 Think of all the tasks you need to complete in a laundry room – sorting, washing, drying, folding, ironing, storing. Here are some ideas to make this work easier.
It may sound like a no-brainer but a secure counter top that extends over the surface of side-by-side machines will provide a smooth, snag-proof surface for sorting and folding. Better than the dining room table!
Keep your iron and ironing board in this room. It's the finishing touches that matter and a well-ironed garment always feels right. Many new cabinetry options feature fold out ironing boards that only take up space when they're being used then retract back into the cabinetry for easy storage.
If you have the ceiling height, hang a rod above eye level to conveniently hang clothes to air dry. This is especially handy if the rod is over the sink for damp or wet clothes.
Invest in quality laundry room cabinetry
Drawers, cupboards and open shelves are only a few of the options for custom work that can be installed in your laundry space. Newer choices include pull out drying racks, ironing boards and tilt out hamper drawers. Pull out shelving behind closed doors provides easy access to cleaning products you don't need to have on display.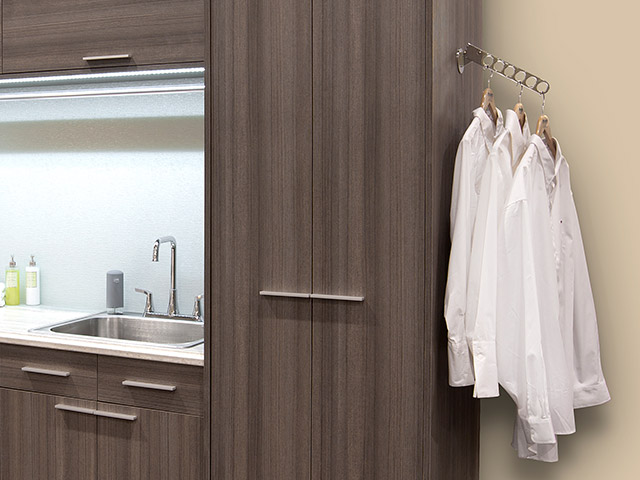 Smaller pieces that will work hard such as an adjustable laundry valet or retractable Butler's Rack take up little space yet hold several pieces at once, when needed.
Make your laundry room multifunctional
Why just a laundry room? Contain all your cleaning activities in one space. With tiled walls and floors and good drainage you can turn your laundry room into a dog-washing center. Rover has muddy paws? Throw him in a deep sink, tub or shower with a hand-held sprayer faucet. Hopefully fluffy, freshly laundered towels will be close by to dry him off.
Too busy to leave the room? Add a TV, a treadmill, a radio or a craft table to the space so you can help pass the time while your laundry machines do all the work.
Decorate your laundry room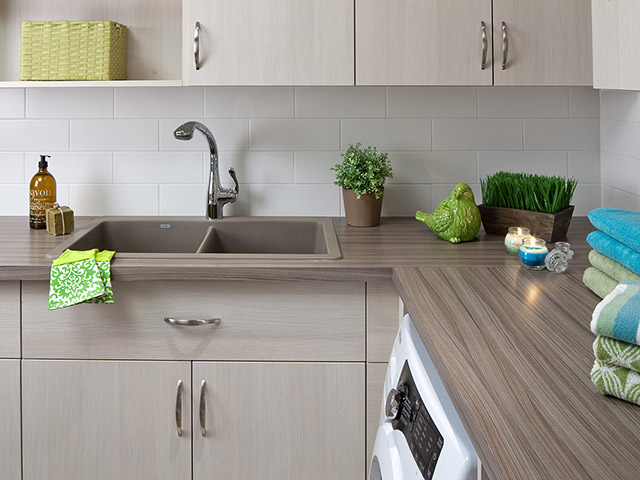 Hang a picture, paint the walls, put up a fancy backsplash but whatever you do make this a space where you want to spend time. Create your ideal laundry room. You want to hang a chandelier? Go for it. An outrageous patterned wallpaper? Why not? It's probably just a small space so go to town.
Having an organized laundry room can be fun enough but put your personal stamp on this space and make it your own.
Need help with organization and storage in your laundry room?
Maybe your laundry room is unique and requires a custom storage solution. Organized Interiors has design consultants that can help you maximize the storage space in your laundry room. Contact us and find out how we can make your laundry room organized and efficient.