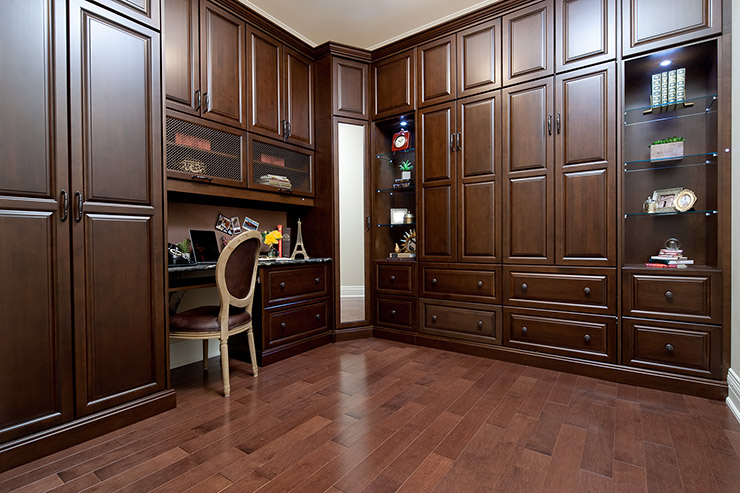 Every person is unique, and so it makes sense that every person's storage issues are also unique.
Depending on your lifestyle, you might struggle with:
golf clubs and hockey bags in the entryway
too many clothes, shoes and accessories to fit in a closet
papers and magazines stacked on the dining table
children's toys scattered wherever they lost interest and dropped them.
Whatever you need to store, custom-made storage offers two key advantages that can make a huge difference in your home.
1. Custom storage is designed to meet your unique storage needs
If you've struggled to find adequate storage, you've probably been through the aggravating process of first measuring empty corners or wall areas in your home.
Then there's a drive to an IKEA-type warehouse and finding a decent-looking bookcase or wardrobe that will fit the space you have, without clashing too much with the rest of your furniture.
Over time, you end up with a hodge-podge of storage units that don't match each other (or anything else) and never seem to provide quite the storage space you need.
2. Custom storage takes advantage of your home's available space
Custom storage brings all that to an end. And at Organized Interiors, we specialize in custom-made storage.
Our design consultants work with you to design and build a storage solution that meets your specific needs and makes the most of the space you have available.
Whether it's a bedroom closet, a home office, or a children's play area, we can find an attractive and practical design option that works for you. We can even make sure your custom storage fits in with the overall look and style of your home.
Having the right storage helps you keep your home a neat, well-organized place where you can relax and enjoy yourself.
Get in touch with us today and one of our design consultants can visit you for a free in-home consultation.