Maybe you have a blossoming interest in wine collecting and have noticed you're constantly shuffling around bottles in your kitchen as they begin to take up more and more counter space.
Perhaps that 24 bottle wine rack you own simply isn't cutting it any more for your wine storage needs.
You may even be a serious wine collector looking to finally upgrade your wine storage space. Use some of these wine storage ideas using custom wine cabinetry and wine cellars for any sized space in your home.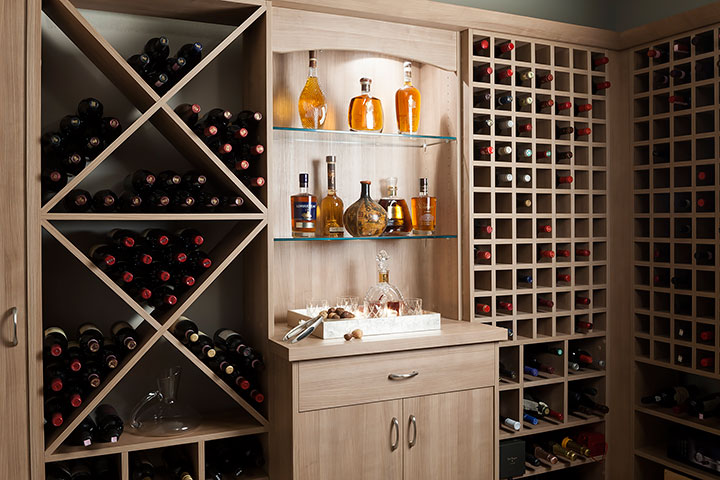 The importance of storing wine properly
Regardless of whether you're new to wine collecting or a longtime collector and connoisseur who instantly knows the special significance of a bottle of 1992 Screaming Eagle Cabernet Sauvignon, it's important to store your wine properly.
Wine needs stable, ideal conditions to age properly and maintain its quality, especially when it comes to long-term storage. Several factors will affect how successfully your wine ages:
Lighting conditions: too much light, especially ultraviolet light, will make your wine age too quickly and spoil it. That's why red wines are typically found in green bottles, which helps to block out sunlight and preserve the wine's antioxidants.
Temperature: how your wine ages is significantly affected by temperature. You definitely want to avoid extreme fluctuations in temperature where your wine is stored, as your wine is very sensitive to such changes. Too high a storage temperature speeds up the wine's aging process too much, while too low a temperature will impede its development. Getting a definitive answer from experts is next to impossible (opinions widely vary), but a temperature anywhere between 50-65°F (10-18°C) for wine storage will be sufficient.
Air circulation and humidity: you should have some degree of air circulation wherever your wine is stored. This helps minimize the chances of mould forming on the bottles' corks. Humidity also affects corks and how quickly they can dry out or shrink, which lets oxygen into the wine bottle (too much oxygen can spoil the wine). Humidity levels where your wine is stored should be between 55-70%. Cork preservation is also why bottles are stored on their sides, which keeps the corks wet and restricts the transmission of air through them.
Movement: too much vibration or jarring movement can be detrimental to the development of your wine. Older wines with some built-up sediment are particularly sensitive to movement and vibrations in the storage area.
Wine storage that fits your available space
With a clearer understanding of why proper wine storage is so important, it's time to decide on the best area for your wine storage system. Wine storage solutions can work in a variety of spaces in your home, even small ones.
A reach-in wine closet for smaller spaces
If your home is smaller and free space is at a premium, a reach-in wine closet is a great solution. A reach-in wine closet provides plenty of storage space and keeps your wine in optimal dark lighting conditions, while remaining out of the way.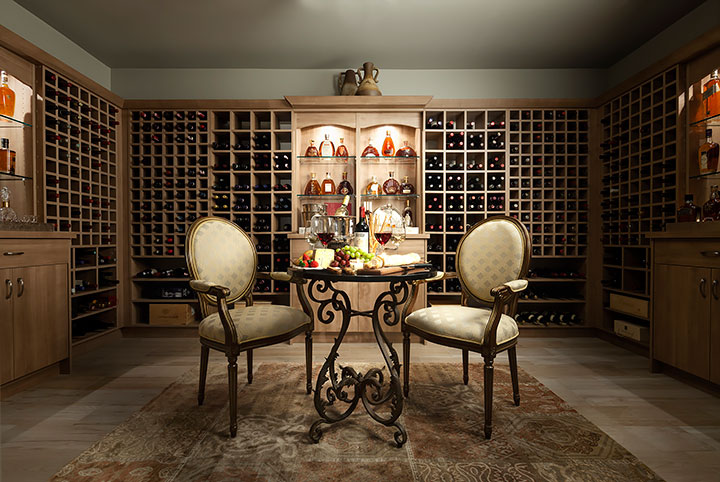 Larger spaces can accommodate a wine cellar room or walk-in closet wine cellar
Owners of larger homes can dedicate an entire room to storing their wine collection. A wine cellar room or a walk-in closet wine cellar offers a lot more flexibility for designing your dream wine storage system.
And you'll appreciate that extra storage room in the future. It's a safe bet that once you've caught the wine collecting bug, your number of stored wine bottles will be ever-increasing!
Our custom cabinetry is designed to allow for proper air circulation around the bottles, while also protecting them from too much harmful light. Depending on your preferences, your cabinetry can feature single cubbies for individual bottles, larger cubbies for up to four bottles, even larger sections for storing a dozen bottles, LED lighting, and other options.
If large enough, a wine cellar room can also function as a unique space for entertaining guests. Just add a little furniture and your wine and cheese tastings will take on an additional appeal with the warm atmosphere that the customized wine cabinetry background provides.
Wine storage systems add a decorative touch and functionality
Along with the storage and organizational benefits that a custom wine storage system gives you, they also add an attractive decorative touch to your home.
Our design experts will help you match your custom wine storage system to your home's decor.
For elegant solutions when it comes to safely storing and showing off your valued wine collection, turn to Organized Interiors. Our custom wine closets, wine cellars, and cabinetry allow you to take your love of wine to the next level.
Schedule a free in-home consultation with one of our designers today. They'll help you choose the best spot for storing your wine and can design a custom wine storage system that fits your budget.
See also: