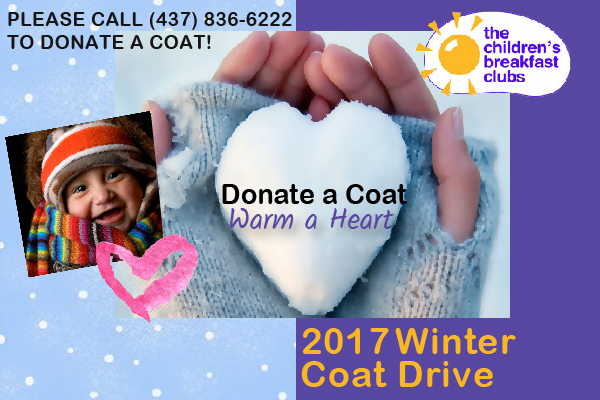 Having enough warm winter clothing becomes especially concerning around this time of year and into the winter. We've had some especially frigid winters in Ontario in recent years, which places extra emphasis on the need for warm winter clothing for children.
The Children's Breakfast Club began their Winter Coat Drive in 2014 to address the need of getting warm winter clothing to those who need it. Organized Interiors is proud to once again be participating with them in their 2017 Winter Coat Drive.
About The Children's Breakfast Club
The Children's Breakfast Club is a non-profit charitable organization that began in 1984. They believe every child is entitled to a nutritious breakfast and currently have more than 20 clubs in the Greater Toronto Area that serve an estimated 4,000 meals per week.
The Children's Breakfast Club's other main objectives are to:
encourage children to develop healthy nutritional, behavioural, and personal hygiene habits
provide children with emotional support and social and intellectual stimulation
encourage and develop the skills of staff, volunteers, and other community members
What is the Winter Coat Drive?
The Winter Coat Drive collects and distributes new and gently-used winter clothing to children and their families in need of proper winter attire. Specifically, the organization states that "Our overall vision for the 2017 Winter Coat Drive is to ensure no child in Ontario is cold this winter season."
2015's Winter Coat Drive collected more than 30,000 items of winter clothing and last year that number grew to more than 40,000 pieces collected. This year's goal is to collect 50,000 clean, good quality, gently-used coats and items of winter clothing in child and adult sizes.
All donations end up at The Children's Breakfast Club's Coat Warehouse in North York, which operates throughout the winter season. Toronto Police will hand out vouchers to families they encounter who are most in need of this winter clothing. The vouchers can then be redeemed by the family members for a winter coat or item of clothing they're most in need of.
Organized Interiors' involvement in the Winter Coat Drive
The 2017 Winter Coat Drive will be Organized Interiors' second year of participation in this worthy cause. Our participation in the 2016 Winter Coat Drive was inspired by Toronto's very own NBA All-Star, Toronto Raptor Alumni, and Assistant Coach and Community Ambassador Jamaal Magloire. Jamaal challenged all of Toronto to "Donate a Coat" and "Warm a Heart".
More than four truckloads of coats and winter clothing were collected at Vaughan's first drop-off centre in the Organized Interiors showroom. The donated items were promptly delivered to the Coat Warehouse to ensure those that needed the items got them as soon as possible.
Organized Interiors wishes to thank the following people for helping to make the 2016 Coat Drive such a great success:
our valued new and repeat customers
our trade partners The Neat Freak for their generous donation of 160 linear feet of coat racks and coat hangers that will help Coat Warehouse volunteers sort and store donations
Gloria DiLecce and the staff from Michael Luisi Couture for their support and donations
our corporate neighbours at Garage Living and Better Living Products for their participation and support
Vaughan Mayor Maurizio Bevilacqua for visiting the Organized Interiors showroom and bringing attention to the Winter Coat Drive
Organized Interiors' Design Consultants and enthusiastic staff for spreading the word to raise awareness about the Coat Drive
the Jamaal Magloire Foundation, which improves the lives of at-risk youth through the power of sport
How you can help
You can get involved by making donations for the 2017 Winter Coat Drive at the Coat Drive drop-off centre in the Organized Interiors showroom at 201 Chrislea Road in Vaughan.
Along with new and gently-used winter coats, we'll also be gratefully accepting donations of any of the following (in all sizes) between November and March:
hoodies
sweaters
hats
mitts and gloves
scarves
Donations can also be made directly at The Children's Breakfast Club's Coat Warehouse, which is located at The Peanut Plaza at 3030 Don Mills Road. Call (437) 836-6222 to make coat drop-off arrangements. Monetary donations can also be made at breakfastclubs.ca (a tax receipt will be issued for donations of $20 or more).
You can also help by spreading the word to your family, friends, and co-workers about the 2017 Winter Coat Drive. Be sure to share this blog post on your social media pages!
Donate a coat and warm a heart
Warm winter clothing is something most of us take for granted. But consider the ways in which inadequate winter clothing can impact a child's daily life.
Inadequate winter clothing can cause kids to get sick more often, which may affect their school attendance. Unsuitable winter clothing also limits the ability of children to participate in outdoor winter activities.
Your generous donation can help make this winter a little more comfortable for someone in need. We look forward to seeing you at our 2017 Winter Coat Drive drop-off centre in our showroom!