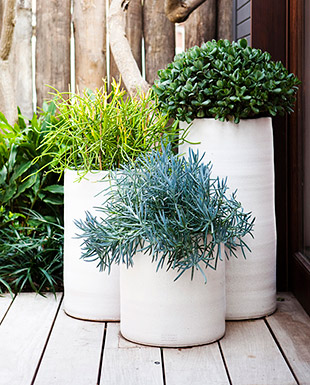 While most of your day requires you to be on task and absolutely up to the moment, the new season entices you to open up and awaken every part of your home to live in the moment. With spring in the air, what better time to evoke a fresh air outdoor feeling in your home decor.
1. Greens
Inspiration for April begins with planters that promise blooms to come. Best of all, greens bring the outdoors indoors.
The photo of Bondi terracotta pots is credited to Chris Warnes. The pots are available at Robert Plumb.
2. Florals
The fashion and home decor industries both welcome florals open-armed. Try floral printed artwork, wallpaper, or even a floral pattern area rug in you laundry room.



Fresh floral prints can brighten up any space in your home. Society6.com has a variety of floral themed products for your home ranging from wall clocks, art prints to throw pillows. Below is a small sample of what we found on their site.



Shop online and rest assured, they ship to Canada!
3. Weathered Wood
Organized Interiors carries many "love at first sight" delicate textured wood grains that bring out the best of your surrounding decor.



Shown here is Latitude East — one of the new decorative panels we introduced earlier this year.
4. Accessories
Accent your room with accessories from pins to colourful containers and scoops that are fun, fresh and completely useful.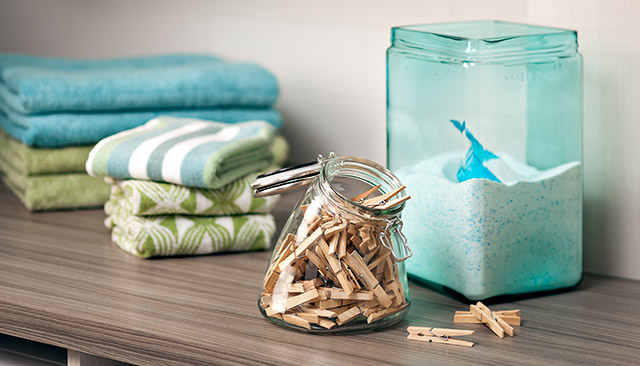 5. Refresh
Colour is the best way to express your personal style and love the space around you. Here is our April colour palette to welcome in the change of season. All paint colours are from Benjamin Moore.



Nightingale works seamlessly on its own or in combination with any other colour.



Wickham Gray can be used in traditional, transitional as well as contemporary spaces.



Breath Of Fresh Air is their colour of the year.



Van Alen Green is a timeless and inviting tone steeped in tradition.



Mt. Rainier Gray is a soft and sophisticated shade.
6. Rethink
Organized Interiors design consultants can create functional, built-in cabinetry that facilitates sorting and organization. Designs are always beautiful and customized ergonomically for you, your home and your lifestyle.



Learn more about our laundry rooms or contact us if you have a question.