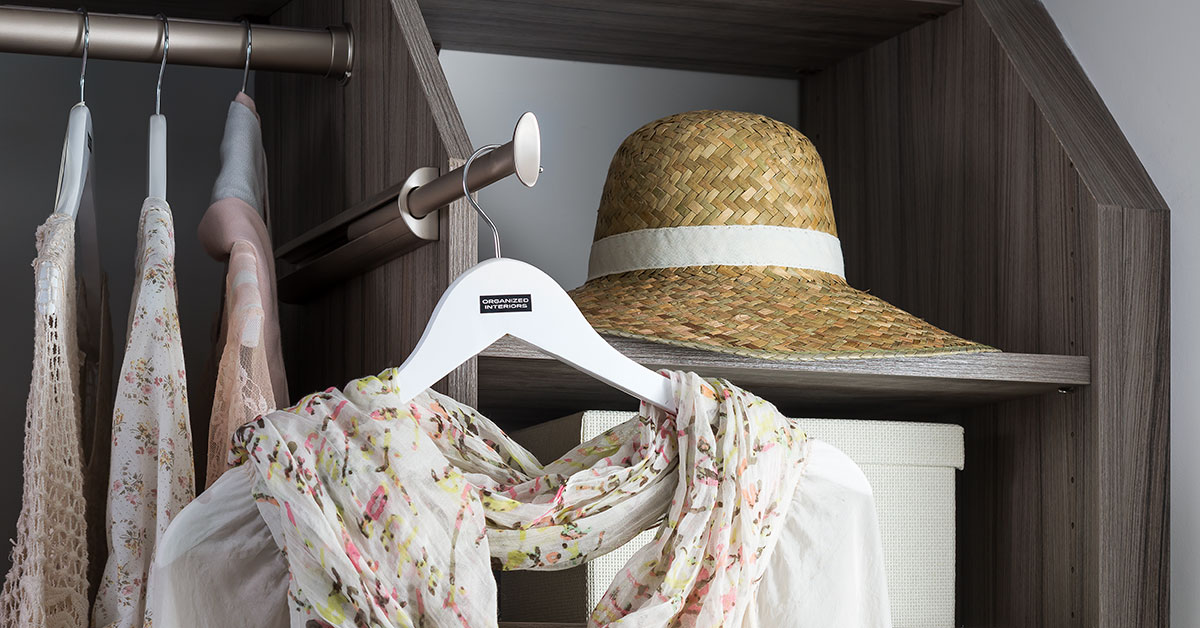 Mornings never seem to give you enough time to get everything done before leaving for work.
There's making and eating breakfast for yourself and others, catching up on the news, showering, choosing an outfit, putting on makeup, and getting the kids off to school.
The luxury of squeezing in a morning workout is a pipe dream for most working professionals. Streamlining your busy routine in a few imaginative ways can help save you a little time every morning.
Your bedroom closet is a great place to start in order to make some improvements.
Closet accessory organizer ideas to save you time
Consider these eye-opening statistics:
57% of women believe they would find things quicker in an organized closet. (OnePoll survey)
67% of people surveyed estimate they'd save up to 30 minutes a day if they were more organized. (Alpha Phi Quarterly study)
47% of women struggle when it comes to deciding on which work outfit they should wear. (OnePoll survey)
3 in 10 women say their mornings would be less stressful if they had an organized closet. (OnePoll survey)
As you can see, messy closets are a particularly notorious culprit for wasting time.
Let's look at nine clever closet accessory organizer ideas to improve your bedroom closet's functionality, which can help you reclaim some of that precious time that's being wasted.
1. Pullout tie rack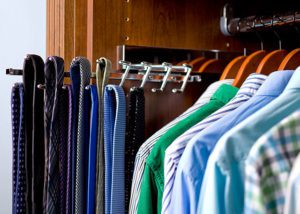 A pullout tie rack is perfect for any man with a large tie collection who just can't seem to keep them all organized. More than one tie rack can be added to a closet if a tie collection is particularly large.
This space-saving tie rack smoothly pulls out to allow you to see everything in your tie collection at once. That makes it easier to pick a tie that goes best with the suit you've chosen to wear that day.
Another benefit of a tie rack is that it gives all your ties a proper home. They won't end up folded up on a shelf or drawer where they can get wrinkled.
2. Watch winder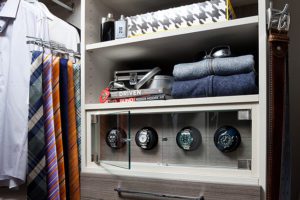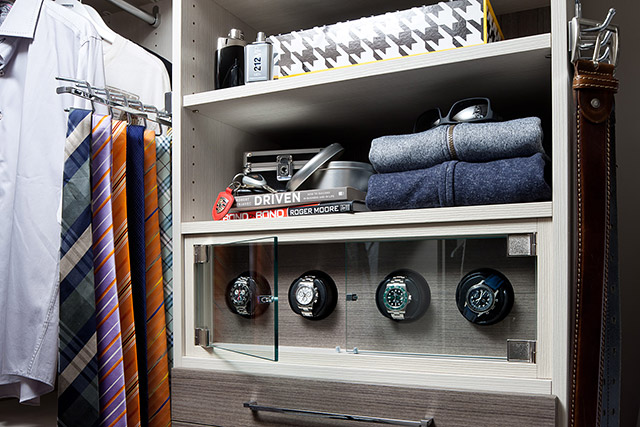 If you're a collector and connoisseur of luxury watches, your expensive collection is sure to include a few automatic watches (also known as self-winding or mechanical watches).
Unless automatic watches are worn regularly, their self-winding process won't activate. A watch winder is needed to keep the timepieces always running, thereby keeping their time and date accurate.
Using this handy closet accessory organizer will also keep your watches well-maintained. It will also make sure your watch collection stays organized and protected.
Ask an Organized Interiors design consultant about the high quality Orbita watch winders we carry. They can be incorporated into your closet's custom cabinetry design in a drawer or showcased more prominently in a beautiful glass case.
3. Valet rod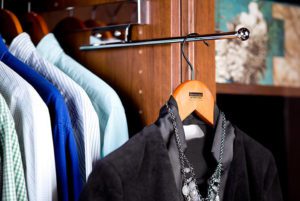 A simple, yet incredibly useful closet accessory organizer solution are valet rods (also known as valet poles).
Why are valet rods so useful in a bedroom closet space? Think about how many times you've hung a clothes hanger holding an outfit you're wearing the next day or in a few hours on a door knob or from the top of an open door. That's certainly not ideal.
A retractable valet rod provides readily available hanging space so you can hang dry cleaning or the next day's outfit properly, which can save you time in the morning.
You'll find the rod is surprisingly strong and conveniently stays out of the way when it isn't needed with its telescopic design. Valet rods can also be used in any closet in your home and make a very practical addition to your laundry room.
4. Pullout shoe rack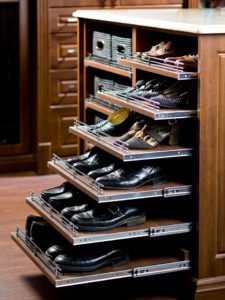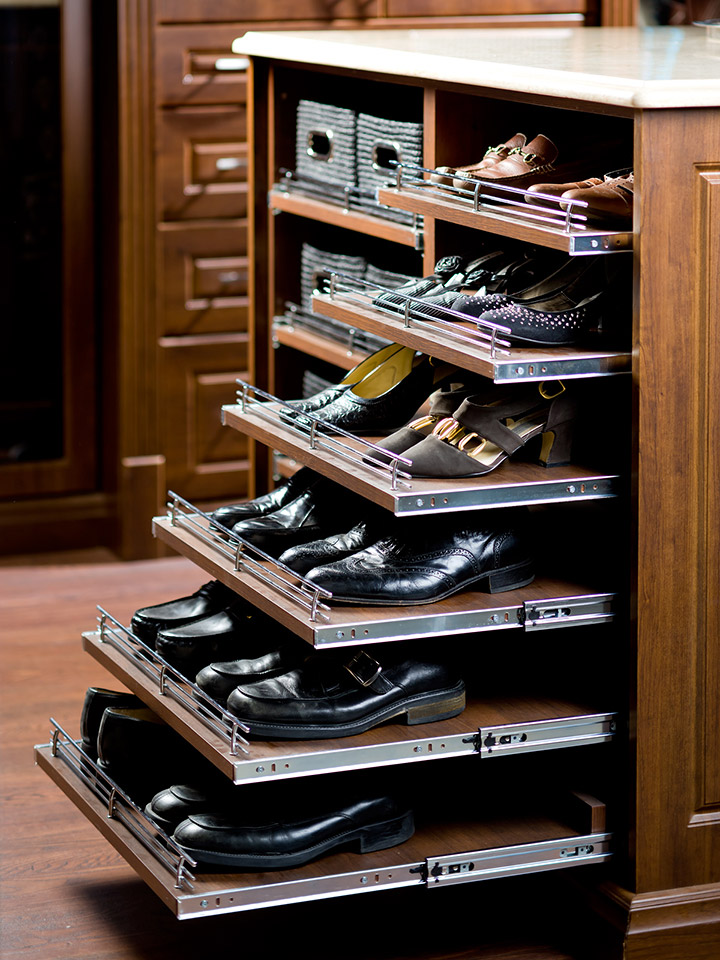 It goes without saying that keeping your footwear in disorganized piles in the closet is bad for a few reasons.
First of all, it will be a daily chore trying to find matching pairs of dress shoes, heels, or boots. Having to rummage through a disorganized collection of footwear every morning will add up to hours of wasted time each year.
Not taking care of your footwear also leads to them scuffing and scratching, which shortens your footwear's life. Some delicate footwear and expensive designer shoes need especially careful care.
A pullout shoe rack is the perfect closet accessory organizer idea to address your shoe storage needs.
Have your closet or dressing room's shoe rack built to any depth of shelf so that shoes (as well as purses) can be stored more than one row deep.
Using a pullout shoe rack allows you to see everything in your shoe collection at a glance and keeps all of your footwear well-organized and well-preserved..
5. Sliding belt rack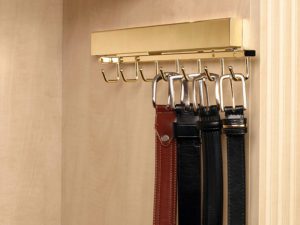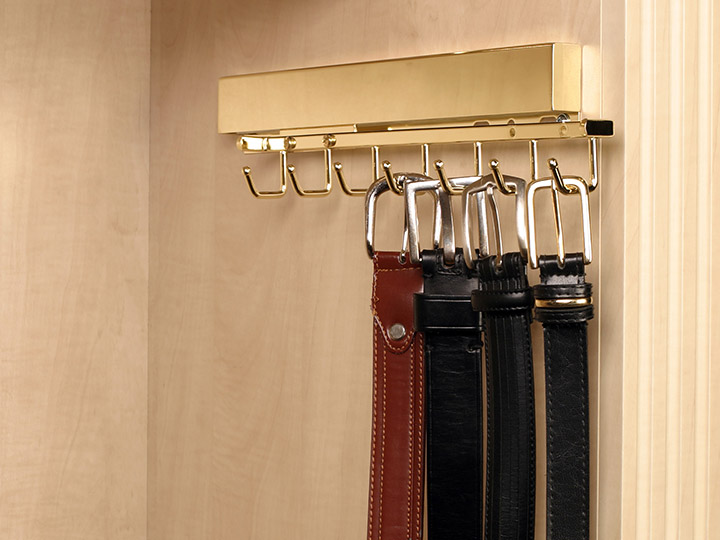 Similar to the pullout tie rack is the handy sliding belt rack.
Belts are another clothing accessory that often end up draped over a piece of furniture or door knob. Sometimes they'll just get rolled up and stored on a shelf or the top of dresser.
You can maintain the appearance of your belts and get a longer life from them by storing these accessories on a low profile sliding belt rack.
These belt racks provide a dedicated home for your belt collection and make sure they maintain their shape. Another closet accessory organizer idea for your belts is to store them on a belt hook.
6. Four position hanger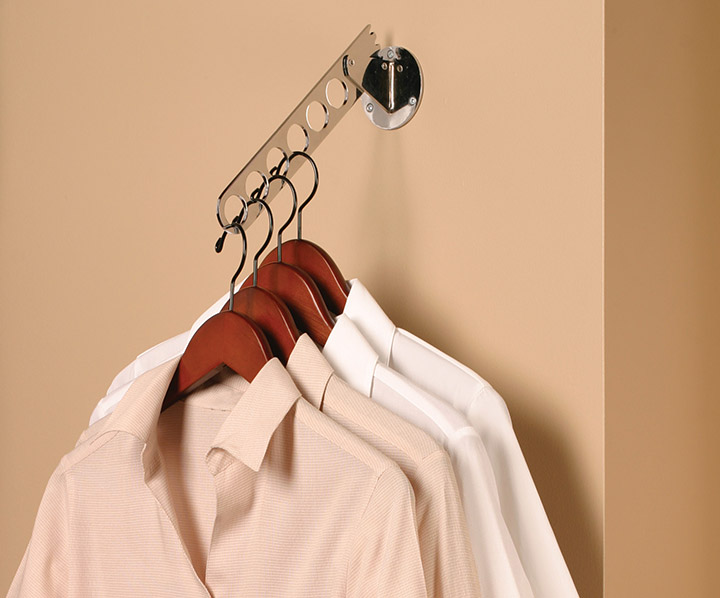 Like the valet rod, a four position hanger is a practical closet accessory organizer that creates extra closet hanging space.
This closet accessory may be tiny, but it's stronger than it might look and very versatile.
The hanger has holes for hanging multiple items of clothing, allowing you to get your outfits easily coordinated.
The "four position" part of the name refers to the fact the hanger can be adjusted into four different positions, depending on your hanging needs.
Four position hangers are another accessory that can be used in other places besides bedroom closets. They're useful in a mudroom, laundry room, or can even be attached to the side of a cabinet or dresser.
7. Jewellery drawer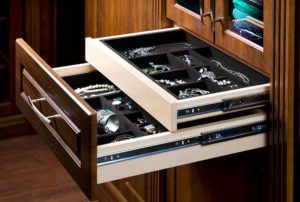 Fine jewellery should be kept in a proper home like a jewellery box or, even better, a jewellery drawer.
One more jewellery drawers can be added to your bedroom closet's cabinetry to keep all of your earrings, bracelets, necklaces, rings, and other precious jewellery items organized.
Keeping your jewellery collection hidden from view is also smart from a security perspective.
Our custom jewellery drawers feature velvet lining, which serves two purposes. First, it adds an elegant touch to where your valuables are kept. Secondly, the velvet lining (along with the drawer dividers) helps to keep your jewellery safe from scratches, scuffing, and tangling.
8. Pullout pant rack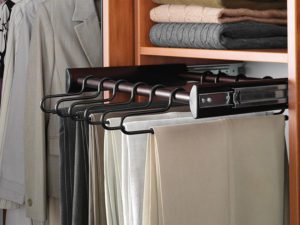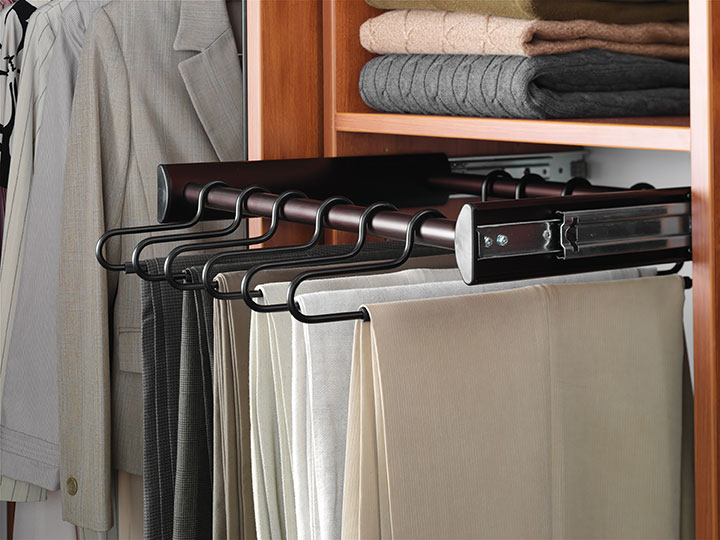 This closet accessory organizer idea adds more functionality to your closet and can also allow you to maximize your closet's storage space.
A pullout pant rack accomplishes this by making better use of your bedroom closet's underused lower storage space.
A pant rack can be shorter or longer, depending on your available space and how many pairs of pants you need to hang. The rack easily pulls out when you need to choose a pair of pants and stays out of the way the rest of the time.
Now you can keep all of your pants well-pressed, grouped together by colour, and more organized.
9. Hooks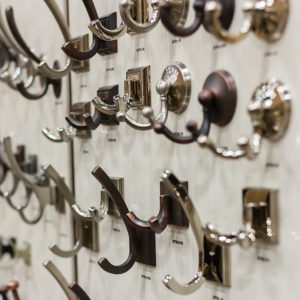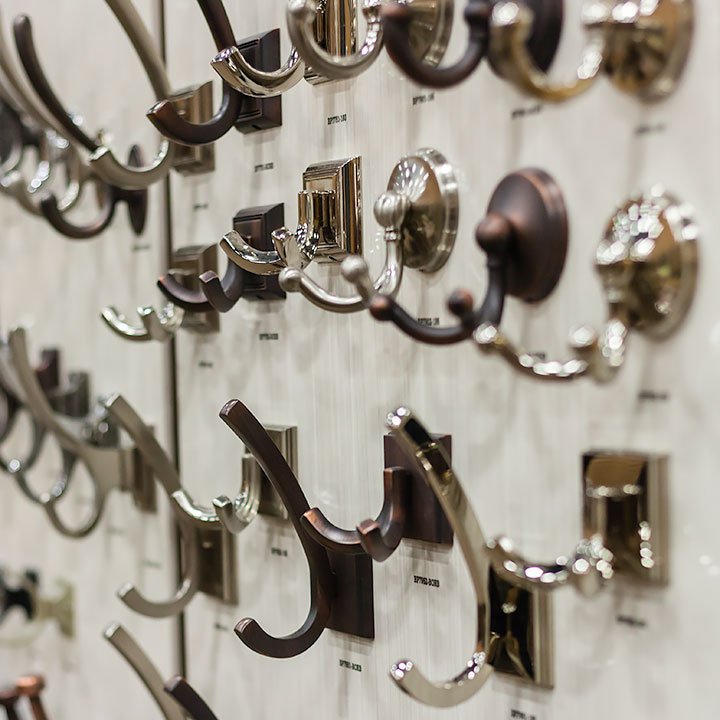 Not every square inch of a closet interior needs to be filled with something being stored.
Every closet should still include a few hooks, however, as a supplementary closet accessory organizer for any of your hangable items.
Hanging hats, purses, scarves, or any number of additional hangable items can free up space in your other closet storage systems.
And because hooks are so small, they can be easily incorporated into your custom closet's layout just about anywhere.
Visit our showroom to browse the hundreds of types of hooks and other decorative hardware items we have available.
Clever closet accessory organizer ideas (and much more)
These are just a few of the clever bedroom closet accessory organizer products available at Organized Interiors.
We also carry a wide variety of storage solutions for the entire home to save you time by helping your family to stay organized with less effort.
Learn more about how our closet accessory organizer ideas and other products can simplify your life by booking a free in-home design consultation.
See also: