It's estimated that the average American will lose $5,591 of belongings over the course of their lifetime.
Seeing such an eye-opening dollar figure attached to the negative effects of living a disorganized, clutterbug lifestyle can make one take stock of their own organization habits.
That figure comes from a survey of 1,000 American adults by Pebblebee, a Bluetooth tracking company. In that same survey, 20% of the respondents admitted to losing or misplacing personal items on a weekly basis.
Are your organization habits comparable to the "average" person? Think about how much $5,000+ can buy, such as a luxury vacation for two or a medium scale home improvement project.
Here are five ways that being a clutterbug can negatively impact your life.
1. A clutterbug wastes a lot of time searching for things at home
A disorganized home causes a clutterbug to waste lots of time searching for misplaced items. A Boston marketing firm conducted a study that found the average American wastes 55 minutes a week looking for misplaced items in the home.
That works out to the equivalent of more than one full day being wasted every month simply because someone is disorganized.
We live in a world where waiting mere seconds for a Wi-Fi signal to be found or a web page to load on our smartphone or tablet makes us impatient.
Shouldn't we be placing more value on the hours of time many of us needlessly waste because our clutterbug tendencies slow down our daily routine?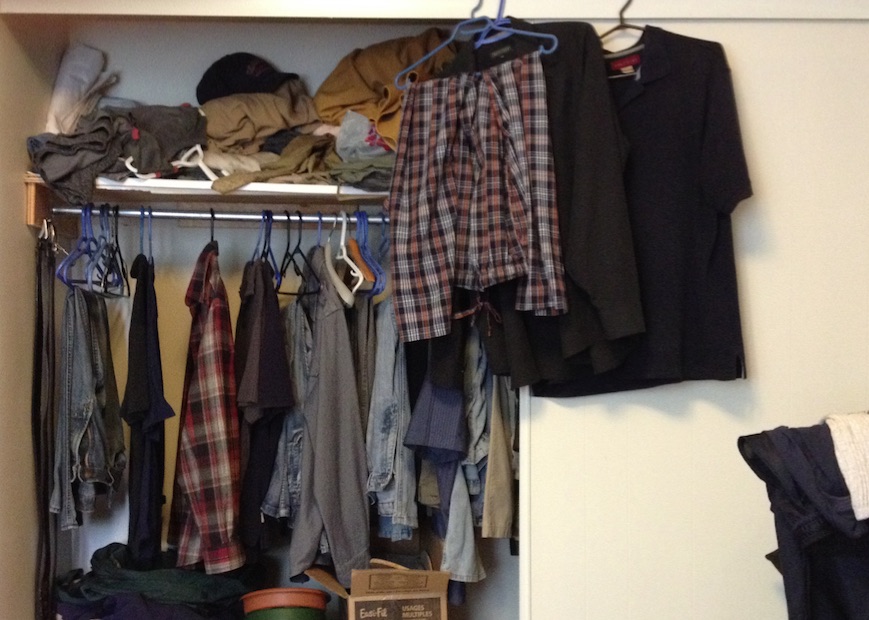 2. Clutterbugs are more likely to incur late fees for bills
Online bill payment options and bill payment apps for smartphones make it easier than ever to take care of monthly payments for all the services we use.
Even with these conveniences, a Harris Interactive study found that 23% of adults still pay their bills late (and incur late fees) because they're too disorganized.
Whether your e-bill or email notices requesting bill payment are getting lost within your digital clutter or your clutterbug habits are causing you to misplace your old-school paper bills, your hard-earned money could be better spent elsewhere.
3. A clutterbug wastes money on self storage units
There are some good reasons for renting a self storage unit. Perhaps you'll be out of the country for an extended period of time and it doesn't make financial sense to keep your current residence.
Unless you're lucky enough to have a good friend with an extra 100 square feet of empty storage space at your disposal in their home, a self storage unit is probably your only option.
Maybe you need a temporary storage space to hold the belongings of a recently deceased friend or family member. Another reason might be that you underestimated how much space you'd have for your things in the new home or condo you've moved into.
While these are viable reasons to rent a self storage unit, the reality is that most of these units are filled with clutter that homeowners just haven't bothered to deal with.
The North American self storage industry generates billions of dollars every year, mostly because of the clutterbug habits many of us have.
A conservative estimate of the monthly cost to rent a 10 x 5 storage unit is about $80-100 a month. That number can rise substantially based on the location of the storage facility, as well as extra insurance and climate control fees.
It's much more sensible to tackle your home clutter problems. Invest the money you'd be wasting on storage fees on practical home organization and storage products  that deliver a much better return on investment.
4. Disorganized homes waste a lot of food
A 2014 study by Value Chain Management International found that $31 billion worth of food was wasted in Canada every year. While much of that waste occurs at the manufacturing and retail level, 47% of it takes place in the home. 
Another recent study revealed that the average American household throws away an average of $640 worth of food annually.
Some of that waste can be attributed to poor organization systems within pantries, freezers, and refrigerators. Disorganization in these storage areas increases the likelihood of food being misplaced and lost within the food clutter.
The perpetual upwards creep of food prices makes the wasteful management of food add up financially over time. Of course, there's also the added burden of the needless carbon footprint that wasted food leaves.
5. Being a clutterbug can hold you back at work
If your clutterbug habits follow you to work, they may be holding you back in your career. A survey by retailer OfficeMax revealed the following facts from the 1,000 respondents:
77% believe clutter slows down their productivity
more than half think clutter negatively impacts their motivation level
90% believe clutter negatively impacts their home and work lives
35% are embarrassed by the state of their workspace
40% had a lower opinion of co-workers who had excess clutter in their workspace
Change your clutterbug ways to save time and money
With so many drawbacks to living a clutterbug lifestyle, why not change your ways and reclaim some of that precious lost time and money?
Enabling yourself with more effective organization systems for your home is a good place to start. From closet makeovers to custom storage and organization solutions for the rest of the home, Organized Interiors can help.
Schedule your complimentary in-home consultation with one of our design experts today to get started.
See also: