The ringing in of a new year is accompanied by a fresh round of New Year's resolutions.
They can be tough to keep and there's a good chance that getting your home organized is on your list of things to improve in 2017.
Organized Interiors is here to help with highly effective home organization solutions.
Home organization solutions to help you achieve your cleanup goals
If your home organization needs a lot of work, there's nothing wrong with keeping your expectations realistic and manageable.
Don't let yourself be overwhelmed. Even if you initially just focus on one project that brings more order to your home, you'll feel a real sense of accomplishment…and your home will be all the better for it.
You may just get the energy and initiative to do more organizing in your home!
These 14 home organization solutions from Organized Interiors will be a great aid when it comes to making good on your New Year's resolution to improve your household's functionality in 2017.
1. Closet organizers
A lack of available closet storage space, or ineffective usage of the space you do have, are two of the main reasons that clutter accumulates in the bedroom and elsewhere in the home.
Use closet organizers to maximize your storage space and eliminate clutter. We have three closet organizer systems to fit your needs.

2. Dressing room
That spare room that's being underutilized can be put to great use as a dressing room/large walk-in closet.
You'll love the extra storage space this room adds to your home, as well as the personal private space it provides.
Customize it with wall-to-wall cabinetry for clothing and accessories, a makeup area with a vanity, a full-length mirror, and many more design options.
3. Closet accessories
Along with using closet organizers, your closet space will see even more transformative results by adding closet accessories, such as:
retractable valet rods
shoe racks
sliding belt racks
adjustable hanging bars
4. Bed surrounds
One of our home organization solutions that minimizes clutter and adds a stylish touch to a room are bed surrounds.
They're custom-designed for your space, thereby creating a seamless blend with your bedroom's decor. Add open shelving, drawers, lighting, and plenty of other design options to choose from.

5. Wall beds
Wall beds (also known as Murphy beds) conveniently fold up, which means they require very little space.
We can custom-design your wall bed as part of a larger custom cabinetry unit or in a standalone configuration.
Wall beds are definitely a more comfortable sleeping option for your houseguests than futons, sofa beds, or air mattresses.
6. Wardrobes
A stylish custom-fitted wardrobe can function as a complement to your existing closet space. In bedrooms with little or no closet space, they can function as your primary clothes storage space.
Our finely crafted wardrobes are tailored to fit your bedroom space and you'll pick the wood finish, among numerous other custom features available to choose from.
Avoid buying cheaply made assemble-it-yourself wardrobes from a big box store. Visit our 10,000 square foot showroom to see for yourself the kind of quality our custom-built cabinetry has.
7. Bathroom cabinetry
Changing moisture levels and wear from dampness can make bathroom cabinets start showing their age.
If it's time to upgrade your bathroom cabinetry, we have the right custom cabinet solutions to beautify your bathroom space.
8. Kitchen cabinetry
Your kitchen is the hardest working room in your home and also demands the most organization to function properly.
Our designers will work with you to create beautiful custom-built kitchen cabinetry. You'll love the storage flexibility that our popular reach-in pantries or kitchen walk-in closets provide!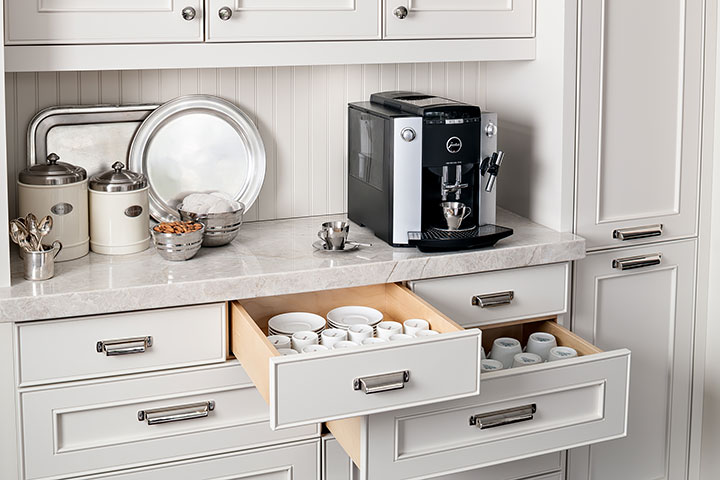 9. Wine storage
A growing wine collection requires the right system for storing your bottles to keep them organized and in ideal conditions.
We design custom wine cabinetry and wine cellars that will fit any sized space. A reach-in wine closet is ideal for smaller spaces.
If your wine collection requires more space, we can create a wine cellar room or walk-in closet wine cellar.
10. Bar cabinetry
Custom bar cabinetry is a great way to keep your liquor organized, in addition to adding an aesthetically pleasing touch of class to any room.
Entertain in style with one of our custom-designed cabinetry units, island-style bars, or mini-bars.
11. Entertainment unit
An entertainment unit needs to efficiently accommodate the wide array of audio/video equipment we use every day.
As the centrepiece of your living room or home theatre, it also needs to look impressive and integrate with your room's decor. Our customized entertainment units fulfill all of these requirements.
12. Home office
If it's a struggle keeping your home office clutter-free, perhaps it's time for a makeover. We have plenty of home office ideas that will refresh your space and increase its functionality.
Choose from our wide selection of finishes and styles available to create a useful workspace that's also comfortable.

13. Laundry room and mud room
When considering home organization solutions, don't overlook the laundry room and mudroom. These don't need to be dreary spaces – they can benefit from a designer's touch as well.
We can transform these rooms with custom cabinetry and other smart ideas to help keep you organized, as well as creating a more inviting space to carry out laundry duties.
14. The garage
Garages tend to be one of the messiest areas in many homes, but they don't need to be.
Garage Living specializes in all aspects of garage improvement, including home organization solutions such as wall storage, cabinetry, and specialty storage racks.
If you're tired of having no room inside your garage for your vehicles because of clutter, turn to Garage Living for help.
Start 2017 off right with these home organization solutions
Get a productive start on 2017 by using some of these home organization solutions to improve your household.
Schedule your free in-home consultation with one of our designers, who look forward to discussing your home organization plans with you.
 See also: