New custom cabinetry makes a world of difference in how a room looks and functions.
The creation of a home office, a dressing room, a new closet, or any other project involving custom cabinets requires a lot of decisions to be made about what will be included in the design of the cabinets.
Choosing the right decorative hardware for cabinets that are part of your home improvement project is just one of those many decisions.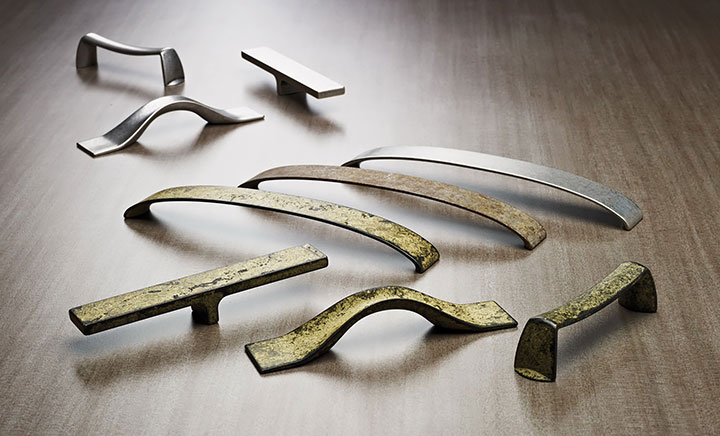 Decorative hardware for cabinets: why finishing details matter
The type of decorative hardware used with your custom cabinetry might seem like a minor detail in relation to the wider scope of what may be a big project. But you can be sure, every detail matters when you're having something designed that you'll be using and looking at every day.
The decorative hardware for cabinets you choose will be right there, front and centre, on the finished product. The right choices of cabinet knobs, pulls, and hooks can add character to a room, in subtle or more pronounced ways.
Poorly chosen decorative hardware, on the other hand, can have a similarly negative effect on the visual appeal of a room. Your decorative hardware choices also put a personalized stamp on your custom cabinetry.
So exactly how do you make smart choices when it comes to decorative hardware for cabinets? Here are a few tips.
Give yourself plenty of options
Psychologist Barry Schwartz's 2004 book The Paradox of Choice argues that having an abundance of choice is a bad thing. We think he couldn't be more wrong, at least when it comes to having custom cabinets designed.
The whole point of choosing custom cabinetry over a big box store's limited selection of off-the-shelf furniture is that you get the ability to have it designed to your needs (and let's not overlook its higher quality, either).
A key element of that customization includes choosing your decorative hardware.
The more decorative hardware choices you're presented with, the better chance you'll have of finding the perfect hardware accessories to beautifully accentuate your custom cabinetry or closet space.
An abundance of choice with custom-built products brings you that much closer to complete satisfaction with the finished product.
Organized Interiors knows the benefits and importance of giving our customers plenty of decorative hardware for cabinets options. Our showroom has hundreds of samples of the industry's best designer decorative hardware, including the largest selection of Richelieu decorative hardware in the GTA.
Complement your bespoke cabinetry and home décor
In addition to complementing your bespoke cabinetry, having a wealth of decorative hardware options has other benefits.
Cabinets that are designed to your specifications also make it easier to complement your home's décor and its flow from room to room. Regardless of whether a room's style is classic, contemporary, or transitional, there's a decorative hardware style available to effectively complement and enhance any room's look.
Should you go with a trendier style of decorative hardware that might not be as pleasing to you several years from now? Does your room's existing décor style make the choice more obvious?
How about hardware sizes (meaning how prominent of a role do you want your knobs or pulls to play in the cabinets' profile)? How much of your own signature do you want to put on your bespoke cabinetry?
There are many questions to consider when making your decision about decorative hardware for cabinets, so be sure to leverage the expertise of a knowledgeable professional.
Get a hands-on experience
A big part of your research when choosing decorative hardware should include getting a hands-on experience with it.
The tactile experience of sampling potential pulls, knobs, and hooks you'll be touching every day will give you a more personal connection to them.
An up-close sampling of important factors like the hardware's comfort and functionality will give you a better sense as to whether they're the right choice for your custom cabinetry or closet.
Does a weathered, rustic finish on a brass pull feel nicer to the touch than a smoother polished chrome finish? Maybe the feel of an antique glass knob compared to a metal knob with a satin nickel finish is more to your personal taste. Which size of pull or knob feels more comfortable?
Actually touching the hardware will also give you an idea of what kind of quality your product has. Organized Interiors' decorative hardware collection is manufactured to strict quality guidelines and features hardware created by world-renowned designers.
We actually call it Artware. Why? Well, we felt the hardware was so beautiful that calling it "art" only seemed fitting!
And there's one more great reason to get an up-close view of the decorative hardware you're considering – you'll get a better idea of how it looks than you will from a picture on a computer screen or from a catalog book.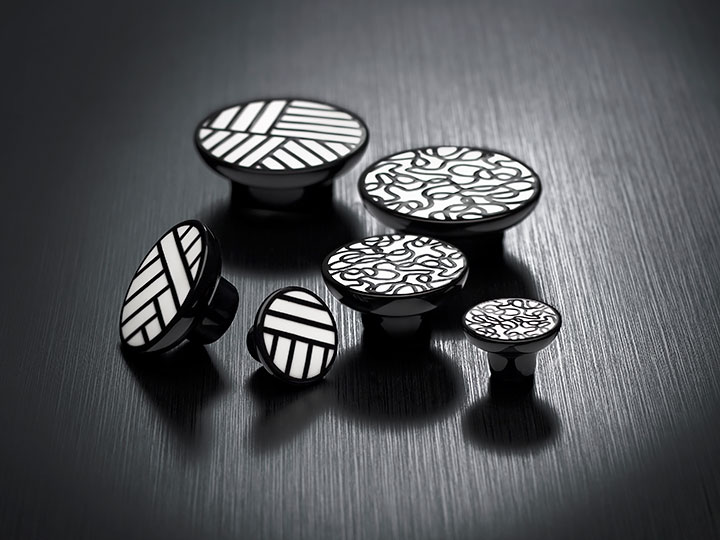 Sample the GTA's best selection of decorative hardware for cabinets
Spending the time to make the best choices when it comes to important finishing touches like custom cabinetry decorative hardware is well worth it.
Organized Interiors has the best selection of decorative hardware for cabinets in the GTA, just waiting to be sampled in our 10,000 square foot showroom.
If you'd prefer to have an Organized Interiors design consultant visit your home, book a free in-home consultation with us today.
See also: