As the saying goes, "You never get a second chance to make a first impression".
That expression can be applied to your home and how it's perceived by others. When you invite someone into your house, apartment, or condo and are in your front entryway, what's their initial impression of your home and how you maintain it?
Is it clean and organized or dirty, cluttered, and not very welcoming to guests?
While making a good impression to others is important, that shouldn't be your most important reason for having a well-maintained front entryway.
Getting this frequently used area of your home organized pays dividends on a daily basis to you and your entire family. Make your daily routine easier with these nine front entryway organization tips for reducing clutter.
1. Use a handy table for front entryway organization
A small table for the front entryway becomes a handy place to temporarily place items you're carrying after entering your home (just remember to move them once you're settled so you're not accumulating clutter).
A table here will be the centrepiece of your front entryway area, so don't compromise on quality.
2. Organize your mail with a letter holder
Leaving your mail scattered on your front entryway table isn't practical. A letter holder can be both a stylish accessory in the entryway and a smart storage solution.
If space allows, you might also consider placing a recycling bin in this area for your junk mail.
3. Transform your entryway closet space with a custom closet solution
Closets near the front door are considered "high clutter areas" in most homes. One of our custom closet solutions can help you get the most out of your entryway closet space and be tailored to your exact needs.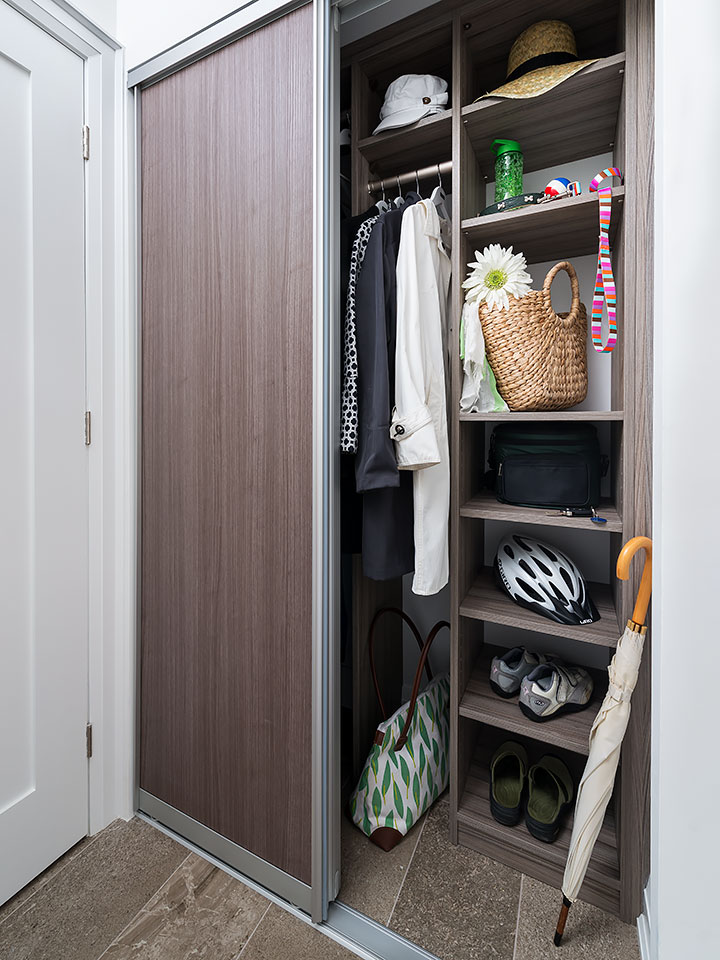 Maximize your closet space with accessories like an extra hanging rod, shoe racks, and decorative hooks for hanging bags and hats. It's a good idea to free up closet space by moving off-season clothing items elsewhere.
Winter clothing, especially, takes up lots of space because there's more of it (with all those scarves, gloves, earmuffs, toques, etc.) and it's bulkier. Ask us about out garment racks, which are great for storing off-season clothing.
4. Keep your floors dry with an umbrella holder
Add a convenient umbrella holder to your front entryway corner. Umbrella holders provide another dedicated home that makes finding this item easy when you really need it.
They also don't take up much space and will keep your floors dry after coming in from soggy weather.
5. Consider a multi-purpose storage bench
Storage benches provide a helpful sitting area for putting on or removing shoes and boots. You can also store items inside the bench, making this a multi-purpose asset to your front entryway area.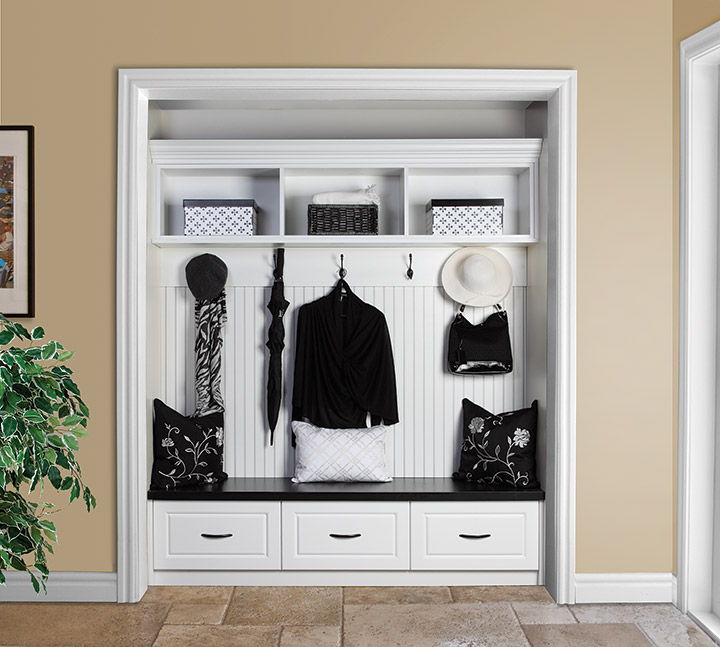 6. Front entryway shoe storage solutions
Shoes and boots are one of the main sources for clutter at entryways. Whether you add a shoe storage organizer to your entryway closet or just inside your front door, you'll be adding a smart solution for managing your footwear.
Shoe racks, hanging shoe organizers, cubbies, and boot trays will keep your front entryway area organized and clean.
7. Storage boxes and baskets for minimizing clutter
Another useful front entryway organization idea is to use storage boxes and baskets. For smaller items that get mixed up easily and are hard to find, storage boxes and baskets in your closet or entryway help to keep them organized.

8. Have a home for your keys
Keys are small and easy to misplace. That's why a home for them on the wall in your front entryway makes so much sense. Some of the advantages of key racks (also known as key holders) include:
keeps keys in one place, making them harder to lose
they take up little space
are inexpensive
makes all household keys accessible in case vehicles have to be moved
keeps your front entryway table surface clear
A key rack is a front entry organization solution that will save you from future panicked hunts throughout your entire home searching for your lost car keys. You'll quickly get in the habit of hanging your keys on your key rack when you enter your home.
Now when you're ready to leave, you can do so without even giving a second thought to where your keys might be.
9. Change your household's "dump and forget" mindset
Now that you have some practical front entryway organization and storage systems in place, try to change the rest of your family's mindset of just "dumping and forgetting" their belongings in the front entryway area when they come home.
Stress the importance of taking advantage of these organization solutions. Remember, having the means and tools to accomplish something isn't all that's required. Motivation and effort is even more important to get any job done properly. Regularly maintaining the front entryway area is additionally critical.
Apply these tips to your front entryway organization problems and this area will be clutter-free, more functional, and more inviting in no time.
Request a free in-home consultation with an Organized Interiors expert now to get your front entryway transformation started.
See also: