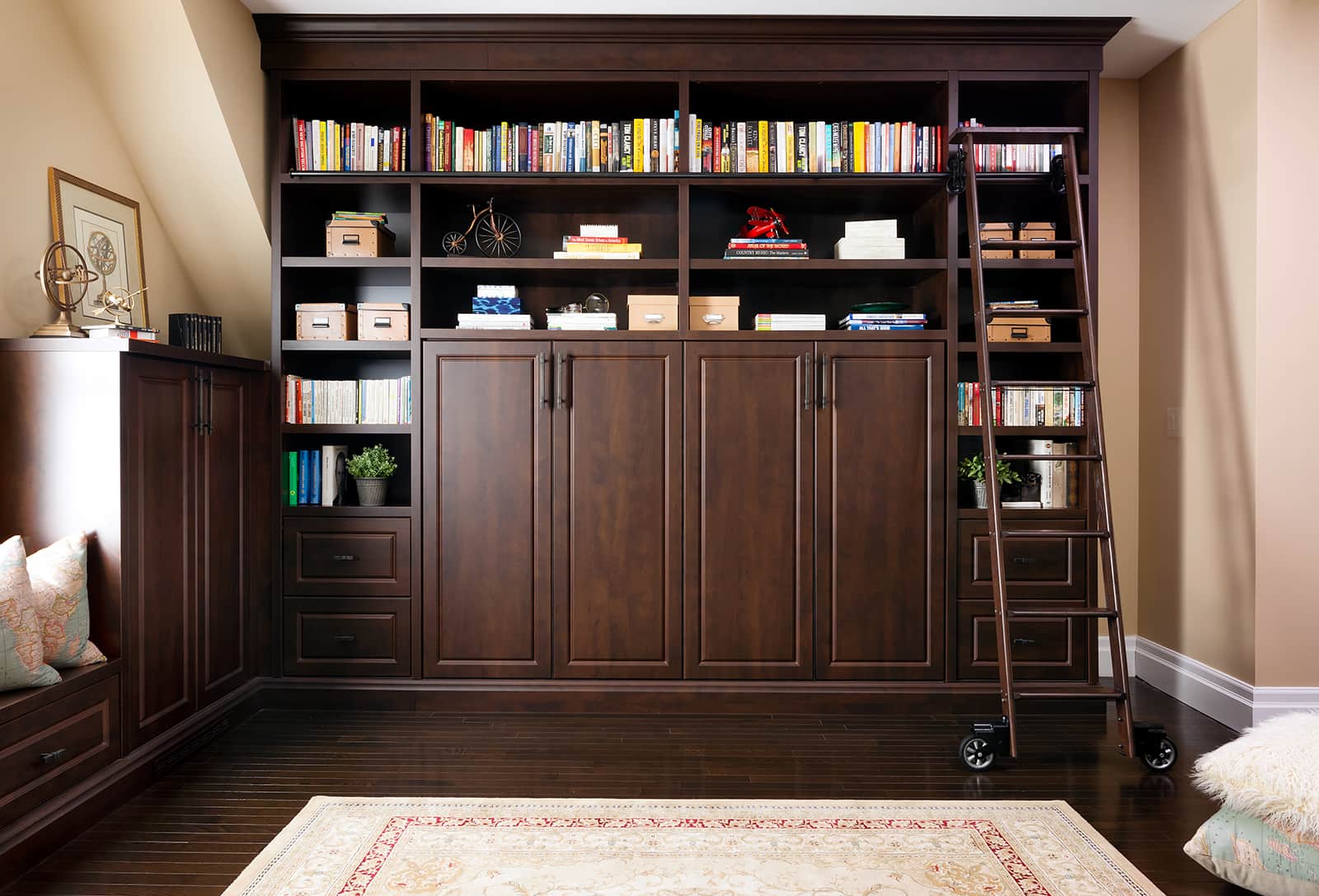 In this increasingly tech-driven world, it may surprise you to learn that physical books still far outsell e-books.
50% of Canadian adults read or listened to at least one book in 2021, according to a BookNet Canada survey. Physical books were the format of choice for the vast majority of those readers.
Clearly, good ol' fashioned paper books still have a place in the digital age.
Create a home library with form and function
Avid readers tend to own a large collection of already-read books that they hold onto for sentimental reasons and to loan to friends, as well as an ever-growing backlog of books they plan to read.  
Without a proper home library, it can be a challenge keeping large book collections organized. Most homeowners use storage systems like shelving and bookcases that are bought separately over the years as their book collection grows. Often, this variety of storage systems has a cobbled-together look that lacks any decorative cohesion and is more spread out in a room, instead of keeping the books in one place.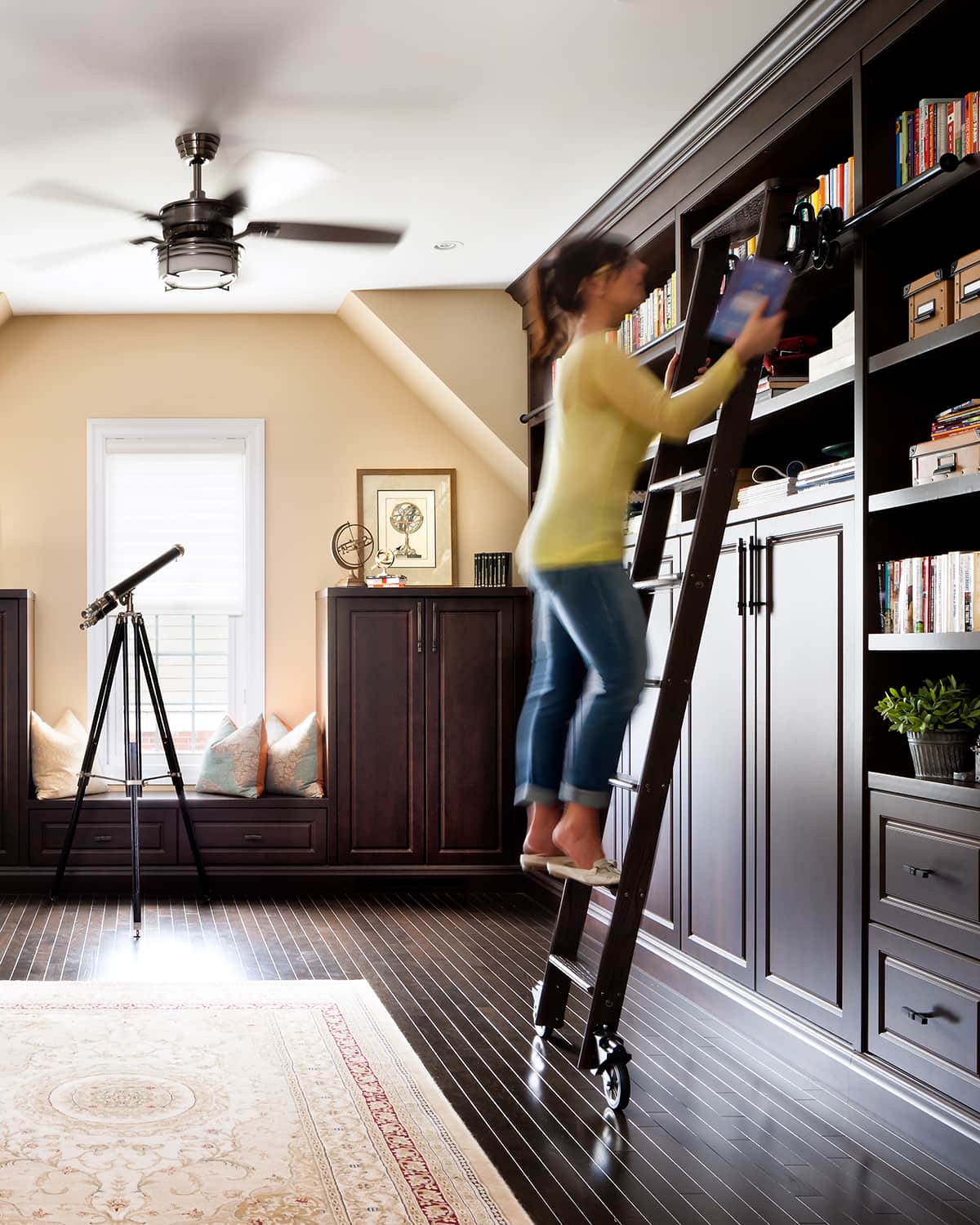 The best solution to keep a large book collection more organized and also give your home a decorative boost is to create a home library featuring a custom built-in bookcase. And if you have the space, including a comfortable reading area where your books are kept is ultra-practical, too.
Do you envision a space where your books can be stored more efficiently and in stylish surroundings? And does having a cozy, quiet home space that lets you transport yourself to wherever the imaginations of your favourite authors takes you sound appealing? Then find out why you won't regret your investment in a home library and reading space.
Aren't home libraries outdated? No, and here's why.
The concept of a home library nowadays may seem outdated to some, but lots of people don't subscribe to the idea that their entire book collection should be stored on an iPad. Plenty of readers want their favourite books to occupy square footage in their home, not gigabytes of memory space on a tablet.
In fact, most readers prefer the tactile, more personal experience of holding a book, appreciating the cover art, turning the pages, placing and removing a bookmark, and that satisfying feeling when a completed book is closed for the final time. And no charging is required!
This Statista infographic, which unfortunately doesn't include figures for Canada, shows how physical books continue to have enduring appeal around the world:
Another reason physical books still matter to people is the experience of book shopping at a brick-and-mortar store. Many music lovers (including myself) miss the unique anticipatory experience of visiting an HMV or Sam The Record Man store and leisurely browsing through the racks for the newest amazing CDs or records to add to our music libraries. Digitally shopping at the iTunes Store just ain't the same in comparison.
The book shopping experience is very similar. For many bookworms, shopping in-person at an Indigo store or a favourite small bookstore and browsing their selection of titles is still an enjoyable, satisfying part of the book owning and reading experience.
And all of those physical books still being sold end up somewhere in people's homes. So why not keep them somewhere that's a cut above a cheap, self-assembled bookcase or in boxes or storage bins?
Avid readers and book collectors take their hobby seriously. It's usually one of their main passions and a fundamental part of their daily life, so it only makes sense to store the things that give them so much joy with care.
Six more reasons to consider adding a home library
In addition to bookcases keeping a collection of books tidier, here are six more practical reasons to consider creating a home library:
A custom-made built-in bookcase revamps the architecture of a room and transforms it into vastly different space.
Bookcases allow your most cherished books to be displayed in an artful manner.

A book-filled, personalized home library makes a room feel more lived-in.

The books you own and display reflect your personality (as Walter Mosely wrote in his book The Long Fall,

"A man's bookcase will tell you everything you'll ever need to know about him.")

An attractive bookcase can be a great conversation starter.

Giving books a proper home is the best long-term storage solution to preserve them (as opposed to moving them around occasionally or storing them in less-than-deal conditions in a basement).
The benefits of keeping books in the home
It's an age-old debate about whether or not it makes any sense to keep a book you've already read. Just like the e-book vs. physical book discussion, it's all about someone's preferences and taste.
Ask anyone who chooses to hold onto most of the books they've read about why they do so and you'll get a lot of different answers. Here are some of the reasons they might give:
Memorable books have deep, sentimental value.
Book collections add a sophisticated touch to a room and instantly make a statement that you're literally a well-read person!
You can share an enjoyable literary experience with someone by gifting or loaning them books.
Just like paintings, drawings, and photographs, books are works of art that are equally worthy of displaying and being appreciated more than once.
Scientific research shows that book-filled homes have a positive impact on the academic development of kids.
The distinct smell of old books (which is

caused by a book's chemical compounds breaking down as it ages) provides

 a

satisfying sensory experience.

The sight of rows of neatly organized books simply appeals to some people's visual taste.
Some reading benefits you might not know
We've already listed a number of reasons reading and keeping books gives so many people pleasure. Reading has numerous positive health benefits you may be unaware of, too. Research has shown that reading regularly can:
reduce stress
help you sleep better
slow down age-related cognitive decline by keeping your brain more active and sharp
lessen the effects of depression
improve your ability to empathize with others
increase the likelihood of your kids adopting

reading as one of their leisure activities
Invest in a custom bookcase for your home library
A new bookcase from Ikea or Amazon is where most people will turn when they're looking for a home book storage solution. If you're really serious about creating the perfect home library design, however, it's worth it to spend a little more for a custom-made bookcase with a higher-end look.
It's the bookcase, after all, that will define a home library space and commonly become the room's focal point. No mass-produced, assemble-it-yourself bookcase product can match the quality of a customized cabinetry piece that is precisely designed, crafted, and professionally installed to fit your living space, storage needs, and design taste.
With a custom bookcase design, you'll have infinitely more layout, finish, and style options to choose from to complement your décor. You're not limited to just a few basic design options chosen by a large furniture manufacturer's design team that are aimed at mass consumer appeal.
A bespoke home library bookcase can be designed to virtually any dimensions you want, whether it's a large, wall-to-wall and floor-to-ceiling size or something smaller. Customize the heights, widths, and depths of the shelving. Get creative and have your designer incorporate open spaces in specific areas so you can decorate with things like plants and candles. Add upper and/or lower cabinets if you desire.
Because a bookcase is holding a significant amount of weight, the quality of the materials and craftsmanship matters if you want the furniture piece to last a long time. Once again, a custom-built bookcase will be superior to the mass-produced products you'll find from a big-box or online retailer.
A built-in bookcase optimizes a room's space
Built-in custom cabinetry is designed to make optimal use of a room's space, which helps make the room feel bigger and provides a visually appealing architectural element.
Unlike a freestanding bookcase, a well-designed built-in bookcase looks more like a carefully considered part of a room's architecture, not an afterthought.
By taking the existing architecture of a room into consideration in the design process, built-in cabinetry eliminates or reduces the amount of wasted space, particularly in awkward corners and nooks.
Compared to a freestanding, off-the-shelf bookcase product, this leaves you with more storage space for books and decorative items.
Choosing the right location for a home library
A home library can take on many different forms. If your book collection is large enough and you have the room, a home library can take up an entire room (typically a spare room).
Ideally, you'll want to situate a library on the main or upper floor. Although the basement likely provides more privacy in your home (which is a significant consideration if you're combining a home library with a reading space), its cooler temperatures and lack of natural light may feel too inhospitable.
Many home libraries work in tandem with a room's other functions. Home offices are a natural fit for a paired library space. A home office bookcase can share space between your work-related books and the leisure reading books you own.
Maybe you have a home office, guest room, or hobby room that isn't used regularly. Get more use out of them by adding a bookcase to maximize the room's functionality. A wide hallway or a large stairway landing area are other areas you could potentially have a built-in bookcase or bookshelves installed. 
Limited home space? Create a book nook!
You don't need an entire room or half of a room to create space to store books and even room to read. A book nook can be added in many areas of the home that are underutilized, specifically a small corner, recess, or alcove.
The corner of a large bedroom, home office, or any other room can be used. You could set up a small book storage and reading space around a window and have a comfortable built-in window seat added so you can enjoy your books in a cozy sunny setting.
Another option is to make better use of the space underneath a staircase, which is loaded with organizational and storage possibilities. Most staircases are near the front entryway, so remodelling this area with a book and reading nook is a great way to give the space a decorative upgrade.
Set up a cozy home reading space
According to a recent Indigo survey, Canadian adults spend an average of six hours per week reading as a leisure activity. If you're in your happy place when you're reading every day or just a few times per month, why not create a home space that is dedicated to one of your passions?
A home library and reading space that is set up for maximum comfort and minimal distractions will enhance your reading experience and inspire you to read more often. If possible, locate your reading area in a more secluded area of the home that is relatively quiet and private. 
You don't need much space to set up a cozy reading area. It only requires room for a chair that is comfortable enough for those extended reading sessions, a lamp, a side table, and perhaps an ottoman if you like to stretch out while reading. If you enjoy mixing in listening to audiobooks or podcasts with your book reading, consider choosing a chair that can be reclined for more comfort.
Augment the room's ambient and task lighting (which should be warm and soft) with accent lighting on the bookcase that showcases the beautiful cabinetry. Consider giving the room even more of a true library look by installing a rolling ladder for the bookcase. The ladder adds a sophisticated decorative touch and helpful functionality for accessing the upper bookshelves.
Decorate by styling your bookshelves
There are many ways to display a book collection. Sorting them by genre, author, or alphabetically makes the most sense from an organizational point of view.
Lots of people, however, like to get creative and prioritize giving their home library some extra visual appeal by storing their books in a variety of artful, interesting ways. Here are a few examples of how books can be playfully arranged to add visual interest to a room:
organize them by colour to create a rainbow look
arrange the books by height
display your favourite books by turning the covers outwards
mix in stacks of horizontally arranged books with your vertically stored books
display books with the spines turned inward (we don't get it, but this understandably divisive trend is apparently a thing)
A home library's bookcase shelves have more uses than just storing books. Bookshelf styling is an art all by itself and has become more popular in recent years. It allows you to create an infinite number of interesting looks by using decorative items like photos, plants, vases, candles, and other knick-knacks to express your decorating style.
Create your bespoke home library and reading space
If that vision of having your own home library and reading space just won't go away, there's no time like the present to turn that dream into reality.
Organized Interiors specializes in providing beautifully designed custom cabinetry solutions for your home. Let's collaborate on a bookcase design that is fully customized just for your home.
Schedule a free design consultation with one of our designers today.
Please share this post if you found it useful.
See also: