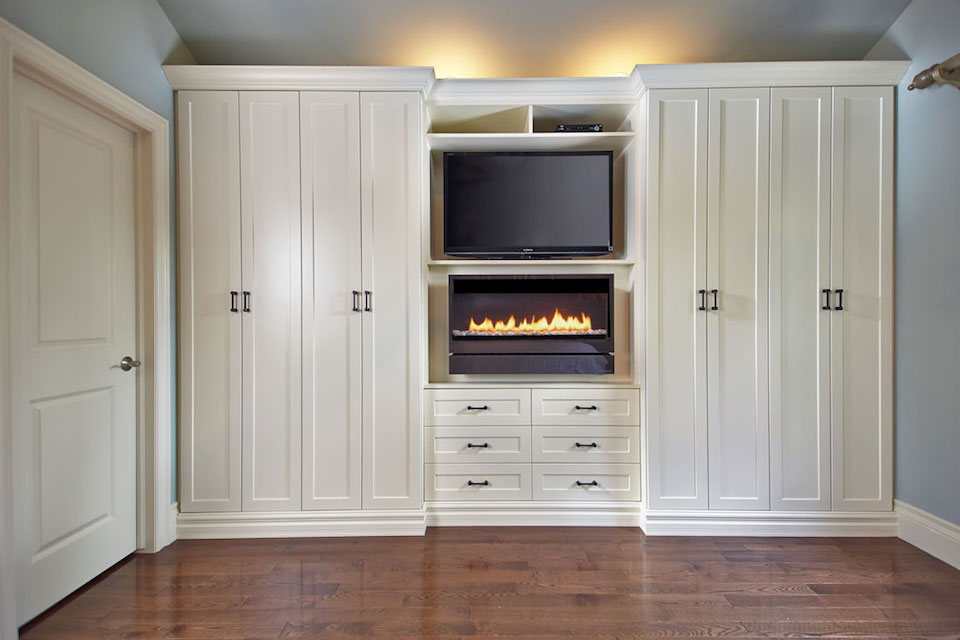 Why are you better off buying a custom built-in wall unit instead of freestanding cabinetry that you assemble yourself?
Well for starters, you won't need to contend with the aggravating "assemble it yourself" part.
There's also no comparison between the two in terms of how they look and can be tailored for both your living space and functional needs.
One project we worked on involved designing a multi-purpose built-in wall unit that includes several wardrobe closets, a laundry hamper, a built-in fireplace, and an entertainment centre.
Storage, a laundry helper, a mood setter, and home entertainment all brought together in one beautiful solution – what's not to love? 
This built-in wall unit is perfect for this bedroom space
Let's face it, not all of the features in this wall unit are things you would exactly associate with one another. The TV and fireplace together make a lot of sense. For many people, however, perhaps including either the laundry hamper or closet spaces wouldn't work for their needs.
That's the beauty of custom cabinetry. It allows you to break free from the limitations of what stock, one-size-fits-all furniture that is designed to appeal to the most number of consumers offers.
For this client's specific needs, the all-in-one wall unit is perfect. They don't have to buy several furniture pieces that may be difficult to stylistically match with each other, nor do they need to worry about how well everything will fit within their living space.
Improve the shape and function of your rooms
One of the many benefits of a built-in wall unit is that it takes up a smaller footprint in a room than freestanding furniture.
This custom cabinetry piece integrates seamlessly with the rest of the room. With its complementary décor and wise use of the space, it truly looks like a part of the room's original design.
Details like that matter. As an architect wrote in a Houzz article titled The Hidden Benefits of Built-In Storage, "thoughtfully designed storage can improve the shape and function of our interior spaces".
Let's dig a little deeper into the design features that went into this one-of-a-kind built-in wall unit.
Built-in wardrobes
Four separate full-height closets on each end of the built-in wall unit provide plenty of wardrobe storage space in this master bedroom.
These closets are designed with adjustable shelves and lower drawers, but you're not limited to this type of setup. We can design built-in wardrobes to include hanging rods and various closet accessories, too. This wall unit could also have been designed with one larger wardrobe on each side instead of two.
Because the drawer boxes are concealed behind the doors in this wall unit, they have simplified fronts. We've employed "scoop" handles, which allows us to make the drawers full-depth without compromising the depth with protruding handles or knobs.
A built-in entertainment centre
Since the wall unit was being installed in the master bedroom, a built-in entertainment centre with room for a television and additional media accessories was required.
As you can see, the built-in TV above the fireplace is mounted relatively high. That location makes it ideal for watching the TV while in bed. The wall unit's design allows wires and cables to be discreetly kept hidden.
Above the television are a couple of open spaces where a soundbar, streaming device, cable receiver, or PVR can go. Taller open shelving display spaces could also be used for placing books or personal effects like photos or knick-knacks.
The layout can be configured for your needs. The open sections up top could instead be included at the bottom of the unit in place of the two banks of drawers (one of which is actually a well-disguised laundry hamper, as we'll explain shortly). This would make adding something like a Blu-ray player more practical.
Electric fireplace
Along with the TV, an embedded electric fireplace forms the centrepiece of this highly functional wall unit.
Electric fireplaces are great for several reasons:
they can be used year-round to boost a room's ambiance and comfort level
some electric fireplace models can provide ambiance and function as a supplemental heating source
they're energy-efficient
compared to using a traditional wood fireplace, they're much safer and involve virtually no maintenance or extra work like cutting or hauling firewood
they're super-easy to use and have options that allow you to change the display colour to match your mood or complement your décor
A laundry hamper and matching drawers
When is a bank of drawers not a bank of drawers? When it's the front face for a tilt-out laundry hamper!
To keep the overall structure symmetrical, we matched the adjacent three drawers with a false front composed of three faces pieced together. Locating the hamper right below the fireplace simply made the most sense, as you wouldn't want it positioned too high.
Since the wall unit functions as the bedroom's master wardrobe, having an integrated space to put dirty clothes makes a great deal of sense.
The hamper's cloth bag is designed to be easily removed when it's time to do the laundry and can be cleaned when required.
Additional design features of this built-in wall unit
This custom wall unit is constructed using one of our most popular finishes, a colour called Antique White. It's a fairly universal colour, in that it is readily available in the various types of laminates that we use in our custom cabinetry construction.
Flat components, in this case comprising the structural parts like the cabinet's sides and shelves, are achieved using melamine on board.
Pieces that have some shape to them (the baseboard, crown moulding, and door and drawer fronts) are shaped in MDF with thermoplastic (sometimes called thermofoil) laminate. Thermoplastic is more flexible than melamine and wraps in and out of the curves and around the edges.
Finishing touches include adding decorative pulls and over cabinet lighting for additional visual appeal.
Customize your built-in wall unit
This creative blend of home storage and décor solutions is just one example of what's possible when you customize your cabinetry instead of buying a mass-produced wall unit.
Yes, a custom built-in wall unit does cost more. However, you can rest assured that it will fit your space perfectly, have a high-end look that complements your room's style, and be tailored specifically for your storage needs.
Schedule a free consultation with Organized Interiors to start planning your built-in wall unit's design.
Please share this post if you found it useful.
See also: