Murphy wall beds are well-known for their space-saving benefits, practicality, and comfort.
But did you know this age-old sleeping solution extends to more than just a traditional bed that folds down from a wall?
The Murphy bed sofa takes this clever furniture concept and does it one better by adding a comfortable sofa to the mix.
Why a Murphy bed sofa is so practical
One of the main reasons to install a Murphy bed sofa (also known as a MurphySofa or a Murphy bed with a couch) is to allow a room to serve other purposes aside from being used only as sleeping quarters.
We often see them used in home offices and family rooms, especially with the rising popularity of smaller condo units in Toronto. Even a larger room in your home may need to serve multiple purposes, which the bed/sofa combination is ideal for.
The project highlighted here is a great example of how combining a Murphy bed with a stylish sofa can change how you use your space for the better.
In this project, the room will mostly be used as a work area and occasionally for entertaining. With the simple addition of a custom sofa with an integrated Murphy bed behind it, the room becomes more versatile.
Guest rooms are another ideal spot for a Murphy bed sofa. Having overnight visitors is not a weekly or monthly occurrence, so you may not wish to dedicate an entire room for this purpose.
A wall bed/sofa allows the room to always be at-the-ready to accommodate guests. One of the hallmarks of a genuine Murphy bed is that they include a real mattress (spring or coil and up to 10″ thick) that doesn't fold in the middle. This allows your guests to get a better night's sleep than they would on a flimsy, uncomfortable sleeper sofa mattress.
When visitors aren't staying over, the room can be used for something else, such as a home office, craft room, exercise space, or reading room.
How a Murphy bed sofa works
Let's explain how a Murphy bed sofa works. The idea is that moving an entire couch in order to fold down a wall bed located behind it isn't practical.
That's too much work and besides, if you have a Murphy bed in the first place then space is likely at a premium in the room.
To make things easier, we incorporate the sofa into the bed. To access the bed, simply remove the back and bottom cushions and lower the bed over the sofa frame, as shown below.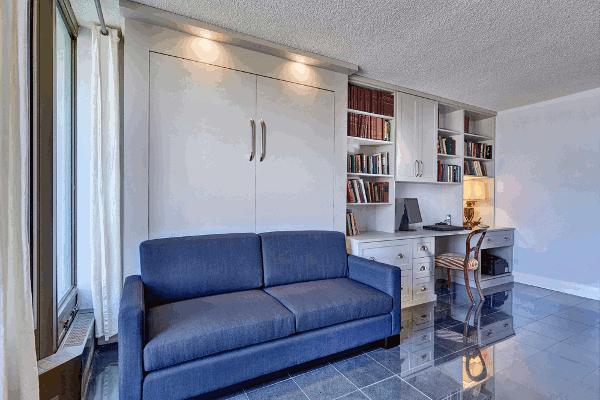 Folding the bed down or raising it back up is smooth and easy. Organized Interiors uses genuine Murphy bed hardware for its superior quality, ease of use, and its outstanding 25-year warranty.
The Murphy wall bed folds back up into a storage space that is hidden with attractive faux cabinet doors (they're actually the underside of the bed and also function as the couch's backrest).
The entire design is customized to complement the existing décor of your room.
Customize your furniture and let a pro install it
As always, Organized Interiors designs all of our projects with you and your space in mind.
That's the biggest advantage of choosing us for your project instead of buying your Murphy bed and sofa online and trying to install it yourself.
Customized design
We work with you to create a design that is customized to complement your home's décor. Many finish and panel options are available, as well as a wealth of hardware styles and upgrade options. You can specify what type and colour of fabric you want for the sofa, the type of legs it has, and even customize the arm design.
The project shown here features a queen-size bed, but we can also do this furniture combination with single and double-size mattresses. Organized Interiors can design a sofa with a side-tilt (horizontal) Murphy bed, too (this configuration is available in double and queen sizes only).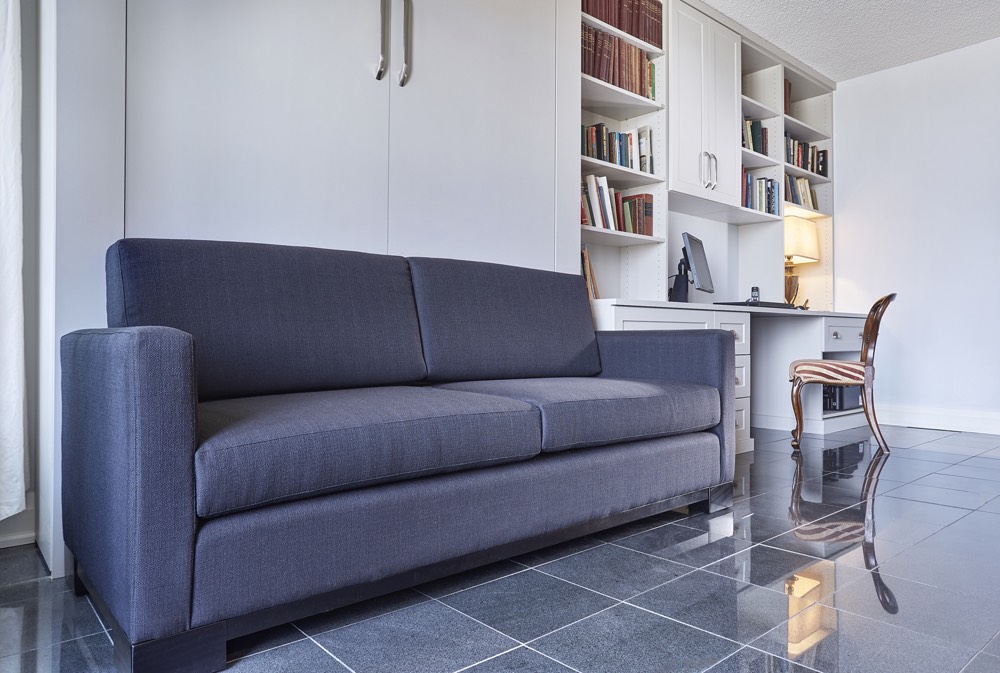 Professional installation
Assembling and installing a Murphy bed sofa in your home isn't a job for the average homeowner with basic handyman skills.
We save you the headache of tackling this tricky installation by installing everything efficiently and correctly. Our professional installers will ensure that your bed and sofa unit fit perfectly.
Experience the benefits of a Murphy bed sofa
Upgrade the functionality in one of your home's rooms by adding a multipurpose Murphy bed sofa to it.
Schedule a free consultation with us to start collaborating on a bed and sofa design that works for your living space.
Please share this post if you found it useful.
See also: