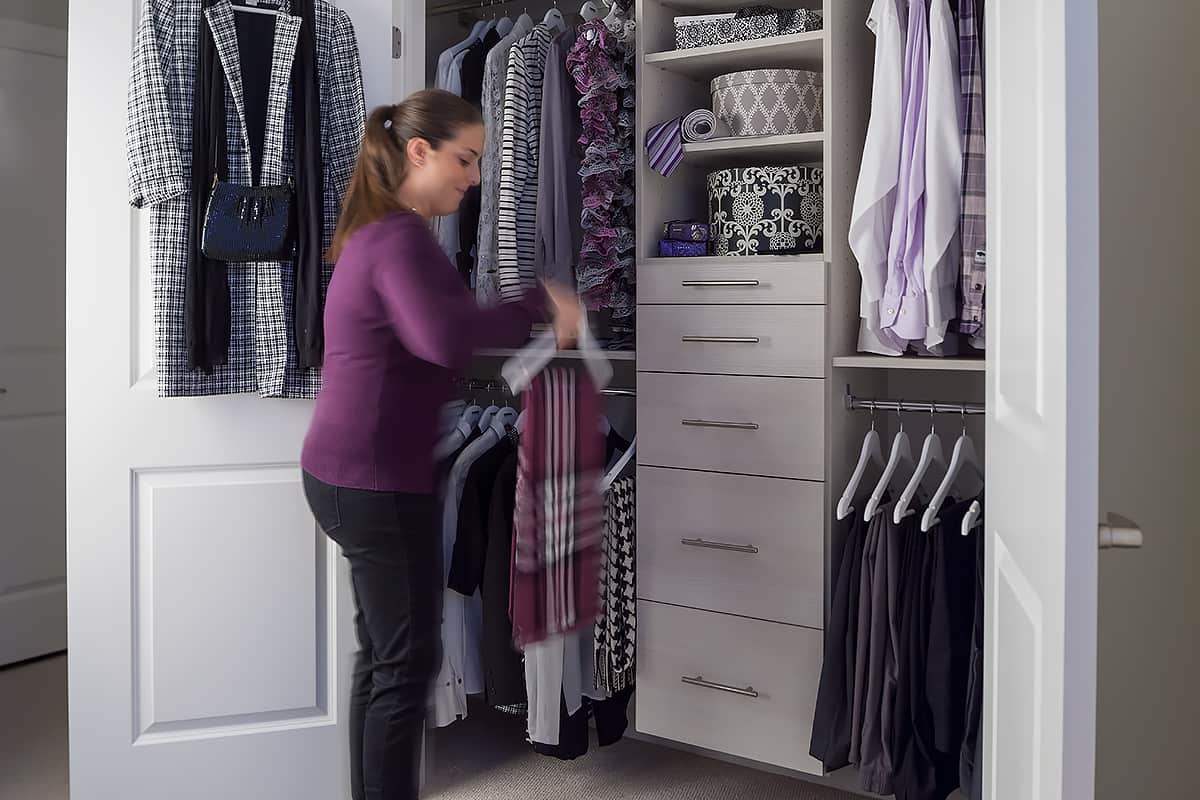 Doing some seasonal closet organization in your bedrooms and front entryway is sensible, but it's one of those home tasks that many of us push aside.
It's understandable to be less than motivated to take the time to switch out your off-season clothes for more seasonally appropriate attire.
After all, that off-season clothing isn't needed at the moment and, well, it's just extra work, right? And eventually, those out-of-season clothes will become part of your daily wardrobe again anyway.
There are plenty of good reasons to invest time in reorganizing your closets when a new season arrives, however. Find out about the benefits of doing so and get some tips that will lead to success with your seasonal closet organization efforts.
Seasonal closet organization saves you valuable time
Not reorganizing the front entryway and bedroom closets when the seasons change makes it harder to maintain those storage spaces. The closets can get so overstuffed and untidy that things get buried in the chaos and get misplaced.
That results in hours of time being wasted over the course of a year looking for items. The amount of time spent making decisions about what to wear goes up, too. Don't believe us? Consider these statistics:
The average woman spends 17 minutes each morning deciding on a work outfit and getting dressed. (Marks & Spencer study)
61% of men and women with closets full of clothes regularly struggle with choosing items to wear. (Nordstrom Trunk Club study)
An upfront investment of your time to get your closets in order is a smart way to ensure your daily dressing routine runs smoothly.
Seasonal closet organization is one of those home tasks that require the most amount of work the first time you do it. Provided that a thorough job is done and you're supporting your efforts with capable storage systems and smart organizing strategies, maintaining everything when a new season arrives should be a breeze.
A seasonal closet organization guide
There's a little more to seasonal closet organization than simply clearing out one group of clothes for another based on what season it is.
We've compiled various seasonal closet organization tips and ideas that will show you:
the benefits of an occasional closet purge
the most effective ways to get the job done
why regularly curating your wardrobe is important
clothes storage tips for specific seasons
general storage best practices for clothes in any season
Benefits of a seasonal closet purge
Sorting through a full closet is time-consuming…and usually time-wasting. "Choice fatigue" (also known as "decision fatigue") is real and occurs when we open an overstuffed closet to find things to wear. 
The average person makes thousands of decisions in a day, which can overwhelm our brains and hinder our decision-making skills. Deciding which three or four items to wear from a wardrobe with 100+ pieces to choose from can end up becoming a 15-minute task if you're the indecisive type.
Here are a few statistics that show the effects of owning too many clothes:
61% of women who have a hard time finding anything in their closets end up buying new clothes. (OnePoll survey)

Over half of British adults had the majority of their clothes go unworn because they got lost among their clutter. (Stitch Fix UK poll)

It's estimated that 80% of your clothes are only worn 20% of the time. (National Association of Professional Organizers study)
Some call it a closet purge, edit, curation, clear-out, or cull. However you refer to it, taking inventory and re-evaluating everything that's in your closets, wardrobe, and dresser once or twice a year is smart and proactive. 
You'll find clothing that no longer fits, is out of style, is too well-worn to continue wearing, is no longer reflective of your style, or things that are rarely or have never been worn. The latter is quite common. A survey by 10 Yetis (a UK public relations agency) found that a woman's closet has an average of $550 worth of unworn clothing.
And right there is another benefit of reorganizing your closets – you might rediscover a misplaced or forgotten piece of clothing that can, to quote Marie Kondo, spark some joy for you, just as you intended when it was bought!
Another huge benefit of slimming down your wardrobe and getting your closets organized is reclaiming much of that aforementioned time that was being wasted daily. Items will be easier to find and you won't be overloaded with too many choices. 
A thorough seasonal closet purge also lets you swap out the stress and frustration from dealing with an untidy closet with more positive feelings. Shedding some of that closet clutter will be liberating and fulfilling. Dealing with a more functional closet helps set a good tone for the rest of your day as well.
Curate, then donate, recycle, or toss
Seasonal closet organization is a great chance to hit the reset button on your closet spaces. The standard curation process for a wardrobe overhaul is to separate things into toss, donate, and keep piles. Deciding what stays and what goes can admittedly be tough.
The keys to keeping wardrobes at a manageable size are to:
only keep what you value
get rid of anything that hasn't been worn in the last two years
cut the sentimental ties to clothing from your past
be realistic about fitting into old clothes that are now a size or two too small
Charities and thrift stores that don't have a textile recycling program typically won't take worn-out, damaged, and dirty clothes.
For clothes that can't be resold, make an effort to repurpose what you can as rags for home cleaning work. Have the remaining clothes recycled instead of simply throwing them out. The Recycling Council of Ontario says that 95% of the 37 kilograms of textiles thrown out by the average person every year could have been recycled or reused.
Before dropping off your donated clothes, check with the intended recipient to make sure they can take them. Charities and thrift stores have had a surge of donations during the pandemic and some may not be taking any more donated items right now.
And avoid leaving clothes at donation boxes that aren't operated by reputable charities. The Toronto Star reports that there are many illegally placed donation bins in the GTA that are operated by some pretty shady people.
Spring closet organization tips
Make sure closets are included on your spring cleaning checklist. During the curation and inventory-taking process, many people like to take everything out of their closets to get a better idea of what they're working with. This step is virtually essential if you have a lot of clothes to look over.
Your clothing collection is being refreshed by paring down its size, so why not follow suit with the interior of your closets?
A full bedroom closet doesn't allow for a thorough cleaning, so take the opportunity of them being empty to clean the interiors from top to bottom. Wipe down the shelves, walls, and ceiling and give the floor a good vacuum. Don't forget to clear out the cobwebs and check for mould!
Make use of a good closet organizer and utilize every inch of the space for storage. Consider hiring a closet designer to create a custom design that maximizes a closet's storage space and is tailored to your lifestyle.
Tips for organizing summer clothing
Luckily, there is usually a little more space available in closets and bedroom drawers during the warm months of the year. Summer clothing fabrics like cotton, linen, and synthetic blends are lighter and thinner than a lot of the textile materials you wear during the rest of the year.
That's a good thing because most of us wear more types of clothing during the summer than in any other season. The warmer weather inspires us to be more active and the right clothing has to be easily accessible, whether you're going to the beach, a backyard barbecue, an outdoor concert, or camping with the family.
Summer clothing staples like shorts, t-shirts, tank tops, swimsuits, and ankle socks can be kept organized in drawers with drawer dividers. A closet with open shelving and cubbies works well, too. Mid-height closet shelves and the top of a drawer tower are also handy for storing sunglasses and summer hats.
Canadians usually exercise more in the spring and summer since the weather is more suitable for walking, jogging, and other outdoor activities. Check out our tips for storing your workout clothes.
Fall closet organization tips
As summer winds down, it will be time to start thinking about digging out your fall clothing so they're all ready when the first autumn chill arrives.
Just like the transitional period between winter and spring, you'll need to make a little more room in the bedroom closet for lighter clothing to wear during those warm fall days. For chillier days you'll want to have space for thicker PJs and light jackets.
A front entryway closet can get messy in the fall as the frequency of rain increases toward the end of the year. The potential for an unexpected cold snap in late summer and early fall is always there in Canada. An entryway closet is another area where two types of seasonal outerwear will need to share space for a few weeks.
Maximize a front entryway closet's storage space by using hooks, cubbies, shoe racks and trays, and built-in storage like a storage bench to keep things organized. Make optimal use of the closet's vertical space by adding an extra shelf or two. Organized Interiors offers entryway closet and mudroom designs that can be customized for your home's needs.
Tips for keeping winter clothes organized
Winter clothing presents the biggest challenge when it comes to closet organization because of the extra bulk they have, especially things like winter jackets. You'll never appreciate having enough closet and drawer storage space more than during the winter.
A closet design with open shelving for sweaters (which you shouldn't hang) and a drawer tower for everything from your thick socks to your coziest sweatshirts helps.
A shoe rack or boot tray in a front entryway closet is essential for this time of year when snow, ice, rainwater, and mud get brought inside regularly.
To minimize the amount of wet stuff that's entering your home, have a good doormat set down outside, which also adds a nice decorative accent to your home. And encourage your family members to stomp and wipe their footwear off before coming inside!
7 clothing and closet organization tips for any season
Many clothing organization strategies and tips are useful and applicable year-round. Here are some time-tested and effective tips for taking care of your wardrobe and keeping your closets functioning at peak performance levels:
Aim to have everything stored in your closets and drawers visible to prevent items from getting neglected.
Group like items together by outfit, colour, or the size of the clothing.
Leave some space between your clothes to prevent wrinkling.
Always wash worn clothes before they're stored away. Untreated stains will set in over time and things like sweat and the smells of perfumes and colognes can attract pests.
Repair things like broken zippers and missing buttons and make any needed alternations to your clothes before storing them away for several months.
Make sure off-season clothing is dry before being stored away.
If you need to store seasonal clothing in plastic storage bins, buy smaller container sizes that are easier to move around.
Reboot your closet spaces, one room at a time
Use these seasonal closet organization ideas and tips to get the most out of your clothing storage spaces year-round.
The convenience and satisfaction of using a well-designed closet every day cannot be overstated. Organized Interiors can transform any closet in your home so they provide better functionality and look nicer with our stylish closet designs.
We also design clothing storage solutions like standalone and built-in wardrobes, closet spaces that can be added anywhere in your home, and more great custom cabinetry products. Adding a closet to a house may add value, but how much will it cost? Find out how much building a closet costs and the value it might add.
Schedule a free design consultation with us to get started making more space for living in your living space.
Please share this post if you found it useful.
See also: