From Lululemon to Under Armour to Nike, there are many popular brands and types of workout clothes available today.
Having so many comfortable and stylish options to choose from can make it tough to keep the size of your workout wardrobe small and manageable.
If you're experiencing workout clothes storage issues, try these seven tips.
So many types of workout clothes, yet so little storage room
Tank tops, shorts, headbands, hoodies, sports bras, athletic socks, running shoes, t-shirts, sweatpants, yoga pants…the list goes on and on when it comes to how many kinds and types of workout gear you can own.
If keeping fit is one of your life's passions, you'll no doubt have an even bigger collection of athletic clothing than the casual exerciser.
When you're ready to hit the gym or head out for a jog, it's much easier to decide on what to wear if you have solid workout clothes storage solutions in place.
Less time spent looking for specific pieces of workout clothing means you'll have more time available for actually working out.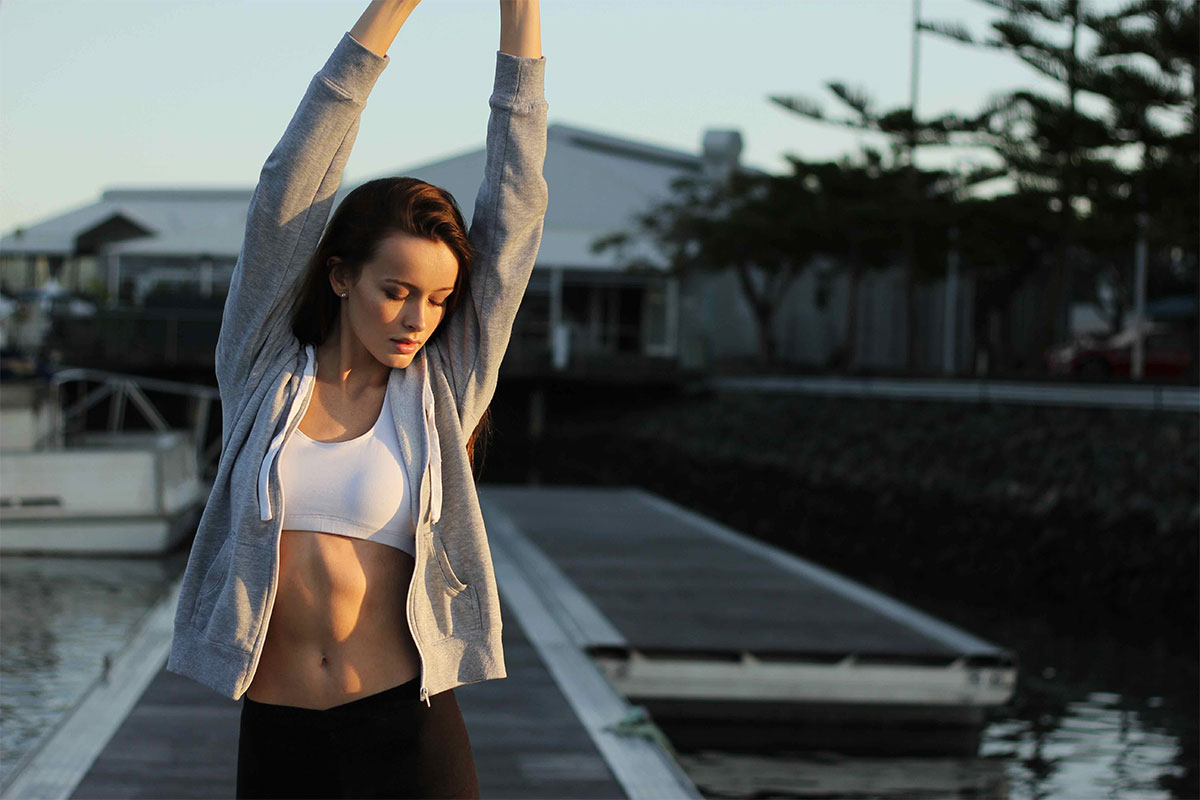 1. Figure out what pieces of workout clothing still fit
Because your body size changes depending on the regularity of your exercise routine, some of your workout clothes may be a little on the "spacious" side at the moment.
This can also be applied in the opposite way if you're just getting back into exercising after a lengthy layoff.
Whether some of your workout clothes are too small or too big for you at the moment, clear these ill-fitting items out of your most accessible bedroom storage areas.
Store them elsewhere for possible later use (or hopefully not, with your too-large items!) and you'll free up storage space for the workout clothes that you're presently using.
2. Drawer dividers help you stay organized
Workout clothes storage can be a challenge in terms of keeping things organized. Smaller items like socks, headbands, tank tops, sports bras, and other undergarments can become a complete mess when thrown into drawers.
This restricts you from easily picking specific pieces of apparel right when you need them.
Using drawer dividers can really help to sort your clothing and maintain order in your drawers. You can group like items together and keep your socks from getting tangled up with your tank tops. Our drawer dividers come in wood and clear acrylic styles.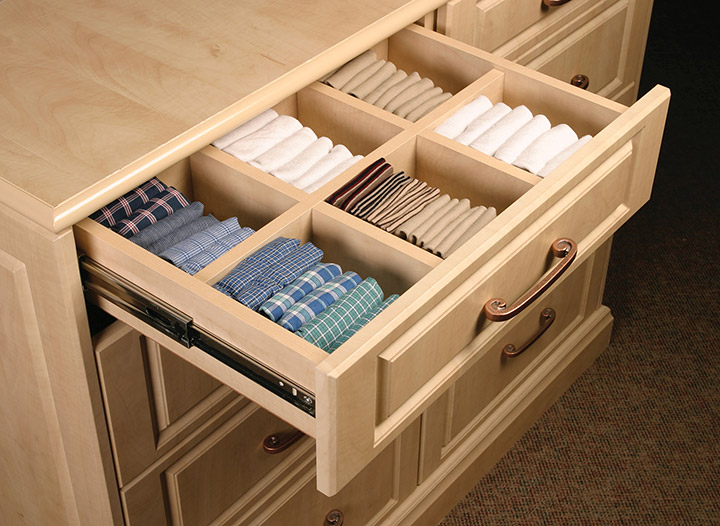 3. Use vertical folding for workout clothes storage
You've either experienced it or heard it from someone else before – finding a piece of clothing in a drawer with a price tag still on it that was bought ages ago and forgotten about. This is due to poor wardrobe organization that doesn't let you easily identify the items of clothing at your disposal.
Used in conjunction with drawer dividers, folding your clothing vertically allows you to see in once glance everything that's in each drawer. Now you won't lose track of what you own and you'll be able to find items quickly, without creating a mess.
4. Use a custom closet storage solution
Adding a custom closet storage solution for your workout clothes and the rest of your wardrobe will make it substantially easier to manage your wearable belongings. Organized Interiors' closet organizer systems are designed to fit every budget and individual need.
Our modular SmartLine closet organizer is wall-mounted and delivers a high level of flexibility to accommodate your changing storage needs.
With the floor-supported Classic closet system, you'll enjoy plenty of storage space with its towers and deep drawers and shelves. The Classic system works in various sizes of closet spaces and especially well in walk-in closets.
For large walk-in closets and dressing rooms, you can also turn to the Custom Cabinetry collection. Transform your closet space with the elegant style and wealth of accessories that this collection provides.
5. Custom cabinetry = more workout clothes storage room
Custom bedroom cabinetry can be used to increase your workout clothes storage room.
A wardrobe adds plenty of room for storing your workout clothes and can be custom-fit to your bedroom's available space. You might prefer to store your nicer articles of clothing in the wardrobe, which will nicely complement the sophisticated touch this piece of functional furniture brings to your bedroom space.
The free space gained by moving your finer garments out of your closet can then be used for workout clothes storage.
Bed surrounds are another bedroom storage solution worth considering. Every bedroom setting is different and we can design a bed surround that fits perfectly in your unique space. Maximize your storage space and choose from numerous design options that let you incorporate:
exact number of drawers and shelves required
glass doors for a refined touch
open spaces for personal items
underbed storage
interior lighting for highlighting specific areas and adding a touch of warmth

6. Keep your workout clothes together
For improved organization, try to keep your workout clothes grouped as much as possible and separate from the rest of your wardrobe.
This minimizes the chances of losing track of your items and should make finding your workout clothes easier. These storage solutions will enable you to accomplish this.
7. Remember to dry out your workout clothes
Remember to let your workout clothes dry properly after you've exercised and wash them on a regular basis.
Even with modern exercise clothing that promotes moisture wicking and antimicrobial properties, being diligent with your workout clothes hygiene is important. As this article explains, ignoring this can lead to some potential health hazards.
Get organized using these seven workout clothes storage ideas to streamline your exercise routine. The many benefits they bring will extend to the rest of your wardrobe as well.
Our designers are looking forward to discussing these and other home storage solutions with you, so schedule your free in-home consultation with us today.
See also: