For some couples, sharing a closet space can be quite the challenge.
A shared closet space unquestionably has a different dynamic than a one-person closet space.
Adapting to using a shared closet as the result of a new living arrangement can be one of a couple's biggest challenges once they start living under the same roof.
Even if you've been with your spouse for a long time, maybe you've never quite seen eye-to-eye on your shared closet arrangement.
And if one partner's organizational skills aren't exactly their finest attribute (to put it diplomatically), that only makes things more of an uphill battle.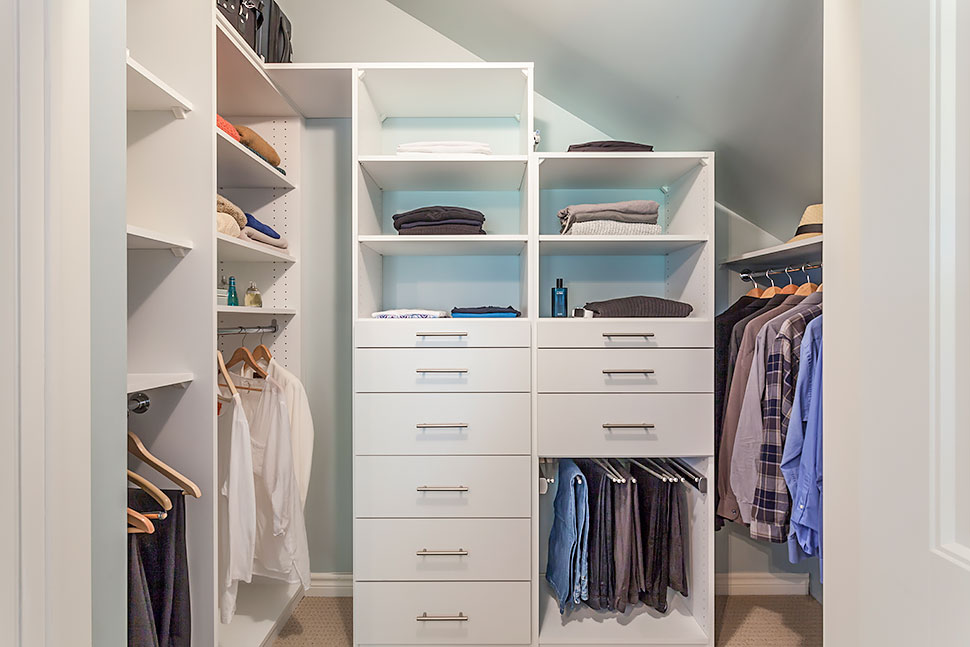 Couples commonly clash over closet clutter
A survey by self-storage company SpareFoot found that clutter was the cause of arguments for 48% of the cohabitating couples they polled.
Not surprisingly, messy closets were the main reason for couples arguing about clutter.
Another study of 3,000 adults in the UK for Esure Home Insurance found that 40% of respondents argued regularly with their partner over lost items.
Stop having the same arguments over and over with your partner about your shared closet.
Use these seven tips to make the closet you share a harmonious space, instead of a space that causes tension and conflicts.
1. Declutter first and organization becomes easier
51% of the couples arguing about closet clutter from that SpareFoot survey ended up getting rid of some clothing to appease their partner.
When you're working your way towards creating a harmonious shared closet space, it's essential to ensure the closet isn't being occupied by non-essential items.
One group of organization experts (the National Association of Professional Organizers) estimates that 80% of your clothes are only worn 20% of the time.
That sobering statistic explains why it's such a challenge keeping any closet space tidy.
Simplify things by decluttering your closet and getting rid of things you and your partner never (or rarely) wear. Start by moving your out-of-season clothing somewhere else, which will make the closet space easier to manage.
2. Divide and conquer
Another reason to declutter before making over your closet is you'll get a much better idea of how much space you both actually need.
Once that's been established, start divvying up the space. A 50/50 split probably won't be practical, as one of you will likely have more to store.
For this process to truly work, some give and take needs to happen, which hopefully results in a space-sharing arrangement that works for everybody.
Be open-minded about the fact that some flexibility may be needed with your setup once it's in place.
3. Leverage a closet designer's expertise
Leaving your shared closet redesign to a professional will be beneficial because of the expertise they can bring to the project.
Most importantly, a professional closet designer will know how to plan smartly in order to maximize the storage space your closet can provide.
They'll also have ideas and suggestions you may not have considered that can improve and enhance your closet design.
One major factor that impacts the effectiveness of a shared closet space is how carefully each individual's needs were taken into consideration when the closet was designed.
Does your closet design give each of you enough hanging space? Were the right closet accessories incorporated into the closet design?
Is the closet laid out perfectly to accommodate the users' heights in order to make things easy to access? This one is an important detail that can get overlooked if you buy a one-size-fits-all closet organizer from a store, instead of investing in a custom closet system.
4. Utilize effective closet storage systems
Squeezing the wardrobe of two people into a confined space and making that space function efficiently requires both creativity and well-chosen closet storage systems.
A reach-in closet makeover will be the "foundation" of the space. This organization system makes it easier to group like items together and will enable you to keep your closet tidy with less effort.
You'll enhance the reach-in closet's functionality by adding useful accessories like tie and belt racks, shoe racks, and pullout valet rods.
If one partner has a large watch collection, keep the timepieces properly wound and displayed with some watch winders. To keep a jewellery collection organized, jewellery drawers can be incorporated into a closet's custom cabinetry design.
For drawers that are being shared, use drawer dividers to ensure easy organization. And no one likes to look at or smell their partner's dirty laundry. Solve that problem with some hidden laundry hampers.
5. When small won't cut it, go big
While a closet makeover will make wardrobe management easier for a couple, it may be a simple fact that your main bedroom closet is just too small. That's a common problem in old houses.
If you have a spare room that's rarely used, converting it into a large walk-in closet (also known as a dressing room) is one effective way to keep a shared closet organized.
You'll both have much an ample amount of storage space to work with. That minimizes the likelihood of arguments that result when one partner's belongings start migrating too far into the other partner's space.
Here's another bold idea to consider if your home's space allows for it – just avoid sharing a closet altogether.
If you have a much bigger wardrobe than your significant other, take the entire dressing room while leaving your partner with all of the space in your bedroom's existing closet.
6. Use supplemental bedroom storage solutions
If you lack the space in your home to create a large walk-in closet/dressing room, there are other practical storage options available.
Use other bedroom storage products to add storage space that supplements what your closet can provide. Here are some suggestions:
wardrobe
bed surround
add another closet with a quick and easy solution like create-a-closet
7. Maintain your shared closet
Making your shared closet space function without any issues requires work, even when the best storage and organization systems are being used.
To be sure, they'll make it much easier to keep your closet organized, but a consistent, ongoing effort from both parties will result in fewer arguments over the tidiness of your closet.
It doesn't hurt to have some checks and balances in place. Perhaps once or twice a year, you can each take a little time to take care of decluttering your part of the closet.
Respect each others's closet space boundaries. And keep the lines of communication open (in a civil manner) about closet-related matters.
Doing so will result in keeping this part of your relationship healthy and headache-free.
Transform your shared closet space
If a makeover of your shared closet space sounds like a smart way to restore harmony in your relationship when it comes to how your bedroom closet is used, we can help.
Schedule a free in-home consultation with Organized Interiors. One of our talented design consultants will show you and your partner how we can turn your closet into a stylish, highly efficient space.
Please share this post if you found it useful.
See also: