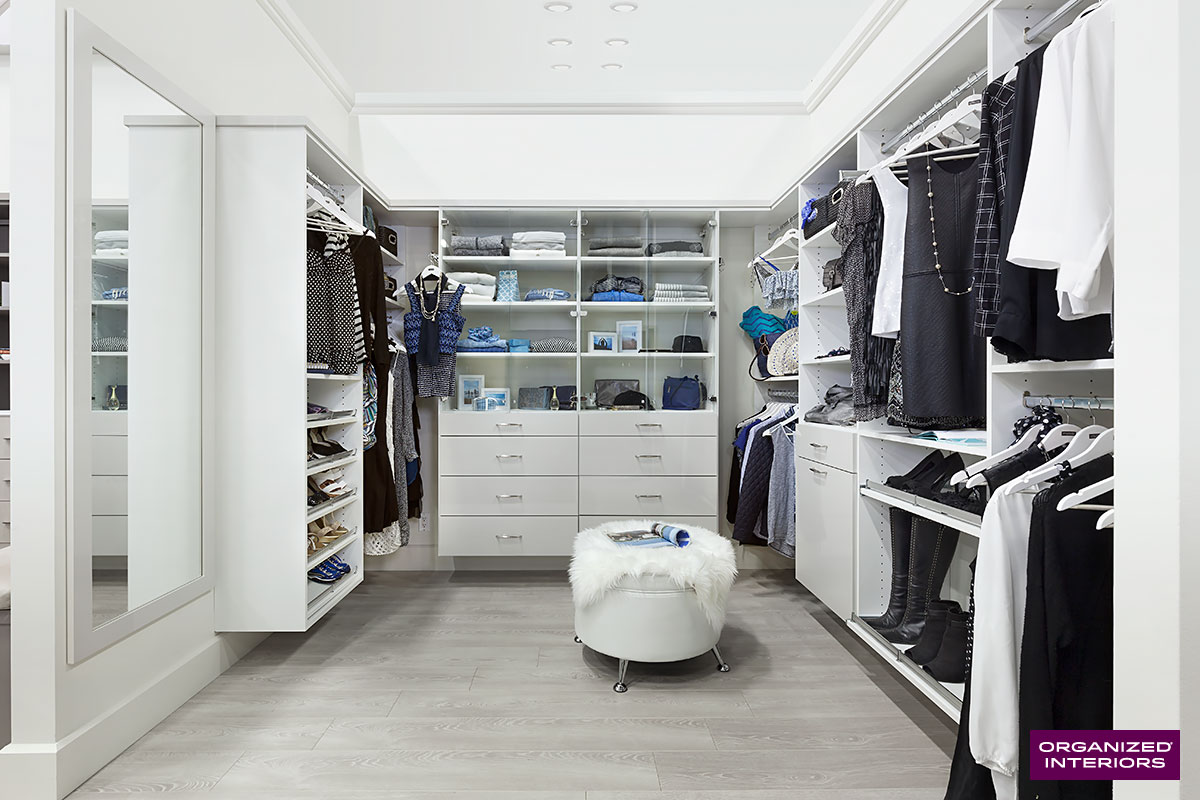 Is your bedroom closet a perpetual disaster zone?
Dealing with that constant closet mess gets exhausting. Stop wasting time searching for clothes in all of that clutter. It's time for a closet makeover.
Should you save a few bucks and settle for the more limited range of choices that comes with buying DIY "off the shelf" closet systems at a local store or online?
Or is the closet space you want worthy of a little more care and special attention to justify investing in a custom closet system?
When you consider what a vital role a bedroom closet plays in your life every single day, the answer should be quite clear.
Keep reading to find out why you'll love what a custom closet system provides for your home.
1. An organized custom closet is a beautiful thing
Bedroom closets that are well-designed (and therefore very organized) will save you a lot of time and headaches. That's reason enough to give serious consideration to a custom closet system.
By creating a home for each item of clothing and accessory you own, a closet organization system does the following things:
makes everything much easier to find
significantly simplifies the process of putting things away
becomes an organized space you feel comfortable in
maximizes closet storage space
can be tailored to look and function just the way you need
2. A custom closet system is built to last
The materials and craftsmanship with an assemble-it-yourself store-bought closet system simply won't match up to the quality you'll get from a professionally designed custom closet system.
Most of us have bought flimsy prefabricated storage products that just aren't durable and lack any style or character.
Consider the money and time you'll spend on shopping for a cheap closet storage system, installing it yourself, and then replacing it sooner than you'd like. Why not do it right the first time and just invest in something nicer and longer lasting?
That better quality is one of the things you're paying a little more for. And quite reasonably, you should expect that higher quality to translate into a longer life and fewer problems.
Also, keep in mind that a high-quality custom closet system is a smart investment you'll benefit from for many years and then get to enjoy the back-end benefit it has when selling your home.
Homebuyers covet ample home storage space, especially efficient closet storage space. And if your closet system looks that much nicer, buyers will take notice.
3. A custom closet system expresses who you are
A DIY closet system is designed to appeal to the highest number of consumers possible. Unfortunately, that "mass appeal" product strategy severely restricts the ability to customize or adapt to a customer's specific taste, or perhaps even the unique dimensions of someone's closet space.
A custom closet system on the other hand (especially one in a dressing room or large walk-in closet), is a wonderful way to express your personality and can be adapted to your needs.
From exhibiting your taste in décor to your taste in clothes by showcasing your wardrobe collection, a closet that's carefully customized to your requirements will become a space you look forward to entering, instead of dreading.
When a custom closet designer is putting a closet's design together, it's a collaborative process with the client.
How the closet is laid out, what types of accessories are incorporated into the design, and which types of finishes and hardware are used will all give the custom closet its identity.
And when the project is completed, that identity should accurately reflect just who you are.
4. Get a better product warranty
Another reason you'll love a custom closet system is the better warranty they typically provide.
DIY closet organizer kits usually have a one or two-year limited warranty. And if you mess up any aspect of the installation, that's on you because you're the installer.
Having to replace parts that are covered under warranty for a closet organizer purchased in a store or online can take time and be a headache. There's also no guarantee parts will be available for one of their discontinued products years from now.
Companies that specialize in custom closets, however, tend to be more accommodating and convenient if follow-up service is needed. They also usually provide longer warranties.
Organized Interiors, for example, carries a 10-year warranty on our products, which guarantees them to be free from defects in workmanship or materials.
A longer warranty and the assurance of reliable customer service, if needed, can provide a comforting peace of mind when deciding on which closet organization system to buy.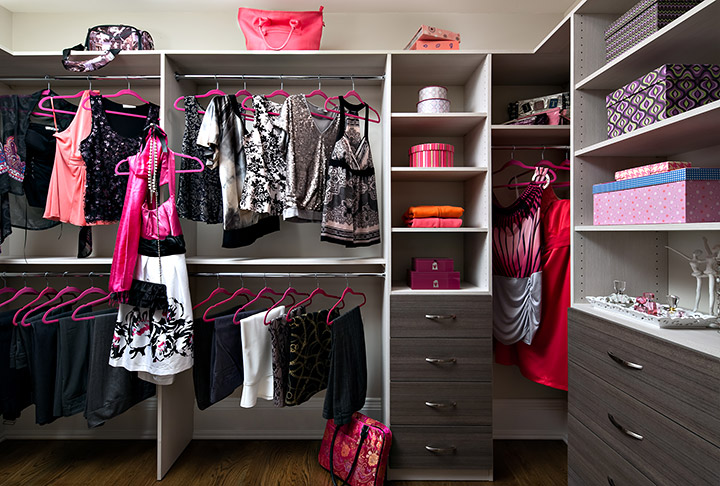 5. Custom closets come with custom closet expertise
Most likely, you have no idea what goes into properly designing a custom closet system.
That sales associate working in the home organization department at your local big box store where the closet organization systems are sold? Let's face it, they'll probably only have a limited amount of knowledge on the topic of closet design.
Sure, you can do some online research, but there's simply no substitute for genuine expertise when it comes to having a well-rounded knowledge of a trade.
Like any design trade, there's a significant amount of expertise required in order to produce an effective custom closet design.
A talented, experienced closet designer will know what works and what doesn't when it comes to putting together a great closet organization system.
They'll have helpful suggestions and know-how related to important features like:
closet lighting options
paint colours
finishes
decorative hardware
6. A tidy bedroom closet = a tidy bedroom
Restoring order to not just your bedroom closet, but any closet in your home has a positive "knock-on effect".
Just as an overstuffed front entryway closet will eventually lead to your front hallway becoming messier, the same holds true for your bedroom closet and bedroom (probably even more so).
Your bedroom closet clutter will start to become clutter that's finding its way into your main bedroom space. Shirts and pants will start getting draped over chairs or hung in places they shouldn't be kept.
Maybe you resort to buying a hanging rack that's stuck in a bedroom corner in order to handle what your closet is no longer capable of storing. That's never a good look.
Keeping your bedroom tidy by making sure your closet is functioning the way it should is important. Having too much bedroom clutter can contribute to poor sleep habits and added stress (on top of the stress of dealing with just a messy closet).
That's because keeping the area where you're spending at least a third of your day in a disorganized state taxes your brain and makes it harder for you to relax.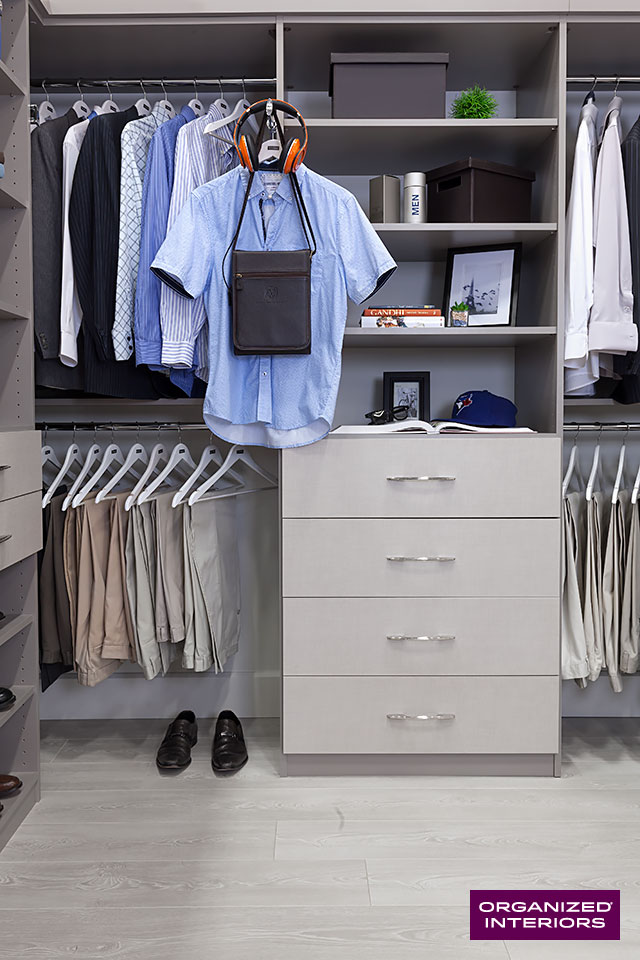 7. Save time and feel less stressed
It's frustrating when it takes much longer than it should require to find something in a messy closet.
Repeat that experience daily (and often more than once per day) and the degree to which a cluttered closet becomes a huge time suck can get downright depressing.
Frequently, you're racing against the clock to find something or make a wardrobe decision, which only adds to your heightened stress.
There's also time wasted because you have to sometimes re-iron clothing that's gotten wrinkled in an overstuffed closet.
A well-designed closet that's easier to maintain eliminates all of these issues. You can streamline your daily routine and end up saving many hours of wasted time each year.
With so many stressful things to deal with in our busy lives, you can lighten your stress load a little simply by keeping your closet tidier.
Get a custom closet system you'll love
Organized Interiors' clients who have had us design a custom closet system for their home absolutely love what we can do with any closet space.
To find out what kind of creative wizardry our design experts can accomplish with your closet space, take just a few seconds to book a free in-home consultation with us.
Please share this post if you found it useful.
See also: