Are the small closets in your home making it a challenge to find storage space for your belongings, resulting in disorganization and clutter?
If so, there are some effective small closet organization ideas you should be considering.
Smart small closet organization ideas make it easier to maintain tidy spaces
Keeping small closet spaces tidy is actually quite manageable if you're making use of smart small closet organization ideas and products.
Wasting even a small amount of the limited storage space at your disposal is a recipe for clutter buildup.
It will also create repeated future occurrences of you rediscovering items buried in your closet that you forgot you even had, due to disorganization.
Eliminate these scenarios by using these small closet organization ideas.
1. Declutter and re-evaluate your closet storage system
If you're having issues with storage space and staying organized, your first step is to declutter.
After that, you need ask yourself exactly why it's such a challenge to keep your bedroom and small closets tidy. Yes, a lack of storage space is a significant reason, but are you truly maximizing the storage space in your small closets?
Objectively re-evaluating your closet storage system just may lead you to discover that your small closet space isn't being fully optimized. This can be due to a few reasons:
the closet storage system being outdated
you or a previous owner using poorly designed DIY closet storage ideas
you have a one-size-fits-all closet storage system that wasn't custom-made for your closet space

2. Prioritize your closet's contents
Small closet spaces really emphasize the importance of prioritizing the contents that will be kept inside them. Avoid keeping wardrobe items that are out-of-season in a small closet. Move them to a more spacious storage area of your home.
The same goes for suitcases. If you travel infrequently, as most of us do, it's not practical to have bulky suitcases occupying valuable closet space that's used daily. Put your moved out-of-season clothing in the suitcases to cut down on storage space.
Create as much closet space as possible for the items you use regularly and semi-regularly.
3. Keep infrequently used items up high
If moving the aforementioned infrequently used items elsewhere isn't an option due to a severe lack of space where you live, there is another option.
Use your closet's vertical space and keep these items up high and out of the way. We can design a vertical storage solution that can fit any closet space, even ones with unconventional dimensions.
You can also use our stylish and handy felt storage boxes for holding smaller items.
4. Use a custom closet organizer for maximum storage efficiency
Custom closet organizers are your best solution to get the most out of a small closet space.
Our high quality closet organizers are custom-made by our own hands, so we can design a closet storage system that's exactly tailored to your space (including adding features like cubbies and open shelving storage).
Custom closets also give you the freedom to choose the types of finish, hardware accessories, and other design elements you're partial to.
Organized  SmartLine Closet system is modular and wall-mounted, which leaves your closet floor space clear. The SmartLine system also allows for plenty of flexibility to accommodate your changing storage needs.
Our Classic Closet system is floor-mounted and really maximizes storage in small closets, in addition to enhancing your bedroom's decor.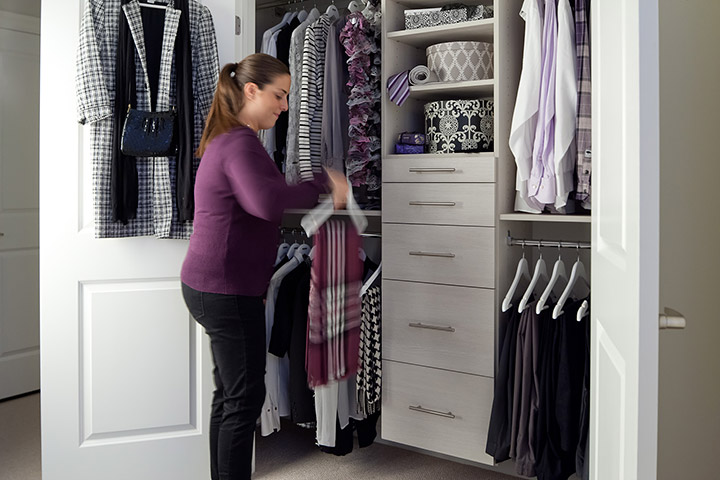 5. Add more closet hanging options
Add extra hanging bars in a closet to maximize your hanging options. A second hanging bar at a lower level in your closet for pants and other items frees up space on your top bar.
In fact, we can even get creative and install our high quality chrome hanging bars in a perpendicular (front to back) fashion in your closet corners, if space allows.
Free up additional hanging space by moving t-shirts and tank tops to your dresser and using our handy drawer dividers.
6. Enhance your closet space further with helpful closet accessories
You can further enhance the functionality of your closet space by adding hanging closet accessories such as a valet rod, four position hanger, sliding belt rack, and tie holder.
We also have a huge selection of decorative hardware that includes stylish hooks for hanging additional items. Pullout storage can also be added to hold your shoe and purse collection.
7. Use every inch of your closet
Making the most of your limited closet space means utilizing every inch of it, including the closet door. Some of your closet accessories can be attached to the inside of your closet door.
The high quality of our hanging accessories means your belongings will stay secure when opening and closing the door.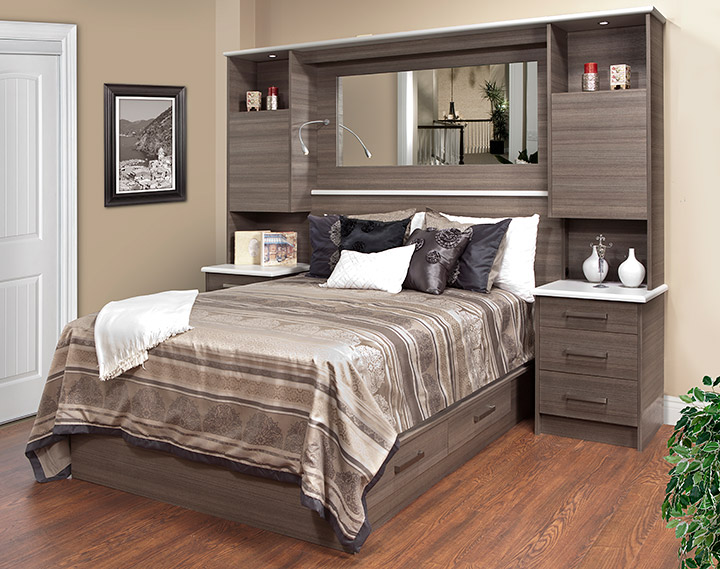 8. Consider additional bedroom storage solutions
We have other great custom storage solutions for the bedroom that make it easier to keep belongings out of your closet:
Dressing rooms (or large walk-in closets) are ideal for creating more closet space from a spare room
Our create-a-closet® system can make new closet space just about anywhere in your home
Custom-fitted wardrobe closets combine extra storage space with refined looks
Bed surrounds maximize the storage space in your bedroom or guest room
9. Talk to an expert about your small closet organization ideas
Consider all of these small closet organization ideas. Then talk with a custom closet and organization expert to help you fully realize your vision of a small closet space that works.
Knowing all aspects of closet storage and organization is Organized Interiors' specialty.
We have more than 40 years of experience in this area. Our expert guidance can help you navigate through the closet storage waters for the bedroom and other areas of your home.
You can discuss these small closet organization ideas and solutions with one of our design professionals by booking your free in-home consultation.
See also: