All Brian Care cared about was having a home base in Canada that was comfortable and maintenance-free.
Brian's occupation as a designer involves international travel that can have him away from home for months at a time.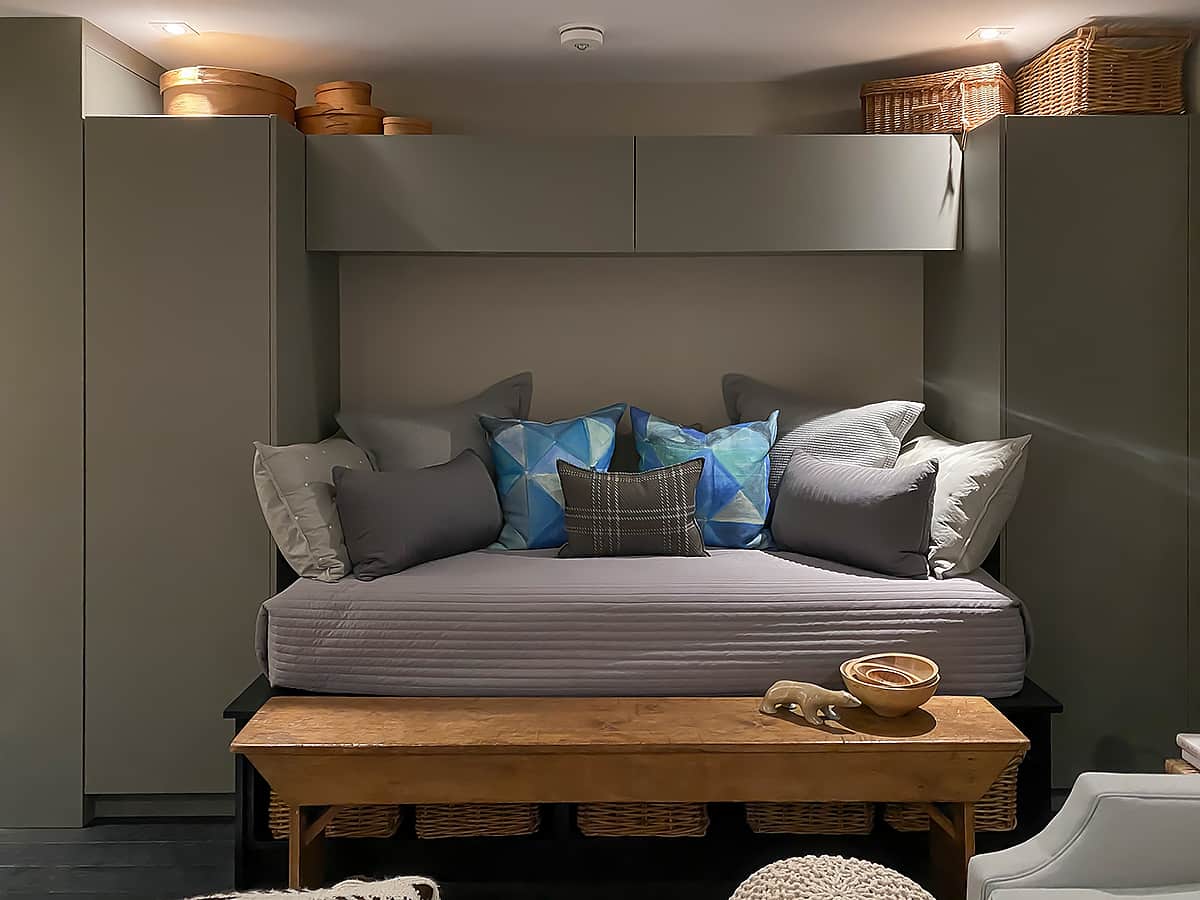 Owning a condo or house wasn't practical, considering how little time Brian would get to spend in his home during the year. Brian didn't need much space, nor did he want much. A tiny space was all he required.
Brian shared a home with good friends for many years. When they moved, they made sure that a dedicated space was available for him. On the lower level of their new house, Brian was offered an area that was just shy of 274 square feet.
What Brian needed for his tiny space
Brian's tiny space just had to be functional and include certain essential components that made it feel like home.
With the help of Organized Interiors design consultant Micheline Young, the two embarked on transforming an unfinished space in a new townhouse into a safe, comfortable place for him to land each year.
The finished space had to accommodate Brian when he came back to Canada for a few months, which included making space for his most cherished possessions.
Downsizing for a small living space
To start with, Brian had to get rid of a lifetime of possessions. Large, antique, pine furniture pieces went to friends. He pared back his wardrobe to just the basics.
"I sorted everything and didn't bring anything that I questioned about ever needing or using again," says Brian.
"At some point, I came to realize that if I was to put anything in storage, I might as well get rid of it. I'll never remember where it is or never bother to pull it out again. It was actually very liberating."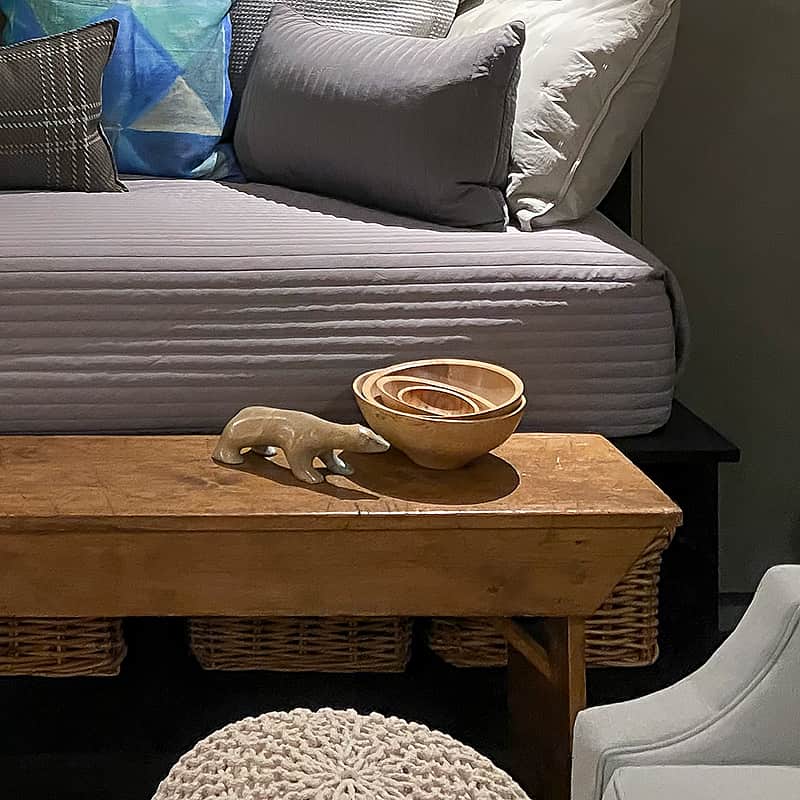 Brian decided to keep some mirrors, a pine bench, a chaise, and an easy chair.
Bringing Brian's design to life
From day one, creating the tiny space design was a collaborative effort. "Since Brian is a designer, he was able to convey his ideas very clearly," says Micheline. "My job as a designer for Organized Interiors was to interpret his thoughts into reality."
Lots of sketches of possible layouts were drawn up before exact measurements helped to determine the best possible options.
"Often, architects and designers don't know how a space needs to function for a client," says Brian. "Functionality was the key to creating a totally livable and workable space under 274 square feet."
Good communication was key
For much of the project, Brian was in Mexico and he and Micheline connected on a regular basis.
"Not knowing the engineering aspects of custom cabinetry, it was really helpful to have Micheline troubleshoot," says Brian. "Communicating with her was easy and I always felt that she had my best interests at heart."
There were lots of back-and-forth emails, many site visits, and numerous changes, according to Micheline.
One example of adjustments that were made involved a wardrobe. A standard wardrobe is 24 inches in depth, but the placement of the pot lights was 22 inches from the back wall. Micheline was able to alter its positioning to solve this dilemma.
She was also able to size the drawer depths and cabinets to Brian's specifications to accommodate specific items.
Getting the kitchen space ready
Brian pre-ordered a refrigerator and a sink so that they had the tangible items and measurements to work around.
Panels were added, adjustments were made, and unexpected solutions actually provided more space in the food prep area.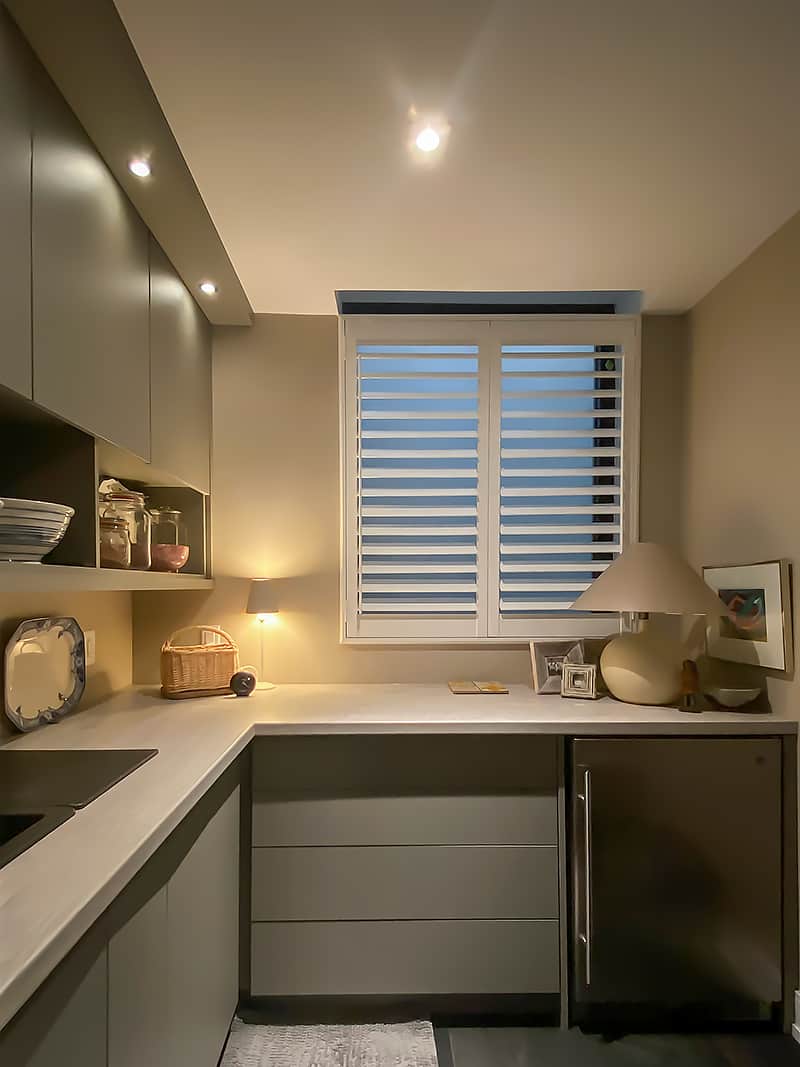 He got rid of his blender and food processor and bought a Magic Bullet®, which does both functions and takes up little space.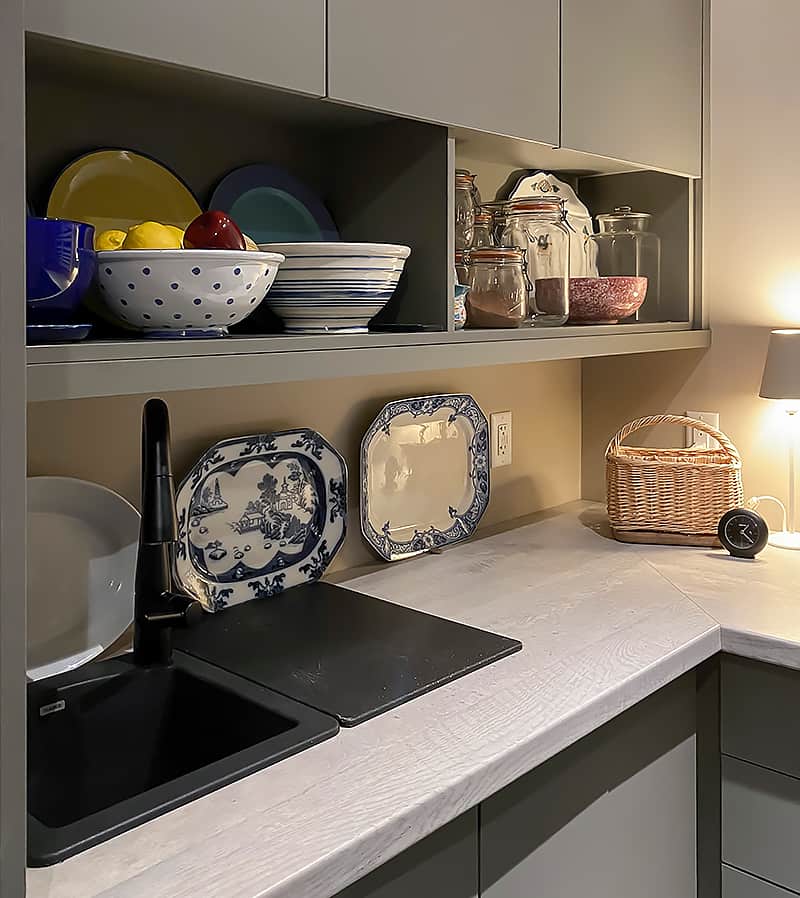 Brian uses a single induction cooktop, which also saves space and slides out of the way easily. A combination microwave/convection/broiler/air fryer oven covers the rest of Brian's cooking needs.
Customizing the storage cabinetry for a small living space
The custom overhead cabinets were perfect for storing items that weren't required on a daily basis.
Baskets and wooden boxes were included in open spaces above the bed and under the television for easy access.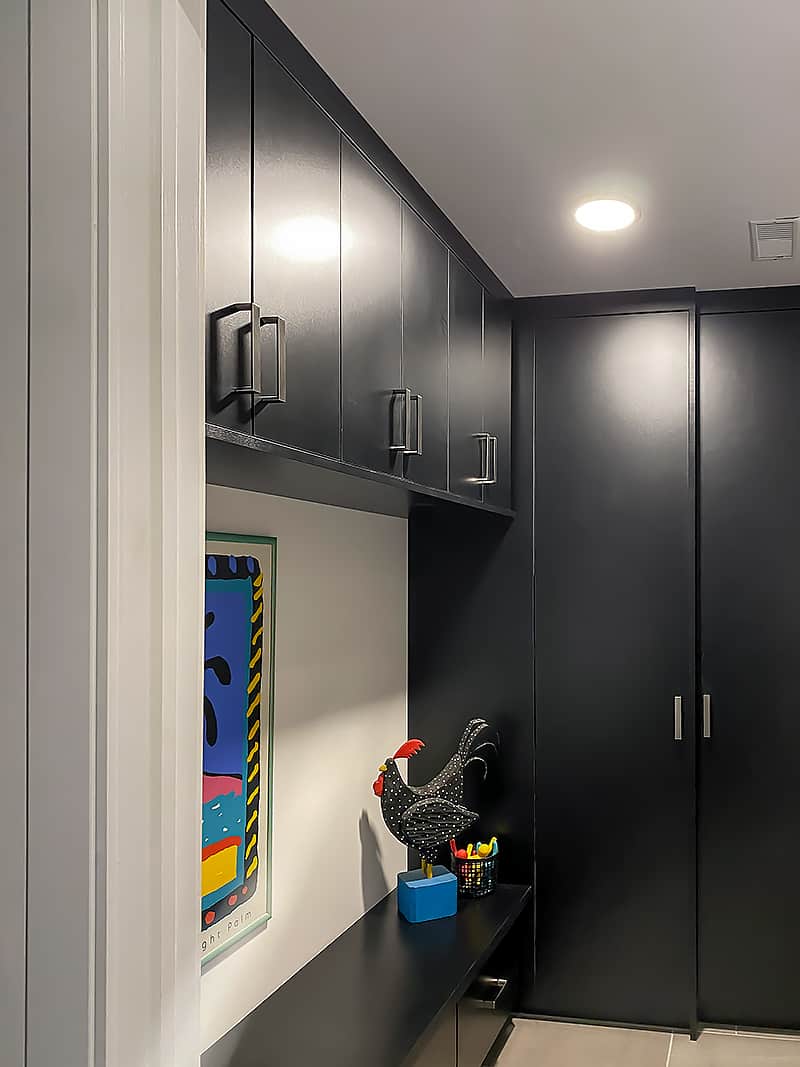 "The advantage of custom cabinetry is that you can customize each piece for what you want it to contain," says Brian.
Refining the tiny living space's décor and lighting
New rugs were purchased to complement the furniture that Brian decided to keep. He only kept photos and mementos that he couldn't bear to part with.
Instead of a backsplash in the kitchen, he plans to incorporate cherished pottery pieces.
Remote-controlled downlights were added above the bed, as well as on the cabinets to light Brian's workspace at night.
Because Brian chose to limit his wardrobe to a black palette, he needed excellent lighting in his closet. As Brian says, "Nothing looks good under poor lighting."
The finished space is really comfortable and cozy, according to Brian. "Everything has its place. My things fit perfectly into the cabinetry. I couldn't be more pleased with the overall functionality and how it all turned out."
5 crucial tiny space custom design considerations
Brian's experience with Organized Interiors taught him that there are five things anyone looking at having a tiny living space designed should consider:
Design: When working with a knowledgeable designer, a plan will naturally evolve, and ultimately reflect the client's tendencies towards a specific style.
Function: When dealing with limited square footage, consider how a space is to be used and adapt all design sensibilities towards that outcome.
Materials: When choosing materials and finishes, considerations like functionality, cost, availability, and personal preferences will all come into play. Assess all pros and cons before making a final decision.
Plumbing and electricity: It's ideal to work with your existing infrastructure. If your utilities aren't conducive to your design plan or add to the aesthetics of the overall space, it's best to have them modified by a professional.
Trust your designer: Brian's last piece of advice is, "Carefully choose your professionals. Check references and reviews. Be open to suggestions. Be clear about your expectations. Be patient and be appreciative."
Get started on your tiny space design
Just like Brian, Canadians are increasingly embracing small space living.
Brian is happy he worked with Organized Interiors on his tiny space design and you'll love what we can do for you, too.
From concept to completion, we can reconfigure your tiny space for maximum efficiency. Schedule a free design consultation with us.
Please share this post if you found it useful.
See also: