You've decided that it is time to tackle some organization and storage problems in your home. But when you look around, all you feel is overwhelmed and it all needs work.
Take a deep breath
Relax. Just pick one room, one space in your home. Now commit to organizing that space.
By focusing on just one project, you'll feel a sense of accomplishment and that may be enough. After all, the worst thing that could happen is you get the energy and initiative to do more organizing in your home!
Which space will you organize this year?
There are dozens of spaces in your home that might have organization or storage problems. We have design solutions for each of them, but you have to decide where to start.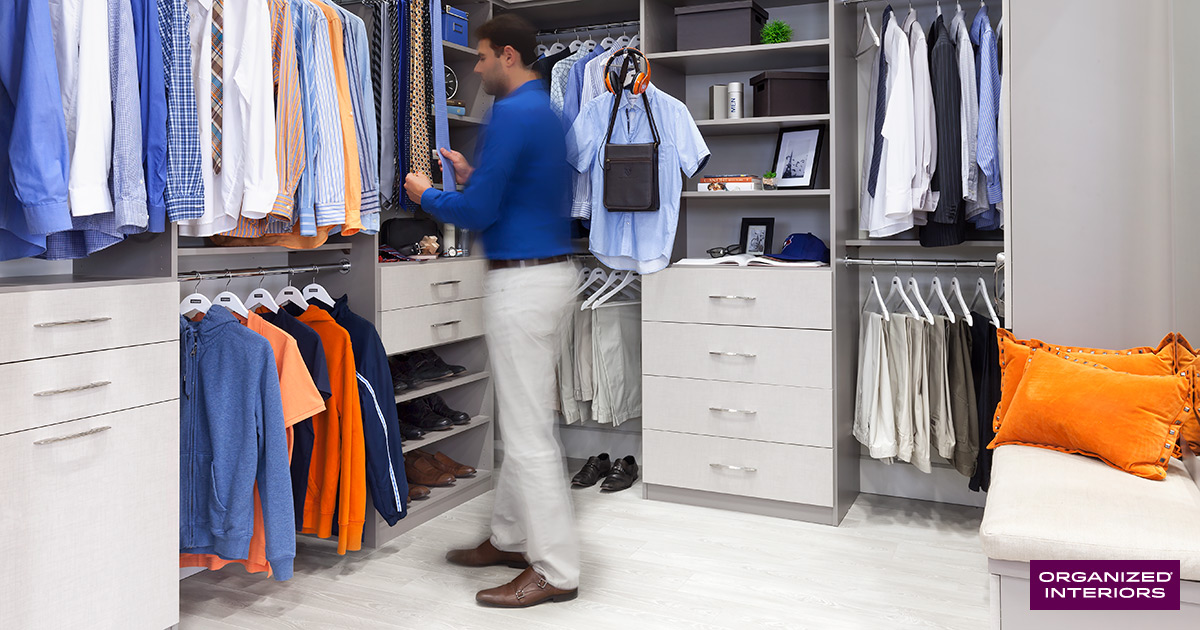 Walk-in Closet
You've been eyeing that spare room, contemplating its next incarnation, plotting the takeover, and this is the year. Transform a whole room into a walk-in closet.
Imagine wall-to-wall cabinetry for clothing and accessories, a makeup area complete with vanity and even a lounging space because dressing can be so exhausting. Prepare to drool.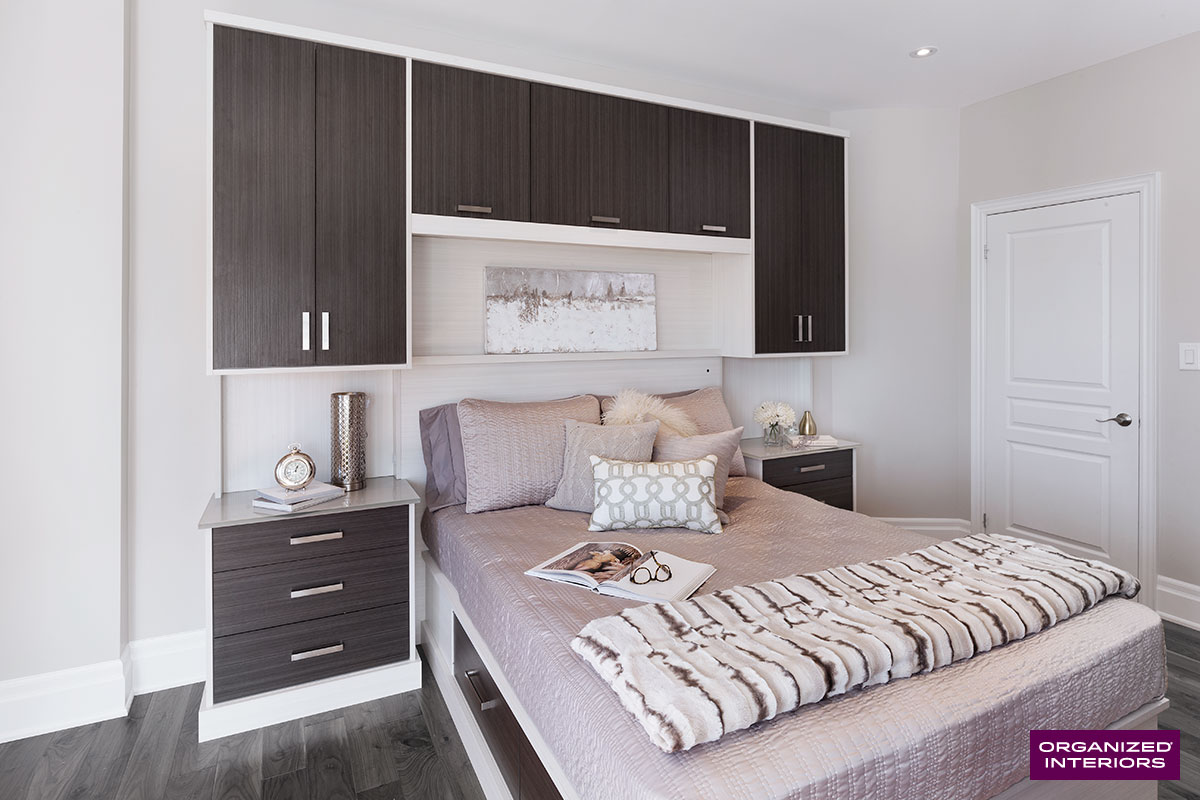 Bedroom Cabinetry
If the last thing you look at before closing your eyes each night is a tabletop of clutter, you might want to think beyond replacing your nightstand. Bedroom cabinetry is custom-designed for your space and offer a stylish solution to a good night's sleep.
Laundry Room
Do you dread doing laundry? It may feel like it's a chore because it's buried in a dark and dingy spot in your home, or it's just a dreary process. It doesn't have to be.
Treat your laundry room like any decorated room that can use a designer's flare. From simple solutions to high-quality custom solutions, just look at what's available to transform that space.
Mudroom
The mudroom is another overlooked area of the home that can make a big contribution towards keeping your living space organized.
Whether your mudroom is a small room near an entrance, is combined with your laundry room, or is a dedicated space in the hall of your home's entryway, there are many ways to enhance its functionality.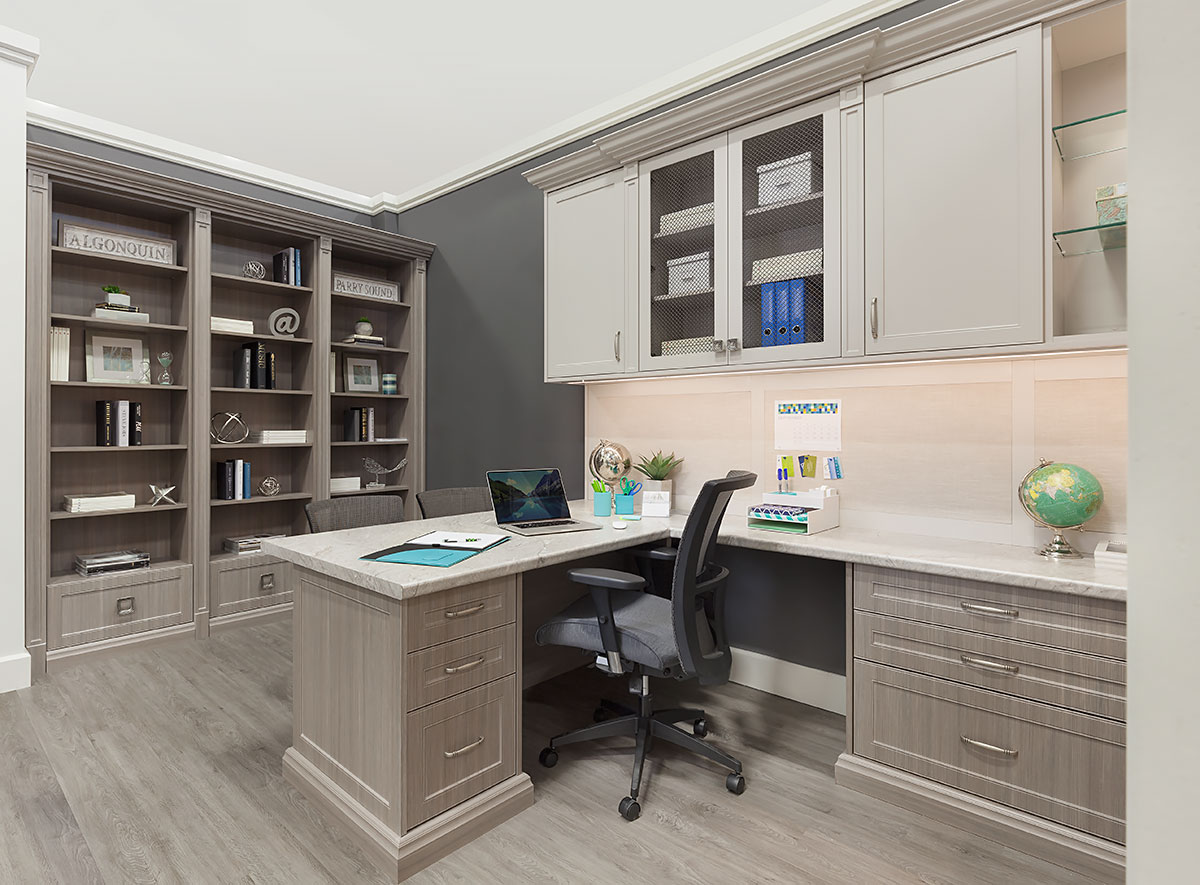 Home Office
Paper isn't going away anytime soon and home offices still need filing space to store your hard copies. Whether it's a corner carved out under a staircase or a full-sized room in your home, treat yourself to a home office with function and style.
Entertainment Unit
As our TV screens become bigger, we seem to be plugging more and more devices into them – Apple TV, Chromecast, gaming consoles, soundbars, and more.
Keeping all of these devices and cables organized requires more than a sturdy shelf. Choosing a custom solution over a prefab unit has many advantages. Find out why custom entertainment units are better than prefab units from big box retail stores.

Reach-in Closets
Do you have to slowly open your closet door just in case something is about to fall out on you? Is there a knee-deep pile of clothing on your floor? It's time to look at some solutions to keeping your closet organized.
From simple to extravagant, discover how closet organizers can maximize your storage space.
Bathroom Cabinetry
The layout works, the fixtures are fine, but your bathroom cabinets are showing their age. Changing moisture levels and wear from dampness can make cabinets look dingy and worn.
If it's time for an upgrade, replace them with long-lasting, beautiful cabinets. Learn more about our custom bathroom cabinetry.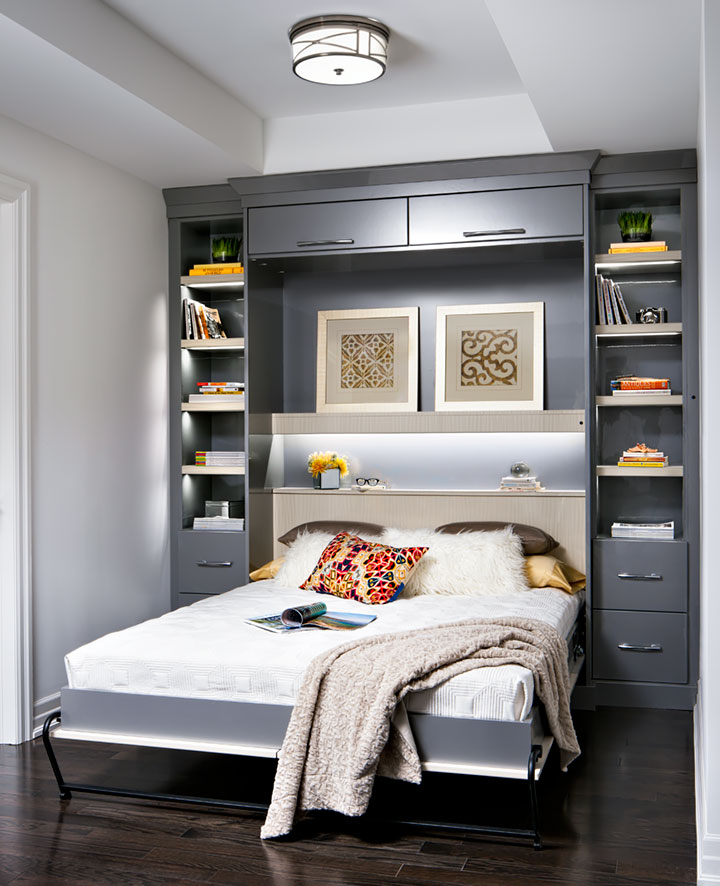 Wall Bed
If your holiday guests looked tired when they woke up, maybe it's time to get rid of that lumpy, bulky futon. But where can you put a mattress that's not used every day without taking up precious space?
You won't believe how a small condo added a whole guest room without adding square footage!
Kitchen Cabinetry
Your kitchen is the hardest working room in your home. It also demands the most organization to function properly. You can achieve the most efficient space when you are part of planning the solution.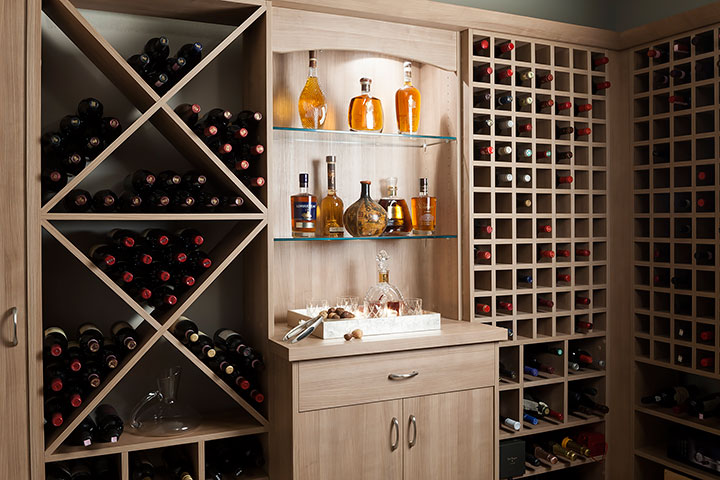 Wine Room
Collecting wine is more popular and we now see the value of devoting more space in our home to fit it into our lifestyle. Wine requires ideal conditions – a space that is dry, dark, and where things won't be moved around.
A rack wedged under a staircase just won't do. Here are some wine room ideas for keeping your collection organized.
Wardrobe Closet
Are all your closets bulging with too much stuff? If you're not ready to reduce clutter, redistribute it.
Instead of buying a pre-finished, assemble-it-yourself wardrobe unit from a big box store, take a look at a custom solution. You choose the finish, the interior layout, and the size to suit you, not the other way around. Here are some wardrobe examples.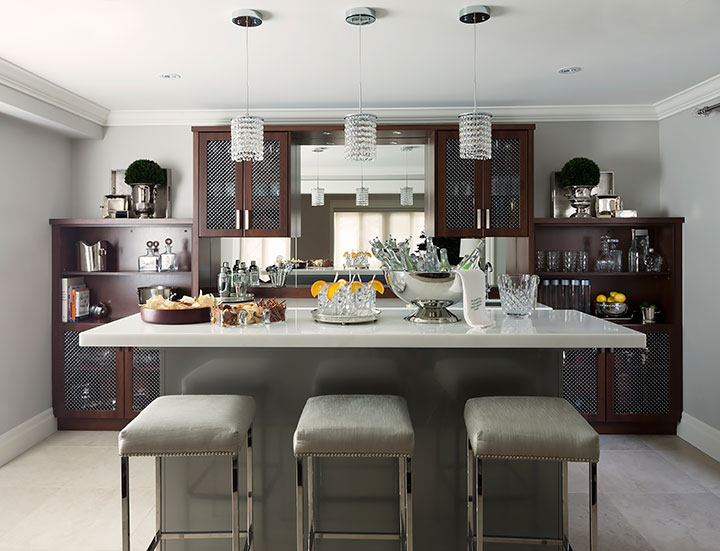 Wet Bar
Aside from a wet bar requiring running water, you can set up a bar in almost any room in your home. All you need is a little imagination, inspiration, and customization. Have a look at some of these wet bar ideas from Organized Interiors.

Craft Room
Take a spare room in your home and convert it into a multi-purpose craft room. From sewing, to scrapbooking, to creating art, make a unique space that is bright, fun, and allows you to spend time doing what you love.
Upgrade your closet with accessories
Sometimes it's the smallest projects that give us the greatest sense of satisfaction. Keeping everything in your closet organized both starts and ends your day on a good note.
From shoe racks to jewelry drawers, there are many options to get you organized. A valet rod is one of our most popular closet accessories.
Decorative Hardware
Quality decorative hardware that's added to the custom cabinetry that will help keep your home more organized has several benefits:
the hundreds of types of pulls, knobs, and hooks we offer will better complement the cabinetry and your décor
high-quality decorative hardware is more durable and long-lasting
decorative hardware of a higher quality provides a better tactile experience when using your custom cabinetry
Garage Storage
Do you see your garage as one big storage container? When it comes to attention to detail for organizing solutions, the garage is the new laundry room. This could be your one big project this year.
From flooring to overhead storage, Garage Living has everything to keep your garage looking pristine and organized.
Get organized this year
Whether you decide to organize your entire home or just one space this year, Organized Interiors has a storage solution that can be customized just for you. No more excuses!
Request a free design consultation to have an Organized Interiors designer come to your home and provide you with a detailed quote.
Please share this post if you found it useful.