Is clutter and a frustrating lack of bedroom storage space an ongoing problem in your home?
Well, there's a solution that you may not even be aware of – bed surround storage.
Bed surround storage is a somewhat overlooked solution for storing your belongings in the bedroom. Closets, dressers, and wardrobes tend to be the more obvious bedroom storage options, but a custom bed surround can be just as valuable.
What is bed surround storage?
The relatively under-the-radar nature of bed surround storage may mean you're not even aware of what this type of furniture even is. Its name is actually quite self-explanatory, however.
Simply put, a bed surround is comprised of custom-made pieces that are integrated (meaning they're designed to join together to form one large piece of furniture that has a clean, stylish look).
It includes storage space and other design features that can be added underneath and at the foot and head of the bed.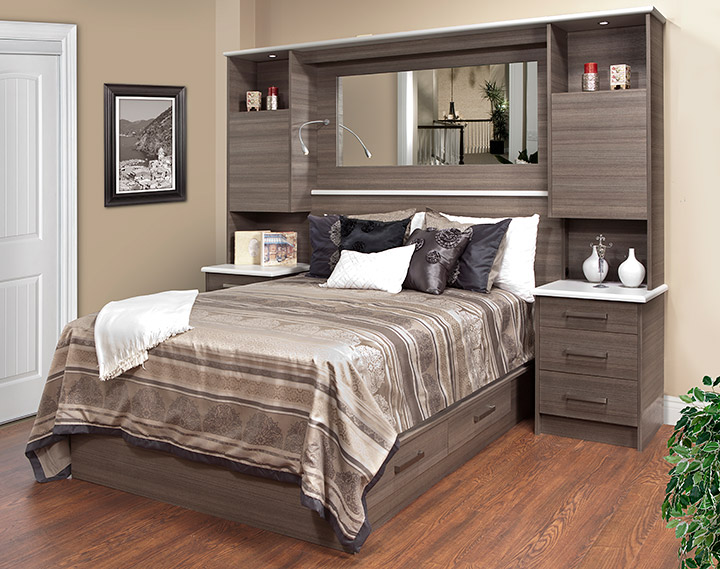 Bed surround storage unburdens your packed closets and dressers
Your closets and dressers may be a disorganized, overstuffed mess due to your bedroom lacking a quality closet organizer or other helpful closet accessories.
Those will definitely help and adding a bed surround is another way to relieve some of the burden that your other bedroom storage spaces may be experiencing.
Bed surrounds are particularly effective in smaller bedrooms that are prone to clutter due to inadequate storage space.
A bed surround maximizes storage space in the bedroom
A custom bed surround is carefully designed to utilize the maximum amount of storage space available in the area that it's occupying.
Working around the dimensions and design aspects of your bed, we create a multi-purpose piece of custom furniture that gives you more storage space underneath and around your bed area.
Why your current underbed storage systems need improvement
Underbed storage is especially valuable, despite the feng shui theory that advises against it.
A queen size bed takes up approximately 33 square feet of space and a king size bed occupies about 42 square feet. Why waste that prime storage space underneath the bed?
When that underbed area is used, it doesn't tend to get utilized properly by homeowners, however. Some people just stuff their loose belongings there, with little regard for organization or cleanliness (you may have noticed that area is an absolute haven for dust bunnies).
If a storage system is used, it's probably a cheap plastic flat tote that isn't destined for a long life. These storage methods are inferior to what a bed surround provides.
How a bed surround does a much better job using underbed storage space
Drawer space that's located underneath your bed can be designed to the width and depth that your needs require. No underbed storage space is wasted and the elimination of any open space here also gives you one less area to vacuum.
Your infrequently used items stay out-of-sight, while remaining easily accessible. Linens, pillows, and out-of-season items are perfect for storing here.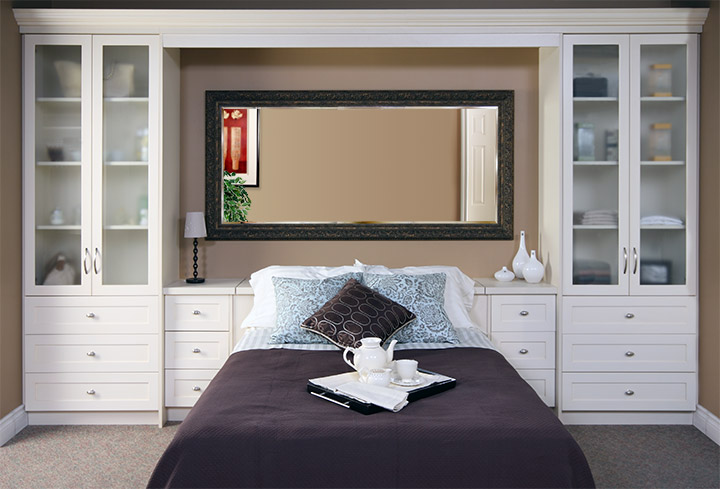 Additional storage spaces provided by a bed surround
Bed surround storage isn't just about making use of the storage space below your sleeping area. It can include additional storage space in the form of a wardrobe, a wall unit that has open shelving or shelving behind closed glass doors, and bedside tables.
Any combination of these integrated furniture pieces is possible with our custom crafting capabilities.
Bed surround storage adds a contemporary look to your room
Along with the high functionality a bed surround provides, they're also bring a very stylish upgrade to your bedroom's decor. Surrounding your bed with custom cabinetry makes it the focal point of any room, especially when refined touches like accent and task lighting are added.
Our wide variety of bed surround finish and decorative hardware options will effectively complement your bedroom's existing decor as well.
Why a custom bed surround is the smartest choice
Working with a company that is hands-on in all aspects of your bed surround's design and installation has its advantages. Our complete oversight of the entire process ensures you'll receive a finished product you're 100% satisfied with.
A custom cabinetry manufacturer like Organized Interiors gives you complete control over how your bed surround will look. Here are some of the design features that can be added to a bed surround:
plenty of decorative panel options that determine the bed surround's colour, finish, sheen, and style
choose from the largest selection of Richelieu decorative cabinetry hardware in Toronto
integrated bedside tables with soft-close drawers
open shelving and closed shelving with glass or wood doors
an integrated wardrobe
task lighting for reading
accent or ambient lighting to highlight personal effects such as photos or artwork
How bed surround storage evolves from an idea to reality
Working with our clients, our design consultants create the bed surround's design. Then our skilled craftspeople (who custom-build all of our cabinetry) bring that design to life.
Finally, our professional installers ensure that the bed surround storage fits into your bedroom space perfectly.
Here's an example of a bed surround that was designed for one of our clients:
Visit our showroom to find out more about bed surround storage
Our 10,000 square foot showroom features every product we sell. Stop by to browse all of our home organization and storage solutions and get an up-close look at how bed surround storage can make a great addition to your bedroom.
You can schedule a free in-home consultation with one of our design experts to discuss a bed surround or any of our other products that will improve your home.
See also: