When you think about building closet storage, you might envision an expensive, logistically complicated process.
For bigger, more elaborate closet projects, that may be the case. But what if your closet building needs are more modest and constrained by important factors like room space or budget?
Adding high quality closet storage anywhere you need to is exactly what makes create-a-closet® so appealing.
For anyone looking for versatility and cost-effectiveness when it comes to adding closet space, create-a-closet® is the perfect storage solution.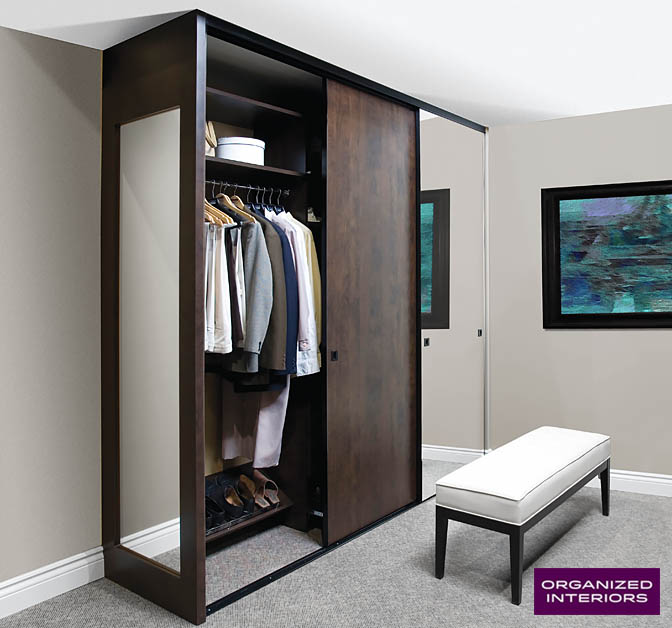 The need for building closet storage space
If you don't have the luxury of having a spacious dressing room/walk-in closet, adding supplemental closet storage to your traditional closet space can be very helpful.
Perhaps your needs aren't even about adding supplemental closet space – it's about having any closet space. This may be the case if you live in an older home, which can have little to no closet space.
There are a few options available, but not all are ideal. Some people buy a clothing rack that sits in a corner, which doesn't allow you to keep your clothing out of sight.
Others may buy wobbly portable mesh storage wardrobes with zipper openings. Unfortunately, both of these storage ideas end up looking as cheap as they cost. They also contribute to a room's cluttered look.
A custom wardrobe works much better in a room, as will create-a-closet®.
No mess and no framing
The process of installing create-a-closet® is quick and easy. The door-to-ceiling closet storage space involves no framing and no drywall to sand or paint. That means there's virtually no mess.
In less time than you might think, your new closet space will be installed and functional. Right away, you can begin enjoying the benefits that building closet storage for a room provides, whether it's in a bedroom, home office, basement, or laundry room.
Customize your closet space
Having the ability to customize when building closet storage is important, which create-a-closet® allows you to do. This ensures your new storage addition effectively complements the décor of its surroundings.   
The closet size can be tailored to your available free space and installed to fit perfectly. The doors are an important part of your closet's design and we offer sliding, solid panel, and mirror doors (which we manufacture ourself) for you to choose from.
You can have a say in how the open storage space in your closet overheads is laid out. Closet accessories like a shoe rack or pullout valet rod can also be incorporated into the design to enhance the closet's functionality even further.
Building closet storage reduces clutter
The clutter in a room is minimized or even eliminated if there's ample closet space. Using create-a-closet® as supplemental clothing storage helps ease the burden on your existing closet space. 
Not only will you have more room for storing things, you'll also be able to hide your belongings from view with the closet doors. This helps to maintain the clean aesthetic of a space.
Enjoy the freedom that building closet storage space provides
create-a-closet® is a practical and cost-effective solution to add valuable closet space to a room in need of more storage options.
Whether its building closet storage or improving your home with our other organization and storage solutions, Organized Interiors can help.
Schedule your free in-home design consultation with us to move forward with your home improvement plan.
See also: