Your inability to keep your closets organized has lead you to seek out effective closet accessory storage solutions.
Congratulations, you've taken a positive first step towards reclaiming your closet space and putting the daily frustrations that a disorganized closet causes well behind you!
You find that there are many types of closet accessory storage options available, however.
Which ones are the most effective at getting the most out of your investment in a redesign of your closet space? You certainly can't go wrong with any of these 17 effective closet accessory storage solutions.
1. Valet rods – the perfect closet accessory
Retractable valet rods are a closet accessory storage product that are somewhat underappreciated…at least until you own one.
They're small, but nicely enhance your ability to hang clothing in the closet (and better than using a doorknob or the top of a door as hanging space).
Valet rods are ideal for hanging dry cleaning, your outfit for the following day, or even for steaming your clothing.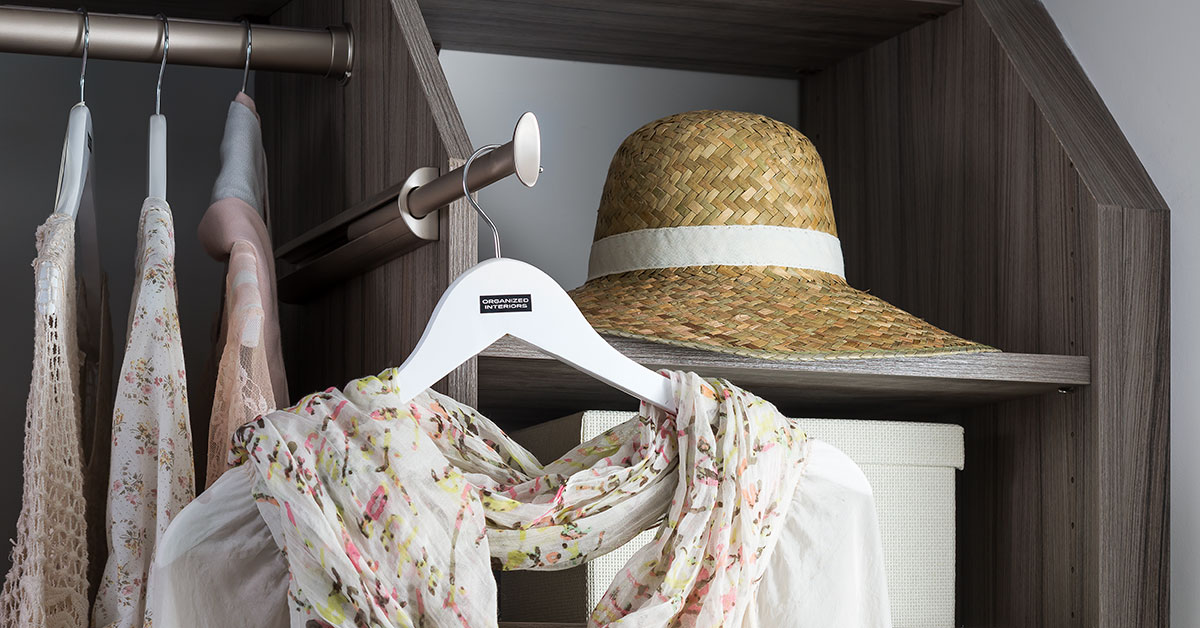 2. Pullout tie rack
A pullout tie rack will keep your tie collection organized. This low profile closet accessory storage idea smoothly pulls out and allows you to easily view all of your available tie options.
A tie rack also keeps your ties wrinkle-free.
3. Pullout scarf rack
Similar to the tie rack is a pullout scarf rack. This useful space-saving closet accessory provides a dedicated home for your delicate scarves, keeping them organized and less prone to becoming wrinkled.
4. Drawer dividers as closet accessory storage
Drawer dividers can be a very useful item in any custom cabinetry drawer located in dressing rooms/large walk-in closets.
They can also be incorporated into your custom closet organizer design. Choose from wood drawer dividers in a number of attractive finishes or acrylic clear dividers.
Drawer dividers are also a smart alternative solution to pullout tie racks or scarf racks in the closet. They help keep your ties, scarves, socks, underwear, and other smaller clothing items grouped together and easily identifiable.
5. Four position hanger
Enjoy additional hanging options in the closet with our handy four position hanger. This small hanging bar is strong and lets you hang multiple items of clothing using four adjustable positions.
Four position hangers can also be used on a bedroom wall, the side of a cabinet, and in the laundry room.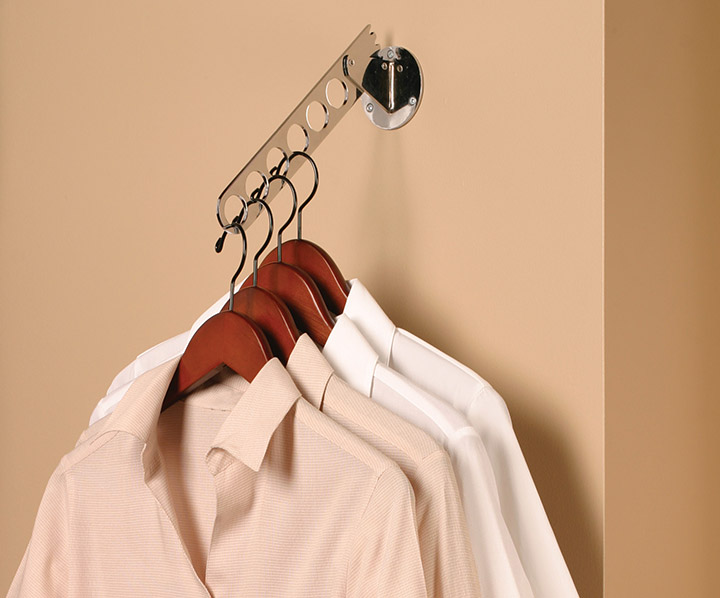 6. Sliding belt rack
Our low profile sliding belt rack provides a space for hanging your belts in the closet. It helps your belts maintain their form and even though a sliding belt rack may be small, its high quality look helps enhance your inner closet decor.
7. Pullout pant rack
Adding a pullout pant rack in your closet's lower storage area makes very efficient use of your closet's storage space.
Having a dedicated home for your pants improves your ability to easily find a specific pair and also to keep your pants well-pressed and less prone to ending up on the ironing board.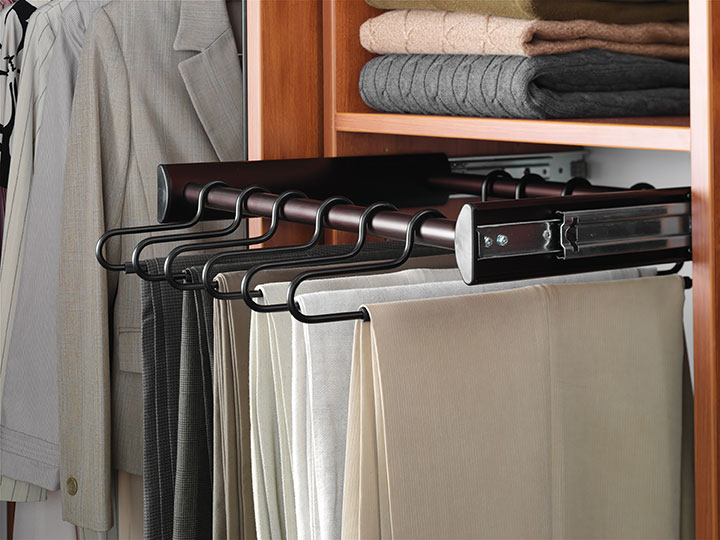 8. Pullout ironing board
Speaking of ironing boards, we can design a system that adds a pullout ironing board to a drawer located in your closet.
This unique and innovative idea saves space, making the ironing board easily accessible when it's needed and completely out of the way when it's not. A pullout ironing board is also ideal for laundry rooms.
9. High quality wooden hangers
You might not give much thought to what kind of clothes hangers you use, but it's something worth considering.
Sturdy wood and plastic hangers are recommended to preserve the form and lives of the garments that will be hanging on them and are better than wire hangers.
We carry premium cherry and white hardwood hangers and you can get 160 of them free with any Organized Interiors closet or wardrobe order. Premium hangers have the following benefits:
smart design features like a supportive crossbar that minimizes slippage and creasing
notches for dress straps to hold them securely in place
they give your closet space a nice uniform look instead of having hangers of all different types of colours
10. Choose from the largest selection of decorative hardware in Toronto
We have a wealth of high quality decorative hardware to choose from for your custom cabinetry and closet space.
In fact, Organized Interiors has the largest selection of Richelieu hardware in the Toronto area and one of the biggest selections in the entire country.
Visit our 10,000 square foot showroom and get lost in the hundred of decorative samples that have been created by world-renowned designers.
You won't have a problem finding the right styles of hooks that can be used in the closet for hanging belts, hats, or other hangable items.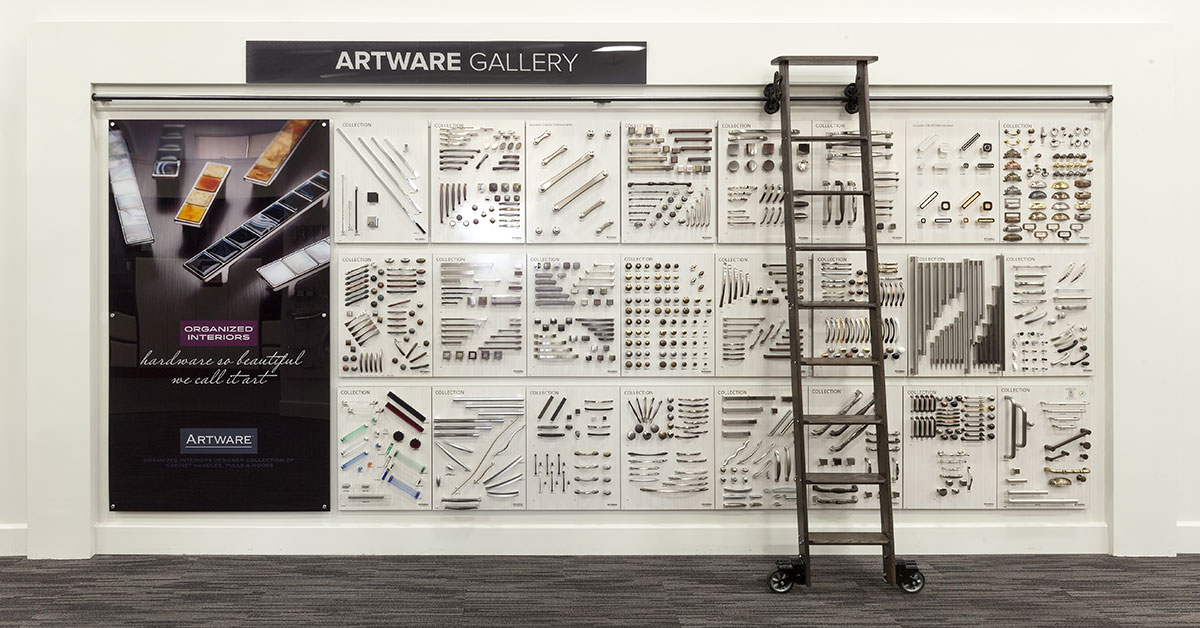 11. Pullout drawers for shoes
We can design a pullout storage system for your shoe collection that looks great, maximizes storage space, protects your shoes, and keeps them organized.
Our custom manufacturing capabilities let us design your shoe pullout to the exact depth your closet space requires. The pullout features a front railing that keeps your shoes from falling. This pullout design is also ideal for storing purses.
12. A jewellery drawer adds safe closet accessory storage space
Instead of using a jewellery box, consider adding a jewellery drawer to your closet space. It keeps your treasured belongings safer and more hidden.
The velvet-lined drawer adds an elegant touch befitting of your valuables and spacers enable you to maintain an organized jewellery storage area.
13. Hidden document drawer
Certain critically important documents like an insurance policy or will need to be kept in a safe space. Instead of an out-of-the-way safety deposit box, consider one of our hidden document drawers for the closet.
These drawers keep your documents easily accessible, while also keeping them secure and well-hidden. An additional secure storage solution for the home we have available are safes.
14. Felt storage box
For a closet accessory storage idea that also looks stylish, try our felt storage box that comes in a 13″ cube design. The storage box can hold magazines, trinkets, and other household belongings.
When it isn't needed, the innovative space-saving design of the box conveniently lets you fold it flat and store it within the lid.
15. Built-in laundry hamper
You should consider a built-in laundry hamper for a closet, dressing room, or laundry room for these reasons:
the built-in design of the laundry hamper keep your dirty clothes hidden
keep your dirty laundry organized and sorted (multiple hampers can be added for separating colours and fabrics)
simply pull out the cloth bag to transport your dirty clothes to the laundry room
16. Watch winders and storage
For watch collectors, your closet space can include high quality Orbita watch winders that are kept in custom-designed cases, cabinets, or drawers.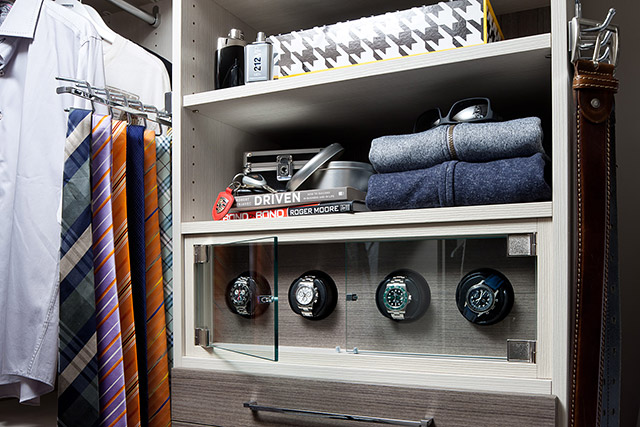 17. Chrome hanging bar
You'll immediately notice the difference in quality between our chrome hanging bars and your closet's existing hanging bar, both in terms of looks and the quality of material.
We can suggest just the right spot to add an additional hanging bar to get more hanging space in your closet.
Let's discuss your closet accessory storage options
We want to help you improve your closet's functionality and storage capabilities.
These closet accessory storage solutions will definitely help, so why not take advantage of our free in-home design consultation offer today?
See also: