There are several reasons you may be considering a custom closet redesign. Perhaps the closets you have are small and don't provide much storage space.
Maybe they only have a basic hanging bar, shelf, and floor space and are in need of an effective organization system like a good closet organizer.
You may want a closet redesign done for these reasons, as well as to give this space's décor a sprucing up, especially with the many attractive closet designs available today.
Organized Interiors can help. While thinking about your custom closet redesign options, it's important to consider these five questions:
1. Do I have space in my closet redesign to include a dressing room?
If your budget and space allows, a dressing room/large walk-in closet offers both the most amount of closet storage space and opportunity to create a large closet space that looks spectacular.
The ideal location for a dressing room is to utilize one of your small spare rooms. If you already have a dressing room, we can show you ways to make it even better. A dressing room space can also be incorporated into a large master bedroom by simply building a partition wall.
Our Custom Cabinetry Collection features beautiful custom-made cabinetry that infuses your dressing room with elegance and style, creating a comfortable, private space you'll cherish.
The smart storage and organization solutions we use in your dressing room will also make it much easier to keep your sanctuary clean and clutter-free.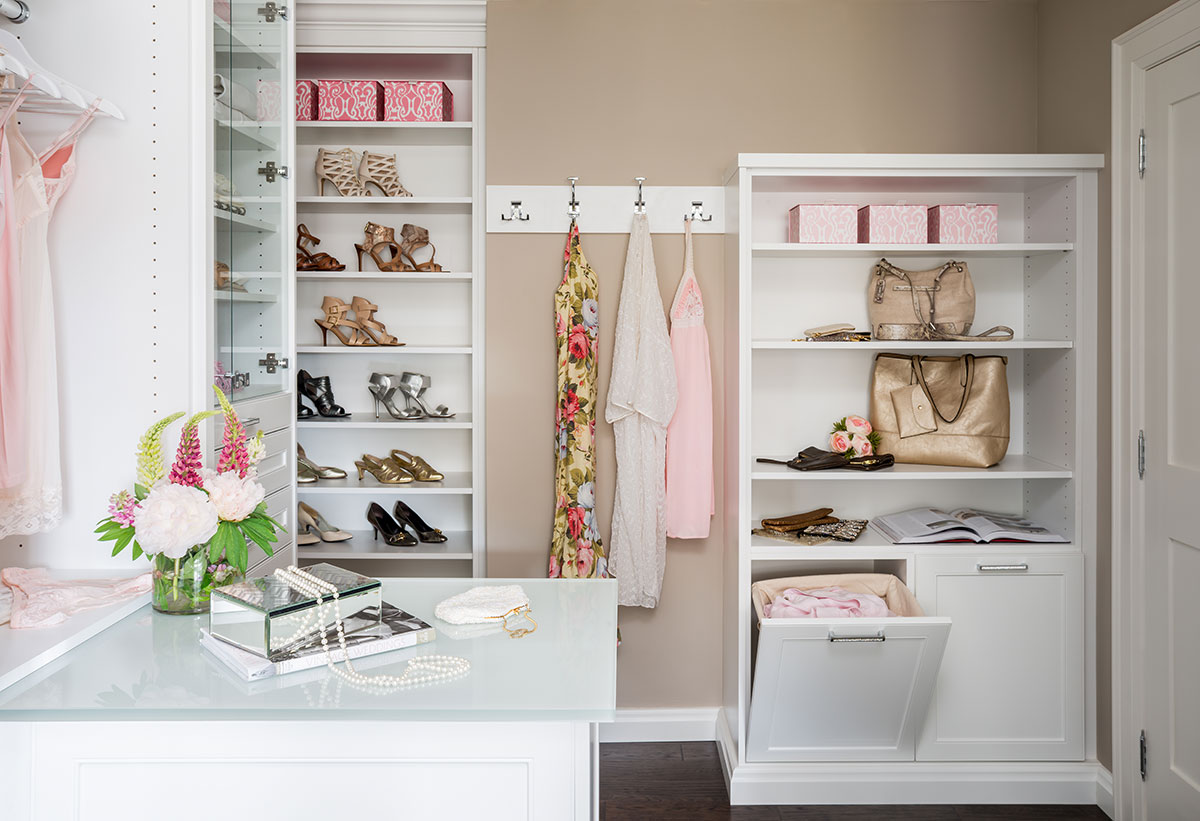 2. How much hanging and drawer space will my closet redesign need?
Before you consult with a designer, take some time to think about your current wardrobe and your preferred storage style. Do you like keeping a lot of your clothing folded?
If so, you'll need more shelving and drawer space. If you prefer hanging most of your clothing, extra hanging bars and a useful pant rack can be added to accommodate your needs.
3. What kind of closet accessories should I choose for my closet redesign?
There are many helpful closet accessories you can use in your custom closet redesign. Along with organization helpers like drawer dividers, jewellery drawers, watch winders, and felt storage boxes, consider these other useful closet accessories:
pullout laundry hampers with removable cloth bag inserts
four position hangers and retractable valet rods for extra hanging space that takes up very little room
low profile sliding belt, scarf, and tie racks
pullouts that can keep your shoes and purses organized
decorative hardware with hundreds of styles of hooks, pulls, and knobs to choose from
a pullout ironing board that's conveniently hidden within a drawer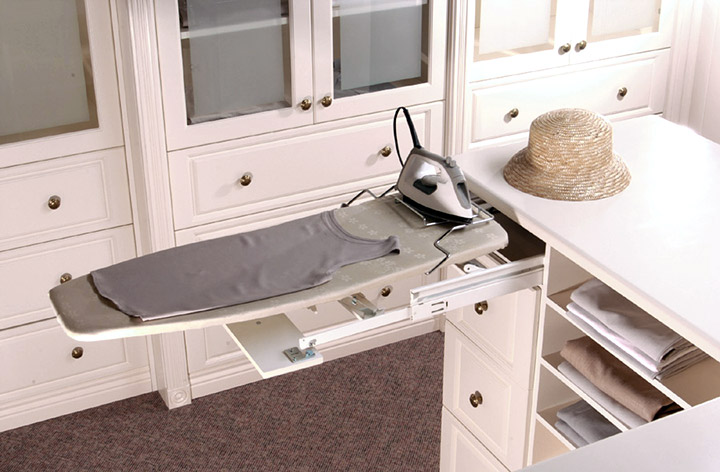 4. Do I want my closet to give me more storage flexibility?
Having some flexibility to adjust the storage configuration of your closet space might be important to you. If you're having the closet space for one of your kids redesigned, this can be particularly beneficial. Their tastes change rapidly, plus they'll obviously be outgrowing their clothing on a regular basis.
Our SmartLine closet organizer might be the best choice for you in this situation. This modular storage system is wall-mounted and allows for adjustments to shelving and hanging bar heights, depending on your changing needs.
Ask one of our design consultants whether the SmartLine or Classic closet organizer are the right choice for your closet space.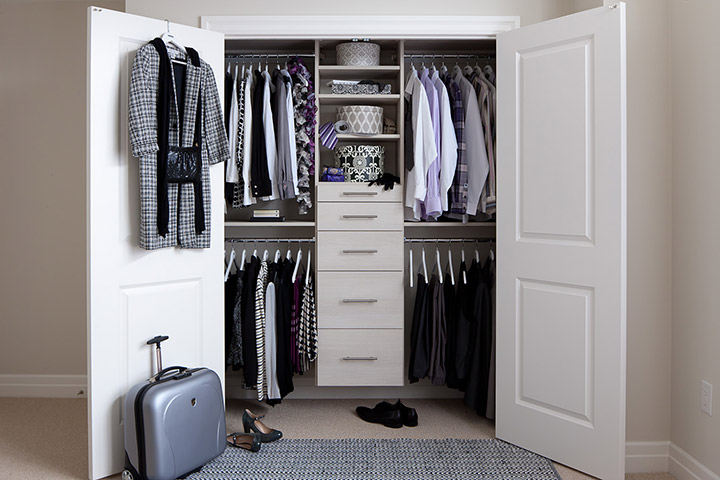 5. What look do I want for my custom closet redesign?
A closet that fits in with your interior design helps you organize without diminishing your home's style. From a contemporary white to rich warm wood, you can find an attractive finish to perfectly complement your home décor.
Adding extra design touches like an island, full-length mirror, and vanity to your dressing will enhance the look of your closet space even more.
We're the custom closet redesign experts
Organized Interiors has more than 40 years of expertise when it comes to custom closet redesigns and other solutions that will improve the organization in your home.
One of our design consultants can visit your home to discuss a custom closet redesign with you. All you need to do is schedule your free in-home consultation today.
See also: