A dressing room (also known as a large walk-in closet) offers many benefits to homeowners.
One of the biggest benefits is the extra closet and storage space they provide. But a lack of smart dressing room organization and storage solutions means you're not truly maximizing your dressing room's potential.
Inadequate organization systems (and obviously an absence or shortage of them) will negate the benefits of that extra space quickly.
Before you know it, you'll just have one more area of your home that's been overrun by clutter. Use these seven tips that make dressing room organization easy to achieve and maintain.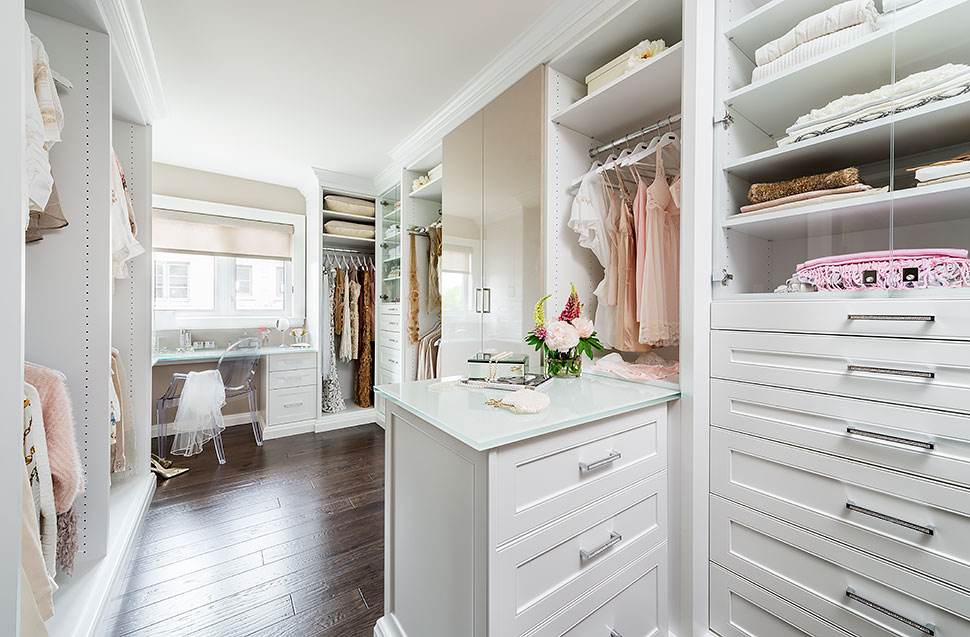 1. Make dressing room organization easier by clearing out old clothing
It's an old and simple organization solution that works: start by reducing the amount of clothing and belongings you own.
Honestly assess what clothing is worth keeping and what's expendable by asking yourself these questions:
Is it still fashionable and does it reflect who you are at this moment?
Does it fit and, if not, will it ever fit again? (warning: this one may be painful!)
Have you worn it once in the past year?
If the answer to any of these questions is a "no", then it's clear that parting ways with the item of clothing has more positives than negatives for you.
You'll gain some closet space and your local charity will appreciate the donation.
2. Evaluate your dressing room setup
Now that you've made it a little easier to achieve your dressing room organization goals, evaluate the effectiveness of your current dressing room setup.
Is your closet organization system woefully outdated? Are you getting the most out of your storage space?
Do you have helpful closet accessories, such as a shoe rack or a sliding belt rack? Once again, if you're answering "no" to any of these questions, then there's lots of room for improvement when it comes to your dressing room's setup.
3. The right cabinetry transforms any dressing room
We can completely transform your dressing room (or create a dressing room from a spare bedroom) with our Monogram closet system.
It's specifically designed for large walk-in closets and dressing rooms and features custom-crafted cabinetry with rich finishes that will maximize your storage space.
You'll have lots of flexibility in terms of the colours, styles, finishes, and accessories you'd prefer. We also have the largest selection of decorative hardware in the Greater Toronto Area.

4. Improve dressing room organization with elegant design touches
With a larger closet space, you can add elegant, yet functional, design touches that enhance the looks and comfort level in your dressing room.
The more comfortable you are in your private sanctuary, the more you'll appreciate this valued space and the more motivated you'll be to keep it organized. Consider these ideas:
a sit-down vanity for putting on makeup
a centre island with storage space for jewelry, watches, and other personal items
the right type of lighting
a full-length mirror
a comfortable chair
5. Closet accessories can be a big help
These are just some of the many closet accessories we offer that make it even easier to keep your dressing room clean and orderly:
retractable valet rods that take up little space
pull-out laundry hampers that stay hidden and help keep dirty clothes organized
drawer dividers for maximum organization
shoe racks
space-saving pull-out ironing boards
pull-outs that are ideal for shoes and bags

6. Let these dressing room organization solutions do most of the work
Choosing the best dressing room organization solutions is more than half the battle in your efforts to keep this area clutter-free.
Their smart designs mean they'll actually do most of the organization work for you.
Going forward, you'll now be equipped with the best storage and organization solutions available, so keeping your dressing room and closets tidy will be noticeably easier.
7. Turn to the dressing room organization experts
If your dressing room or large walk-in closet wasn't designed by closet organization professionals, then there's undoubtedly ways to make these spaces better.
We have more than 40 years of custom closet organization expertise, so we know how to get the most out of any closet space.
Our design experts have exciting ideas that can make your existing dressing room a whole new space, or they can transform one of your spare rooms into a dressing room that makes your home more functional.
Schedule your free in-home consultation with one of our designers today. Together, we'll reach the high standard of dressing room organization that you've always wanted.
See also: