In the past, owning a fireplace simply hasn't been practical for many homeowners.
Natural gas and traditional wood-burning fireplaces present challenges such as cost, the complicated logistics of installing them, and the perpetual work and maintenance required especially for the latter.
That's why electric fireplaces are an appealing alternative that more and more homeowners are turning to.
Modern technology has made electric fireplaces a convenient and affordable way to beautify your house or condo, increase your family's comfort level, and add supplemental heating to your home.
Here are 13 reasons why electric fireplaces are well worth considering.
1. Electric fireplaces are more affordable and inexpensive to operate
An electric fireplace is by far the most affordable choice for enjoying the comforts of a fireplace in your home.
They're much cheaper to install and operate than wood-burning and natural gas fireplaces. Having just the flame running (without heat) on an electric fireplace, which you might want for ambiance, only costs about one or two cents an hour.
With the heater and flame on, electric fireplaces typically only cost about 18 cents or less an hour to run.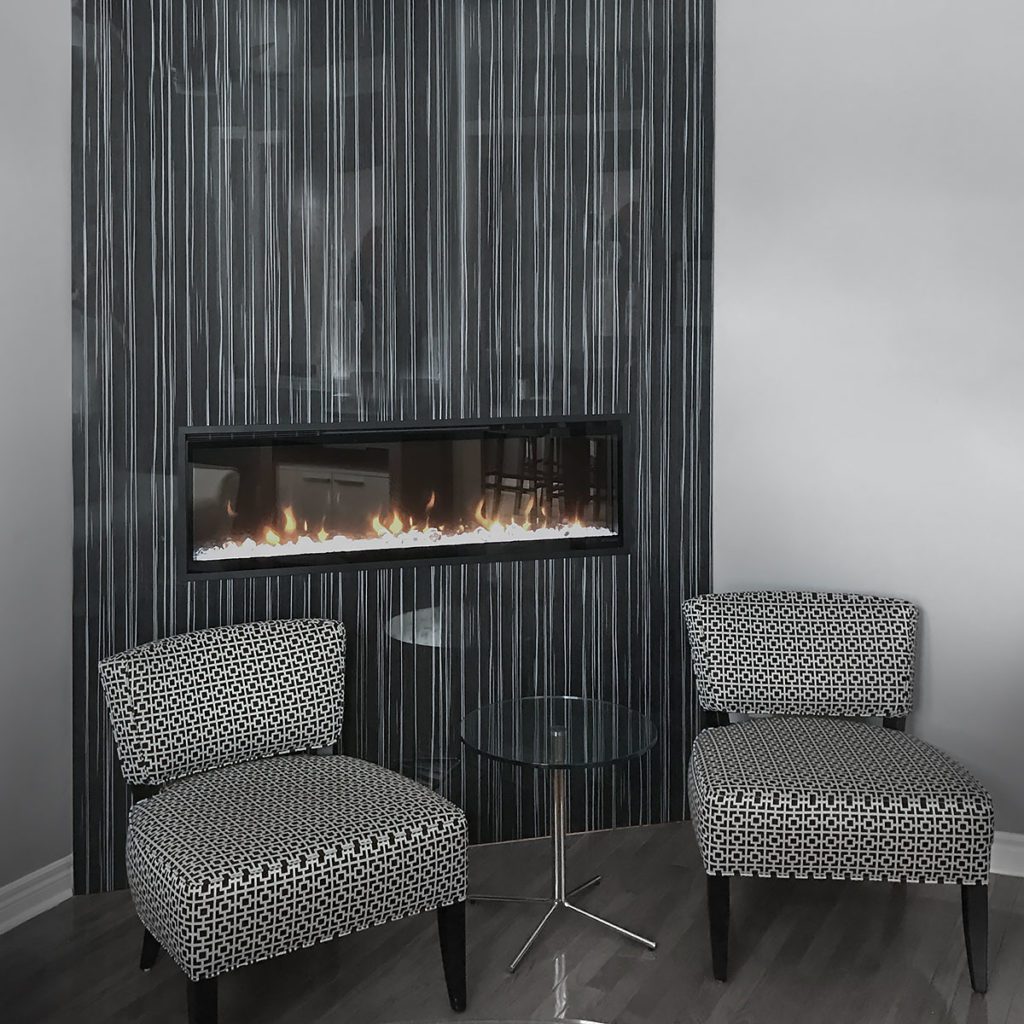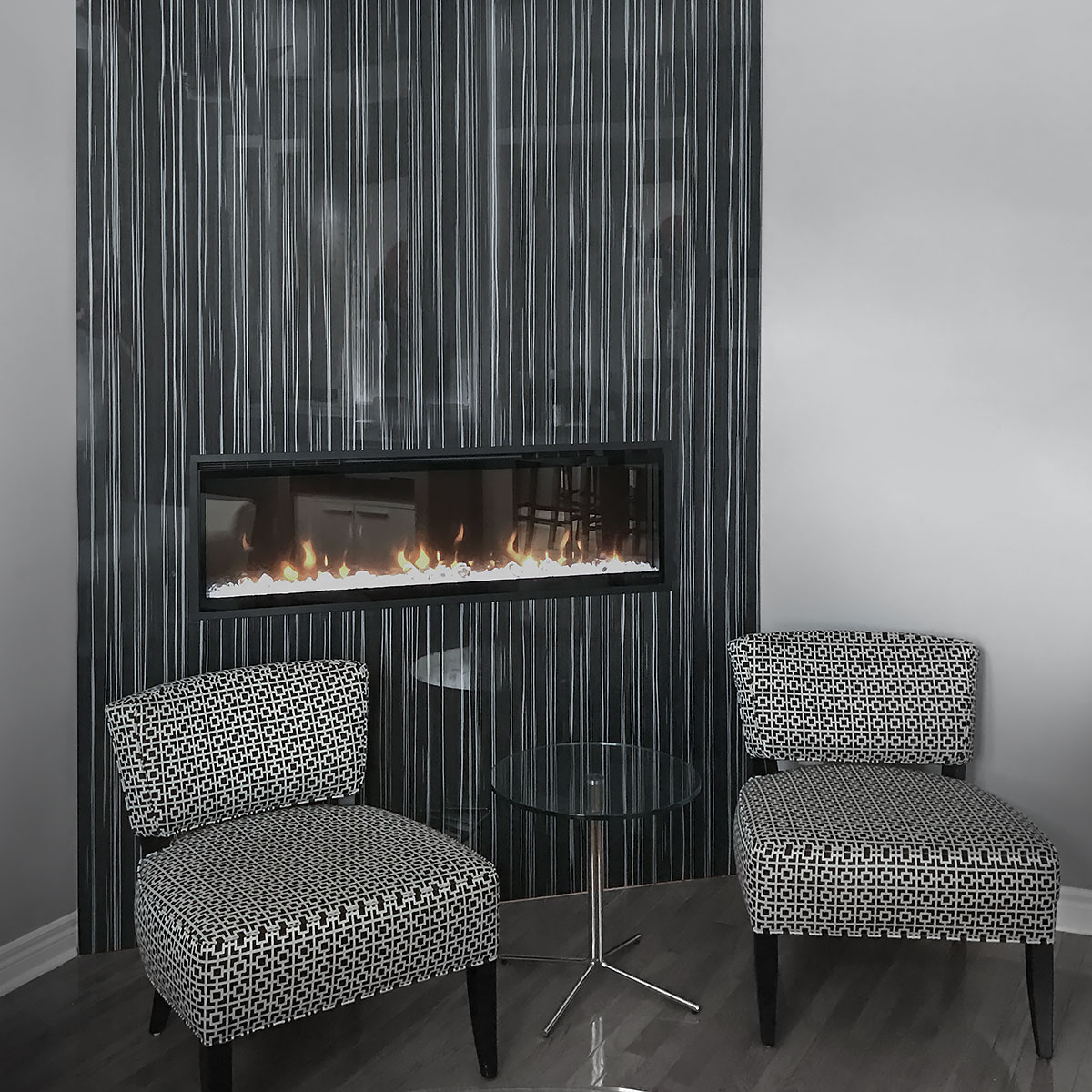 2. They're much easier to install than traditional fireplaces
A linear wall-mount electric fireplace is easily installed with direct wiring. Electric fireboxes come in direct wired and convenient electrical outlet plug-in configurations.
Compare that to the much more complicated and time-consuming process of installing a wood-burning or natural gas fireplace.
Those fireplaces can require expensive masonry and renovation work, venting, a natural gas line hook-up, and a building permit.
Organized Interiors can have your electric fireplace framed and installed in far less time than a wood-burning or natural gas fireplace installation requires.
3. Your home is much safer with an electric fireplace
Say goodbye to the unpleasant experience of your house filling with smoke after a poorly executed attempt at lighting a wood fire.
Because there's no actual flame, an electric fireplace doesn't present any opportunity for hazards like smoke, toxic fumes, fires from stray embers, or explosions from gas leaks.
The glass on the front of an electric fireplace also won't heat up and is quite safe to touch.
4. The flames look just like the real thing and have custom settings
Our Dimplex electric fireplaces provide the authentic look of a roaring fire, without the mess, upkeep, and dangers.
When it comes to fireplaces, Dimplex are industry leaders and their patented LED light flame technology accurately replicates the colours and behaviours of real flames.
You can even adjust the intensity of the flame, in addition to the dynamic colour themes of the ember bed and the backlighting. Whatever your mood may be, there's truly an electric fireplace setting to reflect it.

5. Electric fireplaces take up little space
If your available space is limited, you can still own an electric fireplace. We have smaller firebox models that are 22 inches wide, right up to linear wall-mount models that are 74 inches wide.
Typically, the fireplaces range in depth anywhere from just 5-7 inches. And you can even incorporate your electric fireplace into a custom-built entertainment unit.
6. Transform your room with a fireplace feature wall
An electric fireplace will improve the ambiance and aesthetics of your home. Organized Interiors can take that one step further, however, and create a home showpiece with a fireplace feature wall.
The wall-mount linear fireplace is hung on a beautiful melamine panel, which you can choose from the hundreds of styles, patterns, and textures we have available.

7. Explore other fireplace design choices
It's certainly hard to beat the dazzling looks of a fireplace feature wall. If your design instincts or budget are leading you elsewhere, however, there are more design choices available.
An electric firebox will work just about anywhere. A linear wall-mount fireplace, as the name implies, can be hung on any wall.
And as already mentioned, we can incorporate your fireplace into a gorgeous entertainment unit that's custom-built to your exact requirements.
All of these come with a wide variety of colours and styles to choose from. For example, you can customize the media bed (the lower portion of the fireplace) with your choice of glass, sand, river rock, pebbles, or driftwood.
8. Convenient touch controls allow for an instant fire
Matches and logs or kindling are so last century. You can be enjoying the comforts of a fire instantly with the mere tap of your finger.
An electric fireplace's built-in touch controls and a multi-function remote control provide great convenience and plenty of presentation options.
9. Energy efficient zone heating has several benefits
Electric fireplaces are designed to be a zone (or supplemental) heating source. In terms of heating, you can enjoy the following benefits:
savings on your central heating costs by lowering your home's thermostat and setting your electric fireplace to a comfortable temperature while you relax in the room it's located in
Eco Mode energy saving feature allows for timed heat output
heat rooms up to 1,000 square feet with energy efficient fan-forced heating system and Comfort$aver™ ceramic heating system
attain a comfortable temperature setting very quickly
10. Electric fireplaces are low maintenance
Remember the hassle of scooping up filthy ashes out of your wood-burning fireplace or having to chop and haul in firewood?
How about scraping the caked-on soot off of the glass on your old fireplace or wood stove? With electric fireplaces, you won't have to worry about any of that because they're very low maintenance.

11. A fireplace is great to have when entertaining
If you enjoy having guests over, an electric fireplace is a fantastic way to create a comfortable and inviting entertainment space.
Adjust the fireplace's settings to reflect the mood of the party — or boost the mood if need be!
And rest assured that the electric fireplace itself, with its dynamic display and technological wizardry, will become a topic of conversation among your guests.
12. Add a fireplace to any room you want
With natural gas and wood-burning fireplaces, there are severe limitations on where they can be installed. Electric fireplaces pose no such issues.
With this kind of flexibility, we can install an electric fireplace just about anywhere in your home.
That also means condo dwellers can experience the benefits that electric fireplaces provide.
13. Use your electric fireplace year-round
You can use your electric fireplace all year-round, not just during the colder months of the year.
Enjoy a relaxing, cozy night in during the middle of summer by keeping the fireplace heat off and just running the flames.
These are just 13 of the many reasons why electric fireplaces are a wise choice for your house or condo.
One of our design experts would be happy to discuss electric fireplace models and designs with you. For your convenience, we offer free in-home consultations, which you can schedule right now.
See also: