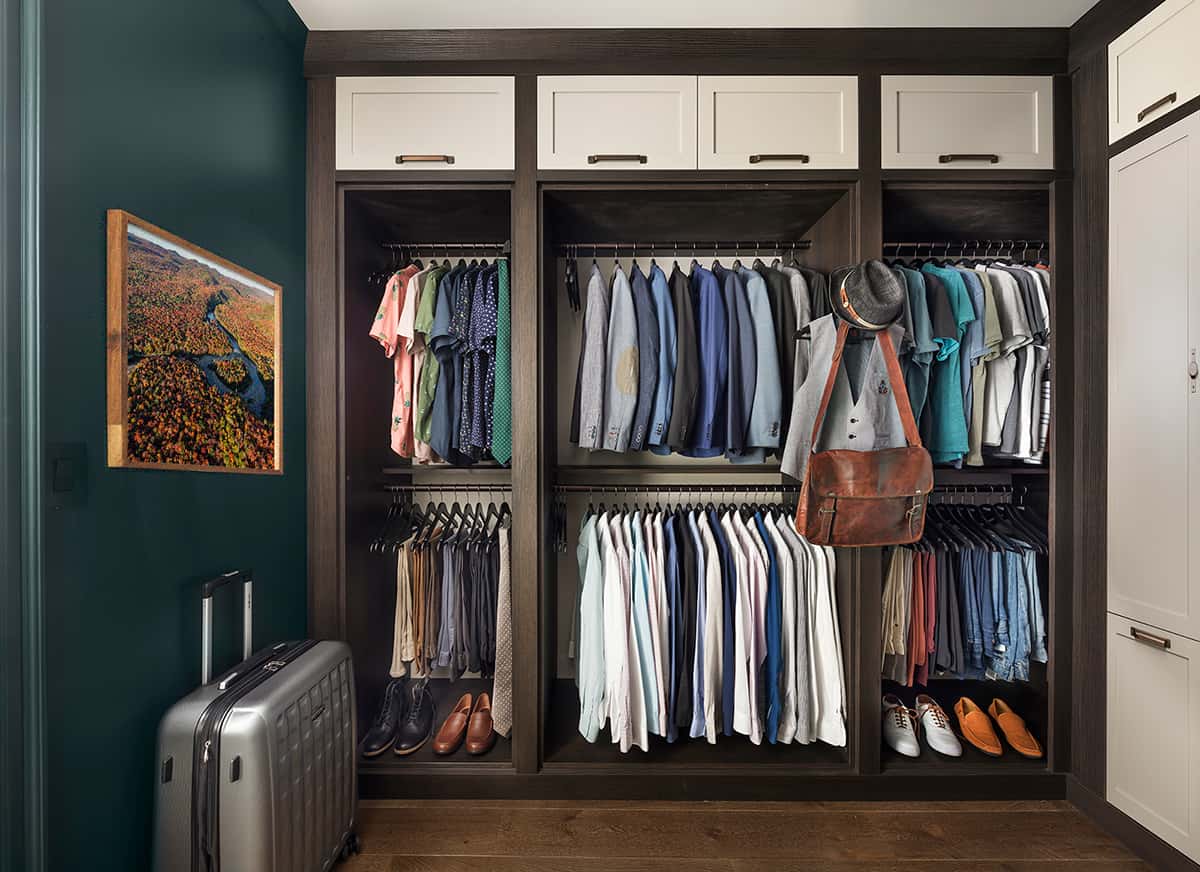 As the temperatures drop and the days get shorter, the need to tackle your fall closet organization project looms even larger.
Even with the occasional warm and sunny October day, the window for wearing your lighter summer clothing has all but closed for the year. If you haven't already, that means it's time to turn your attention toward your closets to prioritize the warmer clothing you'll need for the colder weather ahead.
ApartmentGuide.com surveyed 1,000 U.S. adults and found that 80% of them reorganize their homes in late summer/early fall. We still have more than two months until the official start of winter, so it's not too late to begin with your fall closet organization plans!
Use these tips to simplify your fall closet organization effort
The seasonal transition for your clothing storage doesn't have to be complicated or difficult. All you need is a solid game plan, the right storage solutions, and a little bit of time to produce effective results with your fall closet organization effort.
Setting up your closets to put your warmer clothing front and centre will make life easier over the coming months. It's also a great opportunity to declutter, which will make your closets and the rest of your home more functional.
Make use of these seven fall closet organization tips to aid you when tackling this home organization project.
1. Start by emptying and cleaning your closets
Begin your fall closet organization project by completely emptying all closets of their contents, along with your dresser drawers. Yes, this will take some time, but your efforts will be worth it.
Because closets are typically hidden away much of the time behind doors, we can misguidedly develop somewhat of an "out of sight, out of mind" mentality towards their interior. This includes not just their contents, but how clean your closet space is.
Emptying all of your closet's contents gives you the chance to give it the thorough cleaning it likely needs. After all, cleaning areas of your home that don't necessarily get regular cleaning attention shouldn't be limited to just spring time.
Once your closets have been emptied, wipe down their baseboards walls and ceiling, along with any shelving and parts of your closet organizers. Vacuum your closet floors and, if it's overdue, give any carpets in your closets a good cleaning.
2. Evaluate your closet space
Now that your closets have been refreshed with a top-to-bottom cleaning, it's the perfect time to evaluate your closet space. An empty closet allows you to view its interior in a much different manner than you're able to when it's full.
Consider what areas related to closet storage and organization have presented problems for you and your family in the past. Is it a lack of space? An inability to locate items as quickly as you'd like? The need for more helpful closet accessories? Better lighting?
Make a list of what you'd like to improve and do your research on what types of effective closet organization products are available.
You can stop by Organized Interiors' 10,0000 square foot showroom to sample what we offer. Our knowledgeable and helpful staff can also answer any questions you might have when it comes to your fall closet organization needs.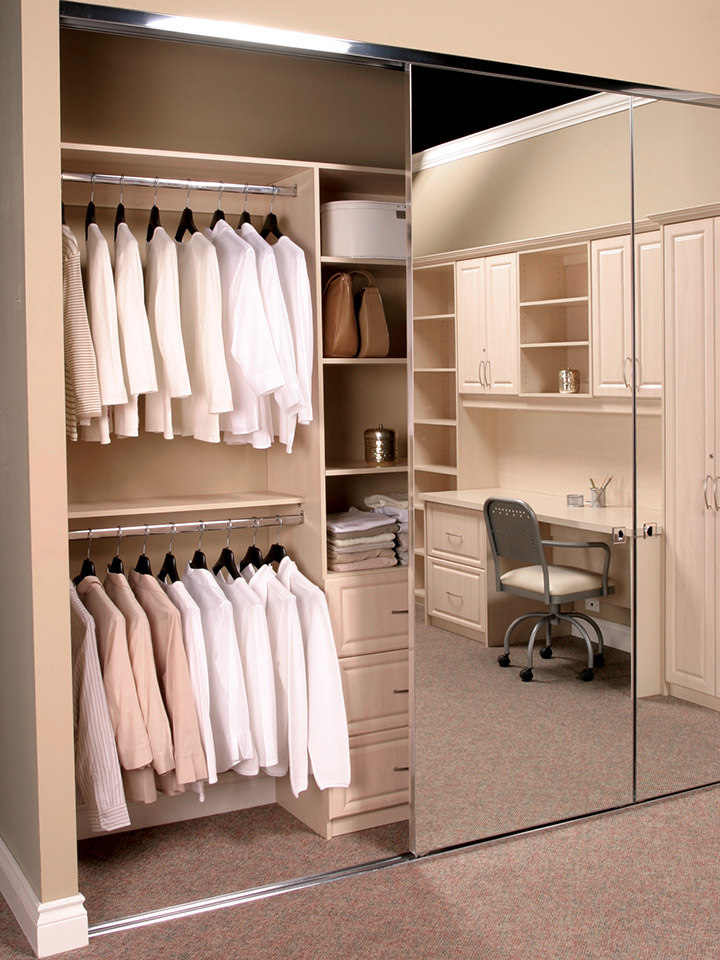 3. Sort through everything and start discarding items
Even if you've decided that you're ready to upgrade your closet space with the help of a professional, you'll still need to deal with all of the closet contents you've emptied.
With everything from your closets out in the open, start going through every bathing suit, tank top, sundress, pair of shorts, and other summer clothing item and decide what you can cull from your collection.
As with any decluttering effort, if you haven't worn or used a piece of clothing or accessory in the past one or two years then you can live without it.
Put the expendable items in one of three piles:
torn or worn-out items that no longer have any use and should be tossed
items you can donate
items that a friend or family member can use
Summer clothing tends to get worn out a little quicker than the clothing we wear in other seasons. One reason is that it's thinner and lighter. Another reason is that chlorine, sweat, and sunscreen will degrade the clothing's material quickly. And prolonged exposure to sunlight will also cause fabrics to fade over time.
You'll find items for yourself that may be in fine shape but are no longer in style or appeal to you as they originally did. If you have kids, you'll also probably be able to get rid of several pieces of their wardrobe that they've outgrown.
4. Organize and store what you're keeping
Once you've managed to get rid of a bunch of little-used items that were taking up valuable closet space, organize the keepers according to colour and/or type. Wash, dry clean, or repair any of these items so they'll be fresh and ready next spring.
Now decide on where and how you'll store those keepers. If your closets or dressing room/walk-in closet are large enough, your spring and summer clothing items can be returned to your closets.
You'll want to store them as out-of-the-way as possible, such as on upper or lower shelves. Most closets don't fully utilize their valuable vertical storage space. Your fall closet organization project presents an ideal time to correct this if the upper space in your closets is currently underused.
Use plastic storage bins to protect your clothing from dust and keep them fresh (cardboard boxes aren't recommended). Remember not to overpack your storage containers. Leave a little room inside for air to circulate, which allows your clothes to breathe.
Maximize your containers' storage space by employing the "KonMari Method" of vertical clothes folding from Japanese organizing consultant Marie Kondo.
5. Sort through all your fall and winter clothing
Get all your stored fall and winter clothing items and, once again, reduce what you're keeping by using the toss/donate/hand-me-down sorting method. This will also help you assess what you'll need to buy for the fall and winter.
Winter can also be tough on clothing. Salt, snow rain, and highly physical outdoor winter activities (like skiing and tobogganing) will take a toll on your winter outfits. Make sure what you're keeping is in good shape and still fits.
One of the benefits of a fall closet organization is that it can end up helping those in need. Donated winter clothing that's been outgrown or simply no longer needed will be greatly appreciated by the less fortunate at the exact time of year it's really needed.
Organized Interiors is proud to be a participant in The Children's Breakfast Clubs 2017-2018 Winter Coat Drive. Clean, good quality, new, or gently-used winter coats and warm winter clothing can be donated at the Coat Drive drop-off centre in our showroom from November 2017 to March 2018.
6. Fill your closets with your warmer clothing
Your fall and winter clothing is bulkier and will take up more space in your closets. As such, you'll be even more grateful that you took the time to take care of your fall closet organization now.
Just as your closet's upper space can be underutilized, so too can its lower space. Consider adding an extra lower hanging rod in your closet. You'll be wearing more long pants between October and April, so an extra hanging rod can help. A pullout pant rack is another smart option.
Sweaters that are hung up tend to leave hanger marks and get stretched, so fold them instead. They can be stored in drawers, cubbies, or open shelving in your closet. You can also use shelf dividers to help you organize.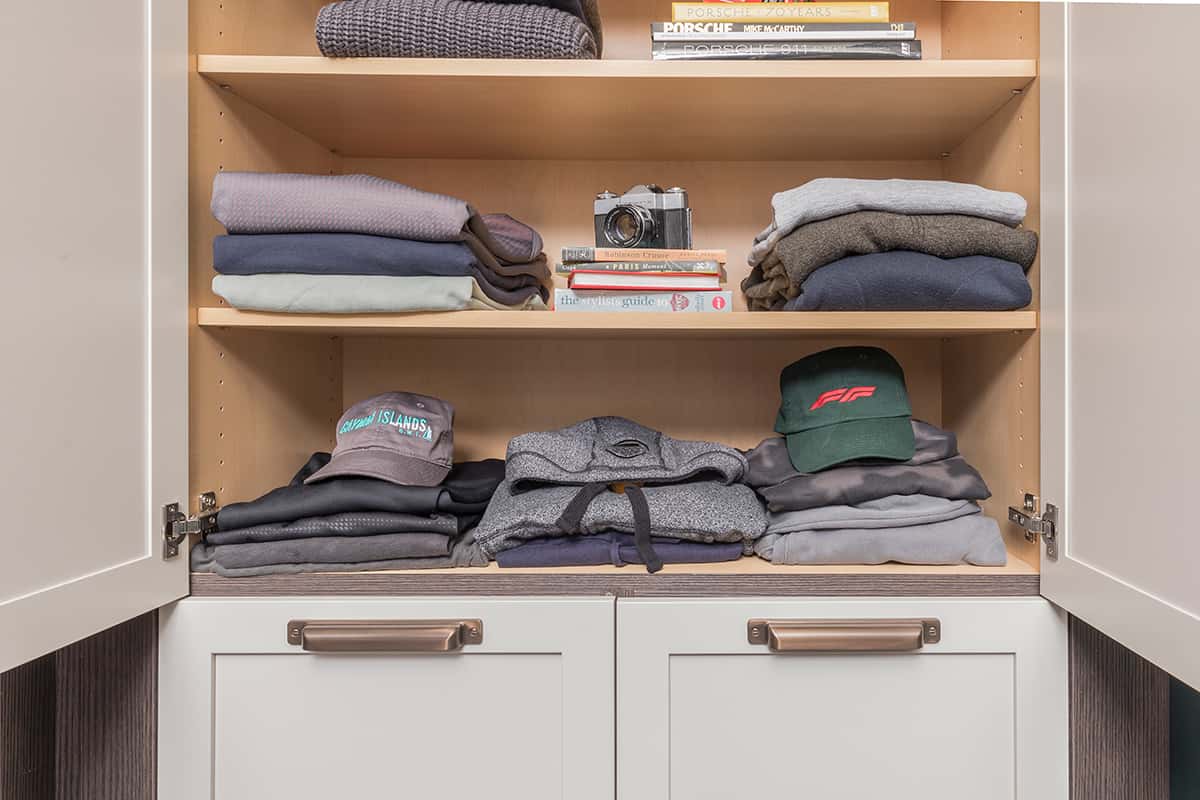 For busy front entryway closets, make sure it's not overloaded with more fall and winter clothing items than will be needed. Coats, winter gloves and mittens, scarves, ear muffs, and hats should be limited to one or two pairs per family member.
Add hooks to provide your home with extra hanging spots for the many items that will be worn during the wintertime. Winter footwear should also be limited to a pair or two per person to prevent clutter. And be sure to use a boot tray to contain the messes they will assuredly make.
7. Add supplemental storage solutions to your home
Even with a pared-down clothing collection after your fall closet organization efforts, you may still be looking for more home storage space.
Whether you need extra space to store your spring and summer clothing, or for the fall and winter clothing you need right now, a few options are available:
a bed surround that maximizes a bedroom's storage space
a better closet organizer
closet accessories to get more functionality out of your closet space
a custom wardrobe for a hallway or bedroom
a smart product like create-a-closet®, which lets you add closet space anywhere
a mudroom addition to minimize clutter and mess
Get a helping hand with your fall closet organization project
Taking inventory of your clothing and decluttering where necessary will make your fall and winter easier to navigate when it comes to your wardrobe.
Clean, organized closets also ensure that all your clothing is well-used and not lost within a messy space.
Get your fall closet organization project started on the right track. Schedule your free in-home design consultation with Organized Interiors today!
See also: