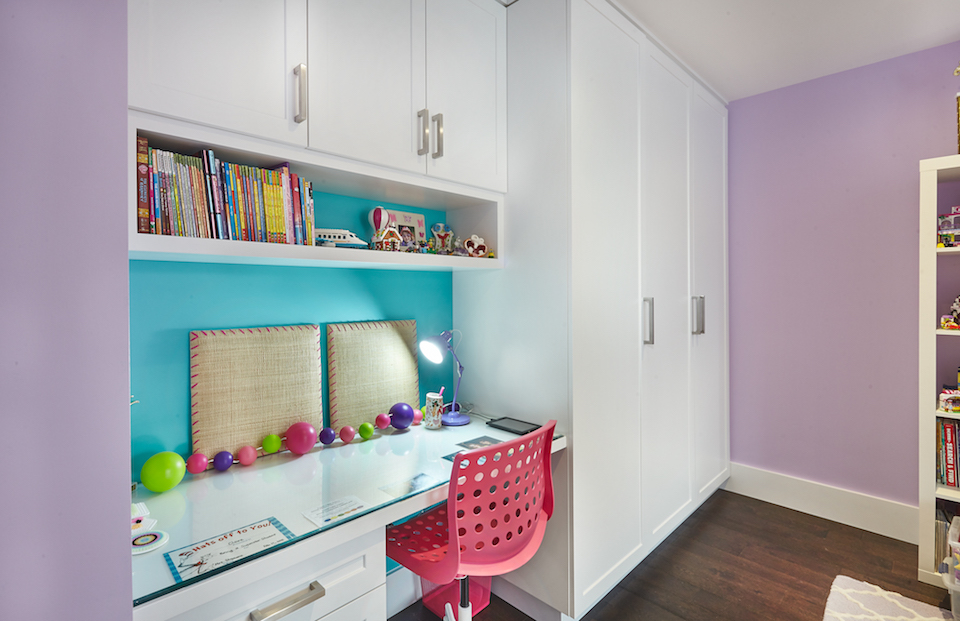 Finding the right storage solutions for kids is usually a challenge. Children can be notoriously picky and as they grow, their needs will change.
Choosing a custom storage solution that endures and appeals is essential and a project one of our designers worked on does just that.
That storage solution involved creating kids bedroom built-ins for one Toronto couple's son and daughter.
Kids bedroom built-ins were perfect for this project
Our client had two adjacent bedrooms for their children. In typical Toronto housing style, each bedroom's closet was nestled against each other.
This limited the storage space available in each bedroom, as the other bedroom's closet essentially backed into the room. The client had their contractor remove the defined closet spaces by taking out their walls, which freed up more space for functional storage in each room.
Bedroom built-ins were ideal for this project. By installing built-ins for each child, we were able to not only make more efficient use of the space, but the staggered depths of the built-in cabinets helps prevent the space from being taken over by the custom cabinetry.
This project illustrates the benefits of working with a design professional who can address the unique needs of a remodelling project. It also showcases how incorporating custom built-ins into a room's design can create a seamless appearance that makes it look like a part of the room's existing architecture.
Let's take a closer look at these kids bedroom built-ins and how we customized the designs for each room.
Built-ins for a girl's bedroom
For the bases in the daughter's room, the wardrobe toe kicks and the side of the drawer pedestal under the desk are recessed. This helps keep people from stubbing toes and also adds visual interest.
As with many older houses in Toronto, the walls and ceilings jut out a little bit. While our custom cabinets are square and have right angles, maybe your room doesn't have the same layout.
The cap shelf applied above the wardrobe cabinet helps minimize the fact that the ceiling slopes upwards towards the wall on the right in the photo below.
The exposed wall area behind the desk was painted out by the client to complement the walls adjacent to the custom cabinetry, creating additional visual interest. A glass desktop allows for their daughter to display some of her favourite things on her desk while she does her homework.
For the son's and daughter's wardrobes, we installed slightly different interior configurations that were tailored to the kids' needs.
Built-ins for a boy's bedroom
In the other bedroom, we mostly replicated the design with a mirror image of the layout that includes a custom built-in wardrobe, desk, upper cabinets, and a shelf above the desk. For the boy's bedroom, a different colour scheme was selected, naturally.
As with the girls's room, the exposed wall area behind the desk was painted with a complementary colour. The built-ins for both kids feature factory-painted exteriors, which is a great choice for any built-in.
Pick a colour and our manufacturing facility will add the finish to your custom cabinetry. Not only do you get a gorgeous finish, factory-painted cabinets also offer more flexibility to perfectly match a room's decorative details like trims and mouldings.
The son's cabinets were painted Chelsea Gray as a bolder contrast to his wall colour, while the daughter's cabinets were painted Chantilly Lace as a softer contrast to the bright hues in the room.
Pullout drawers and shelves in each bedroom's wardrobes provide easy-to-access storage space.
Choosing paints and finishes for these kids bedroom built-ins
Aside from the exterior colour, the other main difference between these two kids bedroom built-ins is what happens inside the custom cabinets.
As with any factory-painted built-in, it's commonly just the parts of the cabinetry that are most visible that get painted. This includes the doors, sides, trims, drawer fronts, and any exposed shelves or surfaces.
For the interiors, we usually use a standard melamine finish (white in this case), as that keeps costs down. As the interior surfaces get more contact from use over time, melamine will wear better as well.
If you look closely at the photo below, you'll notice that we did paint the leading edges of the shelves and side panels, as small aspects of them are visible around the doors and would otherwise stand out.

Kids bedroom built-in solutions for sleeping
If you're looking for additional kids bedroom built-in ideas, the room's sleeping space is a great area to upgrade.
Built-in bedroom storage that is designed around the bed maximizes the room's storage space by making the bed multi-task.
Custom-made underbed drawer storage is a nicer, more efficient storage solution than using those flat plastic storage containers with wheels that are covered in dust when you roll them out from beneath a bed.
Incorporating cabinetry around and above the bed improves the room's functionality and adds a stylish décor upgrade, as you can see below.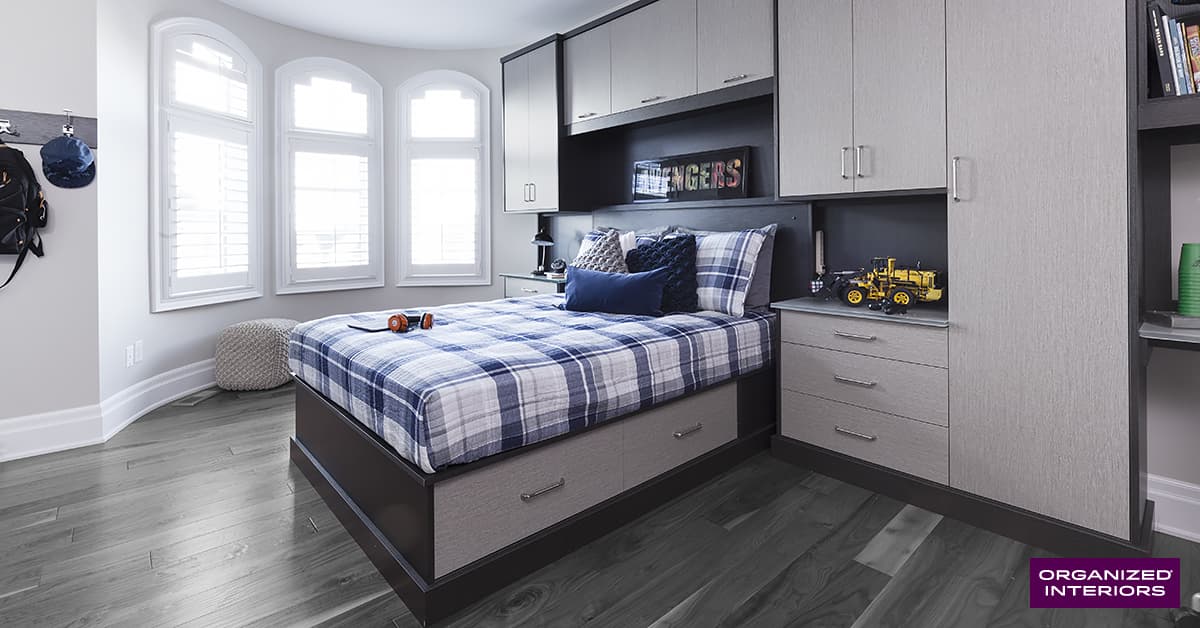 Learn more about our built-in storage solutions
Kids bedroom built-ins will make it easier for your children to keep their rooms organized, while also making the décor in these parts of your home look more appealing.
Our built-in cabinetry offerings aren't limited to just kids bedrooms – we also design and manufacture built-ins for mom and dad's bedroom and closet, home offices, laundry rooms, the living room, and additional areas of your home.
Schedule a free design consultation with us and let's start discussing how Organized Interiors' built-in storage solutions can enhance your home's functionality.
Please share this post if you found it useful.
See also: